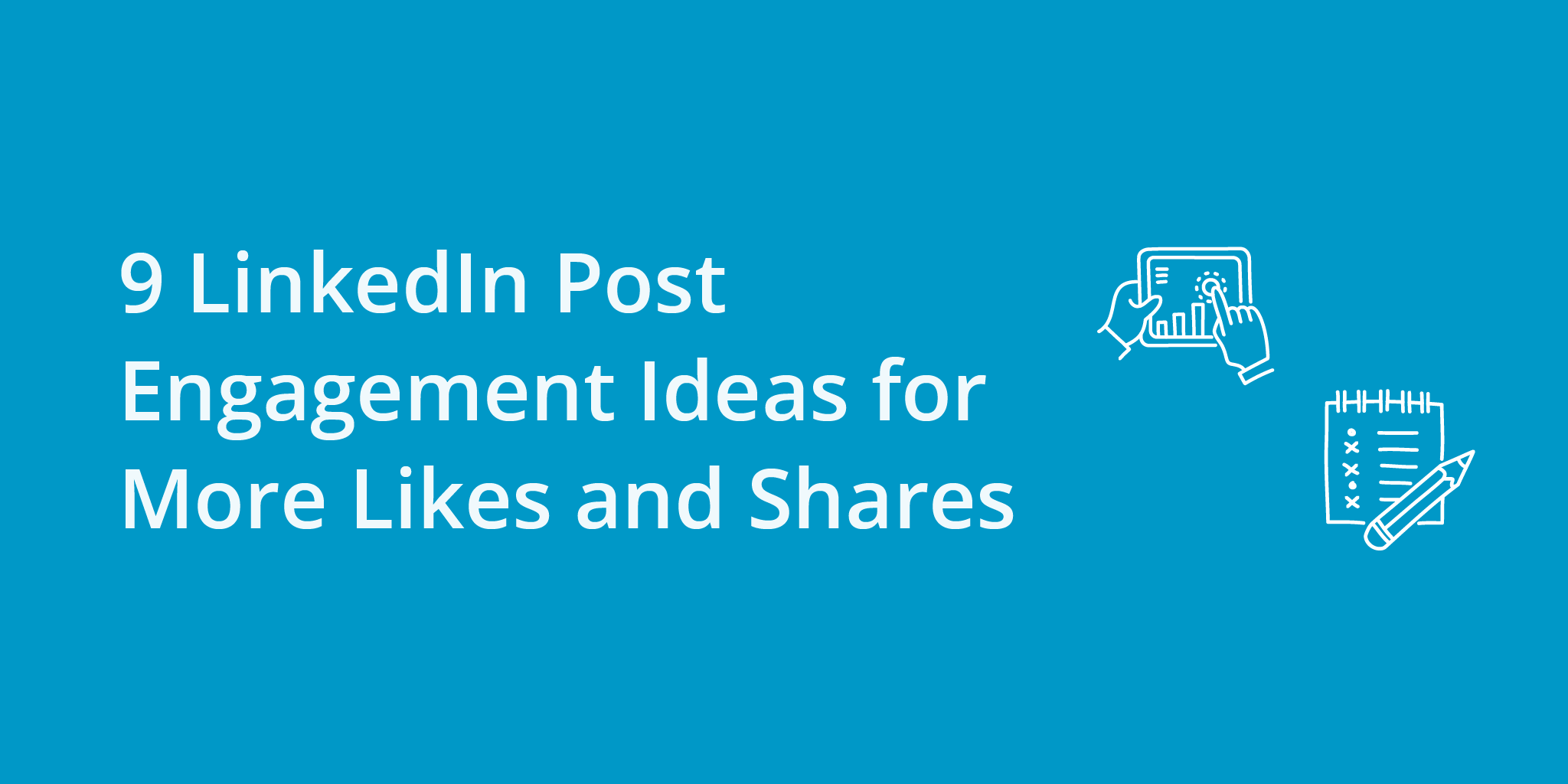 So, you're on LinkedIn and looking for some post engagement tips. Right?
Having your business on LinkedIn is already a great advantage. With over 930 million users globally, it's the largest pool of B2B leads among other social media sites. It generates 80% of them in comparison with 7% on Facebook and 13% on Twitter.
97% of marketers utilize LinkedIn for B2B content marketing. What strategies do they use for more LinkedIn shares and likes?
We've prepared some sure-fire ideas to improve your post engagement on LinkedIn (+ a couple of bonus tactics at the end of the article).
All in due time.
First, let's start with why you should bother with LinkedIn posts in the first place.
Why Businesses Need to Strive for Engaging Posts on LinkedIn
Another LinkedIn post.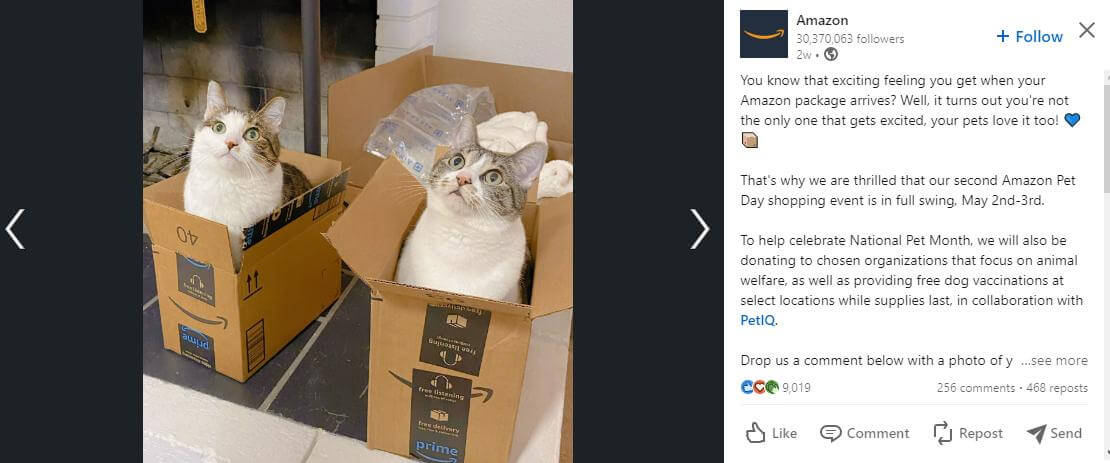 Well, what do we see here? There are 9,019 likes, 256 comments, and 468 reposts.
That's how LinkedIn would think if it were a person. When LinkedIn's algorithm sees that people are commenting, liking, and reposting, it goes like this: Ok, people really like this content. As a result, it shows that content to more users. In turn, you get the following advantages:
Higher visibility and brand awareness
More eyes on your profile
More followers
An extensive list of leads
A network of loyal customers
And voila – more LinkedIn sales!
How to Boost LinkedIn Post Engagement: 9 Ways to Get Tons of Likes and Shares
Let's proceed to LinkedIn engagement optimization and get you bombarded with shares and likes. And comments, of course!
Publish videos and go live
Video content is a classic of the genre and a win-win solution to increase the post engagement rate on LinkedIn.
In fact, videos are shared 20x more often than any other type of LinkedIn content. Besides, 59% of top managers prefer to watch a video rather than read a text. Well-crafted videos should be your go-to content strategy if you want to satisfy the needs of your audience.
Look at the examples of how companies implement them.
Slack uses videos to introduce new features and products on LinkedIn.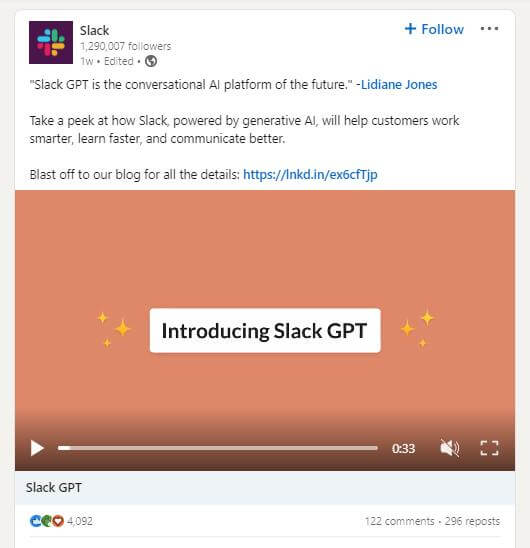 Siemens takes advantage of live video broadcasting to engage LinkedIn prospects.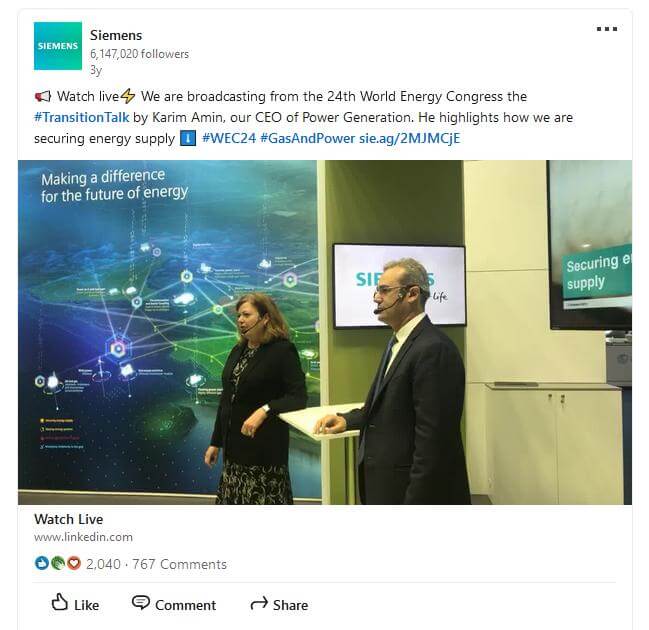 Ask questions
Why ask questions?
It's a highly-effective LinkedIn post engagement tactic. Social media engagement questions develop a sense of belonging, let users feel involved, and spark conversations.
"Questions get the most comments and likes out of all the other types of posts I create," reveals Drew Griffin, Co-Founder at LeadBubble.io.
What to ask?
Get inspiration after reading these examples:
What are your favorite ways to declutter your digital life? – Asana
We're ready for AFROTECH – are you? – Spotify
What is the most meaningful holiday gift you've given or received? – Amazon
Marketing besties, which social channels are you learning the most from right now? – HubSpot
What's your current favorite biz podcast? – HubSpot
HubSpot is a master of questions. You can see myriads of those on its profile page. For instance, the latest conversation ignited by HubSpot is about the AI battle.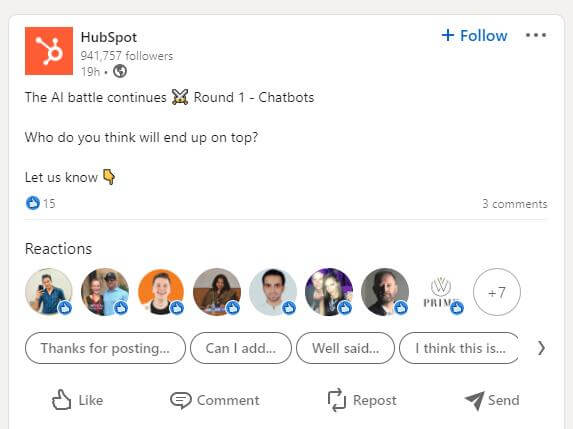 Craft document posts
Native documents in LinkedIn posts are PDFs displayed in a carousel manner. They normally contain several images or slides.
It can also be a list of anything. GoSite, for example, repurposed their blog content for LinkedIn and created a document with a list of 10 books for small business owners-operators.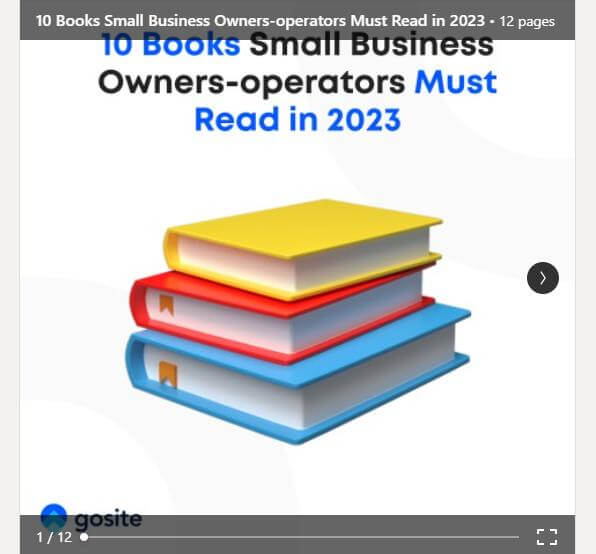 Note: LinkedIn documents generate 3x more clicks than other content types on LinkedIn.
Make LinkedIn polls
LinkedIn polls not only maximize your LinkedIn post interactions but also give you insights into what your followers think about your product or brand.
You may ask questions directly related to your industry. Take a glimpse of Cisco's cybersecurity poll below.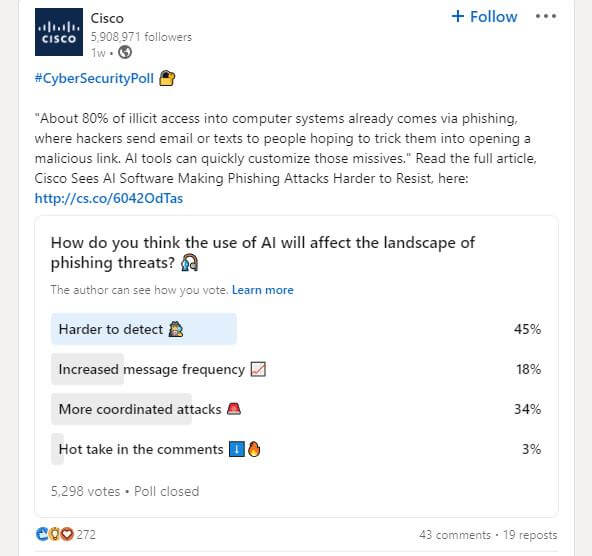 Alternatively, consider asking some trivia questions for entertainment purposes or dedicate them to special days. For example, Verizon asked followers about their childhood dream job before Take Your Child to Work Day.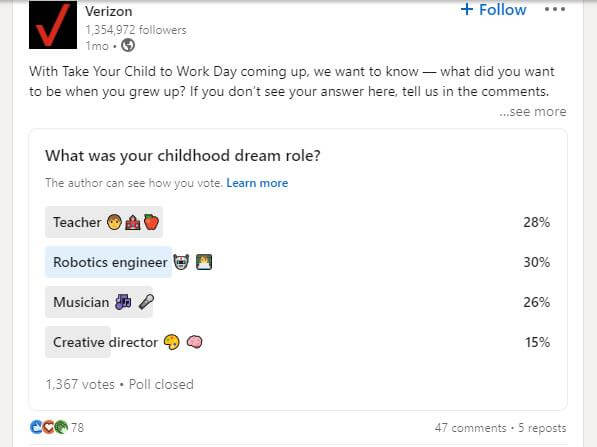 Share "X lists"
People love lists because they're insightful, skim-worthy, and easy to digest.
Use the following prompts for creating your lists:
X Pillars of Effective ____
X ____ Techniques to ____
X Must-Have Tools for ____
Top X Mistakes ____ Should Avoid
X Easy & Proven Ways to ____
X Golden Rules for ____
Top X Tips for ____
X Mistakes to Steer Clear of as a ____
X Key Strategies for ____
Top X ____ Tactics
Example:
During Small Business Week 2023, Pipedrive shared a video with 3 tips on how small businesses can thrive.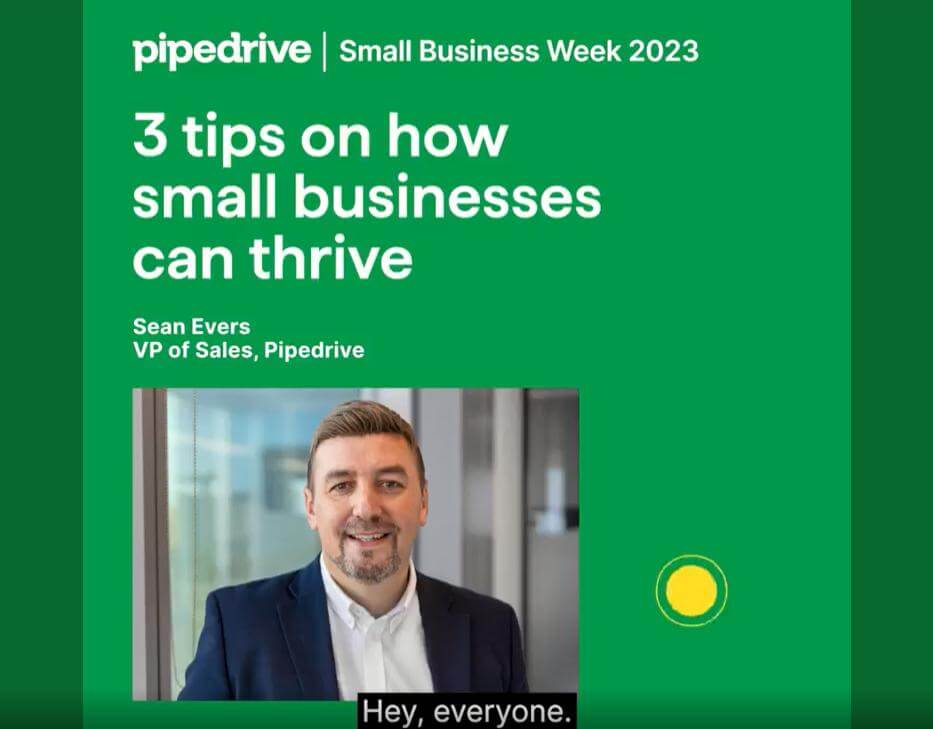 Give company updates and unveil the behind-the-scenes
"To improve post engagement on LinkedIn, it's necessary to share what's new in your company," believes Jason Alvarez-Cohen, CEO of Popl.
"This way, people feel as if they know you better. Such a content format is more likely to give your LinkedIn engagement rate a boost because it makes your audience interact with posts feeling like a part of the community.
Announcements about partnerships and collaborations are quite popular among brands on LinkedIn," he notes.
E.g., Popl announced that the NBA's Phoenix Suns went digital with Popl Teams.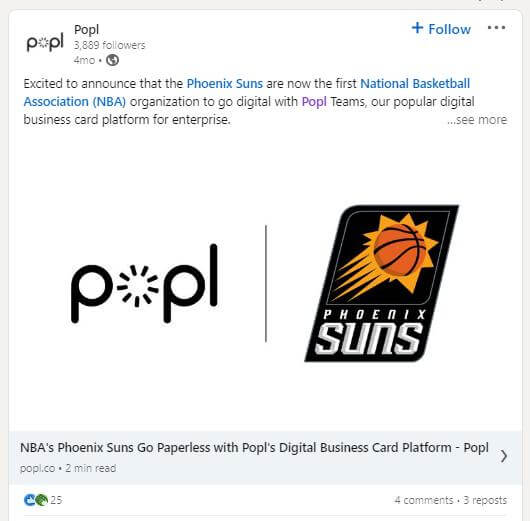 Another example:
Opendoor engaged more real estate leads by announcing a multi-year partnership with Zillow. The post received 1,319 likes and 174 reposts.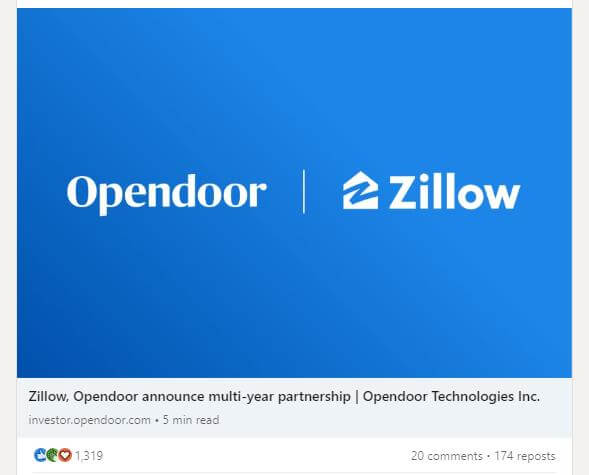 Don't shy away from showing the insides of your company. Dropbox, for example, goes with the branded hashtag #LifeInsideDropbox and shares how Dropboxers work, relax, or volunteer.
Leverage industry-relevant news
"By sharing relevant news from the industry, businesses can deliver high-value content and engage with the LinkedIn audience on a more meaningful level," says Jim Pendergast, Senior Vice President at altLINE Sobanco.
"Fresh data also spice up people's involvement and interest in particular topics and make them share, like, and comment more eagerly.  News sharing also helps them experience a sense of knowledge about the topic. Therefore, it's a great investment in the overall reputation on LinkedIn for both parties," he explains.
Here's how altLINE Sobanco taps into finance and economics to enhance LinkedIn post reach.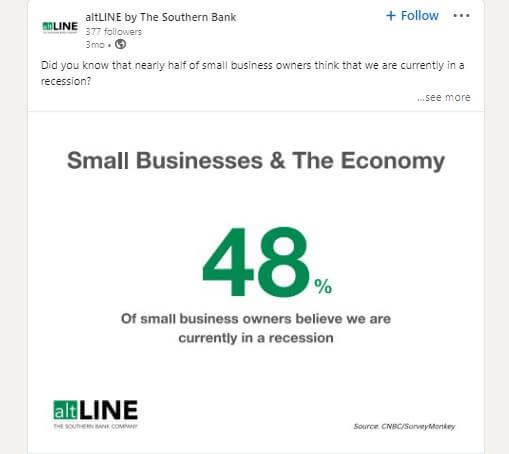 Jim Pendergast also suggests the following adjectives you can use to characterize news stories:
Ground-breaking
Exciting
Shocking
Impressive
Eye-opening
Surprising
Unbelievable
Organize giveaways
A giveaway is an umbrella term for contests and sweepstakes. They can skyrocket your LinkedIn engagement, as 62.13% of participants are inclined to share promotions and contests with their friends.
Why not launch a legally compliant giveaway and liven up your LinkedIn profile?
You may organize like-and-share or like-and-comment sweepstakes. Just like Ahrefs did. See the screenshot below.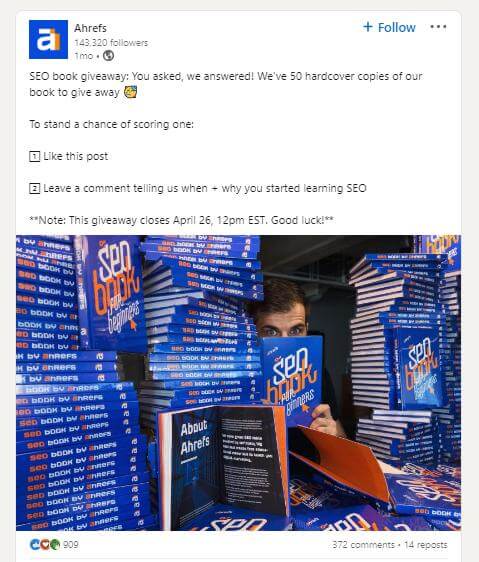 Win your audience over with funny GIFs and memes
There's a common myth that LinkedIn is a place where humor dies.
On the contrary, you can power up your posts with funny memes. Only one thing to keep in mind: they should be well-timed and appropriate.
For example, Salesforce made an excellent GIF choice for the situation when business leaders want to use AI in their organizations but employees lack the in-demand skills.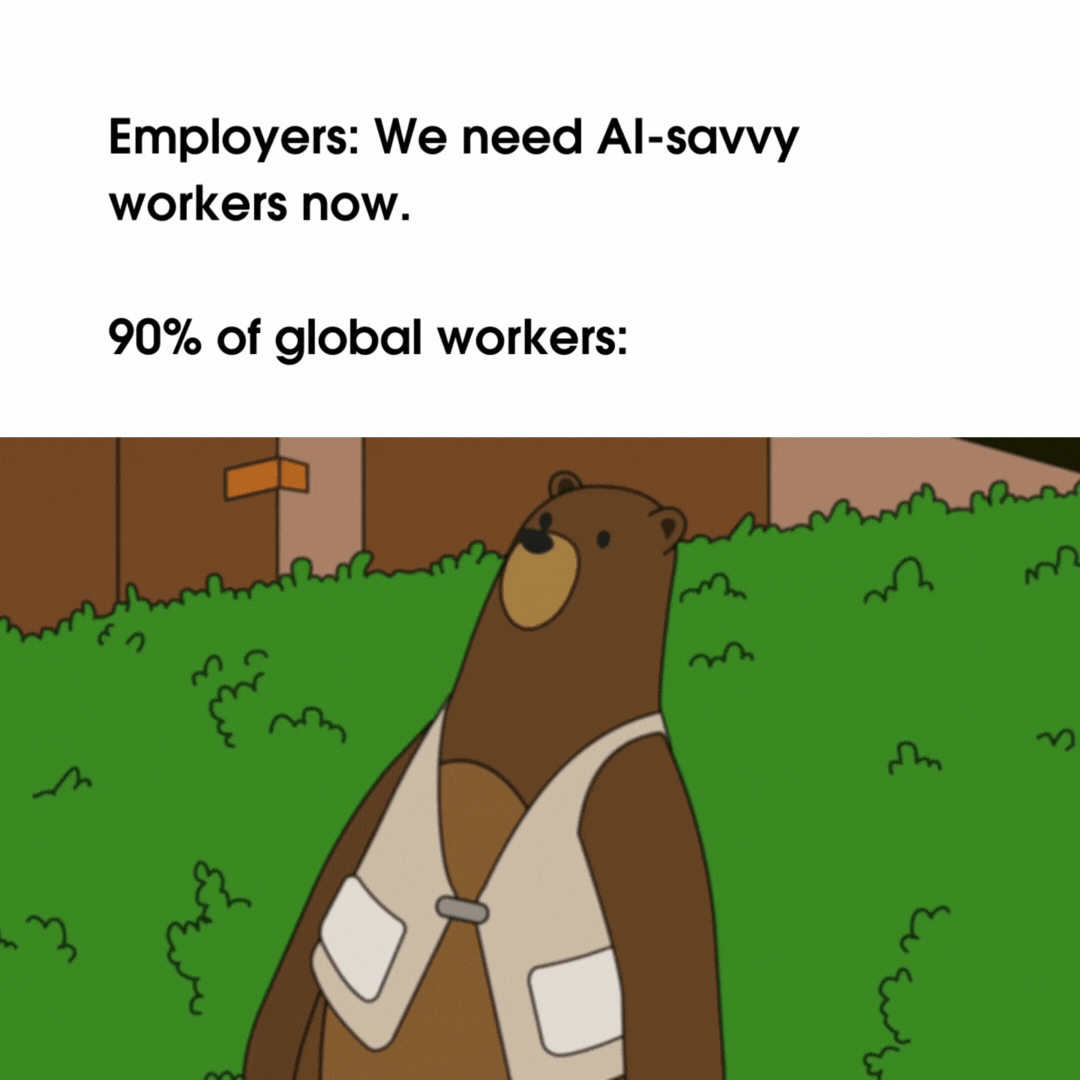 Bonus Tips for Maximizing Post Engagement on LinkedIn
Grab some more LinkedIn engagement hacks for successful posts.
Take your first lines seriously
Why do they matter?
LinkedIn shows only the first three lines of a post by default. To expand the post and view it entirely, users have to click to see more.
"You should grab the attention of your LinkedIn post readers and hook them immediately," recommends Anthony Martin, Founder and CEO of Choice Mutual.
"For that, use something that will trigger an emotional response. It can be interesting statistics or market research, an impressive number, an unusual fact, a controversial statement, a helpful piece of advice, a personal story, humor, etc.," he enumerates.
General Electric (GE), for instance, supercharged the first line with Exciting news! and a number to receive 1,554 likes + 45 reposts.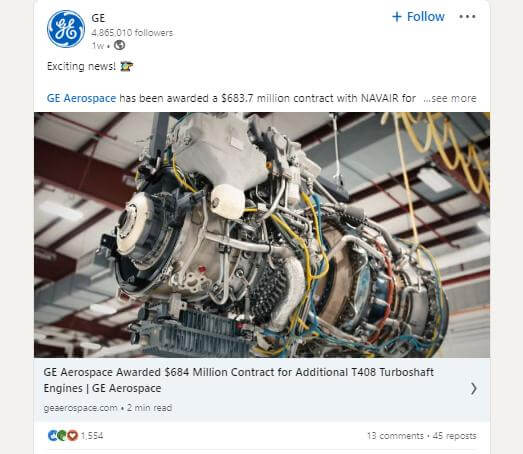 Break your post into shorter paragraphs
Large blocks of text are hard to read. Besides, skim reading is the new normal, as social media users prefer to read rapidly and focus on the main ideas. That's why you need to write in bite-sized paragraphs (one or two sentences long).
If you scroll through Zapier's LinkedIn profile, you'll notice how the brand does that in every single post. For example, when sharing tips on how to make AI less scary, Zapier began every tip with a new paragraph and marked each with a tick emoji ✅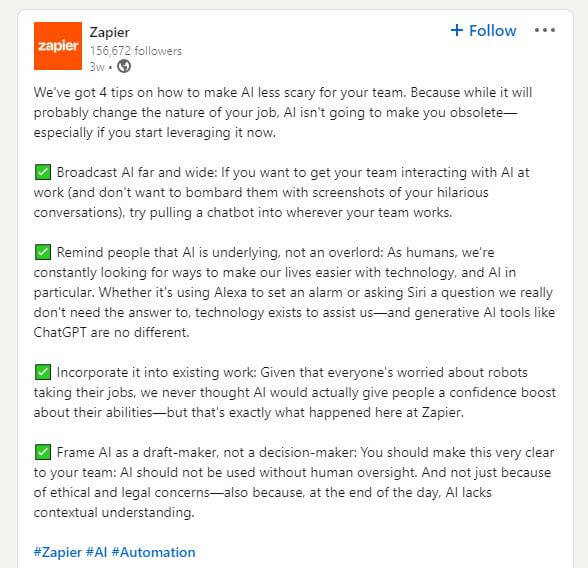 Btw, speaking of emojis…  
Bring life to your content with emojis
According to Jerry Han, CMO at PrizeRebel, "It's a subtle art of emoji marketing on LinkedIn to drive engagement.
You don't need a million emojis in your posts because they would look unnatural. The content itself would seem overstuffed with unnecessary information. Instead, select each emoji carefully and place it intentionally whenever it feels appropriate to highlight an important idea or express your attitude."
Check out this post from Zoho.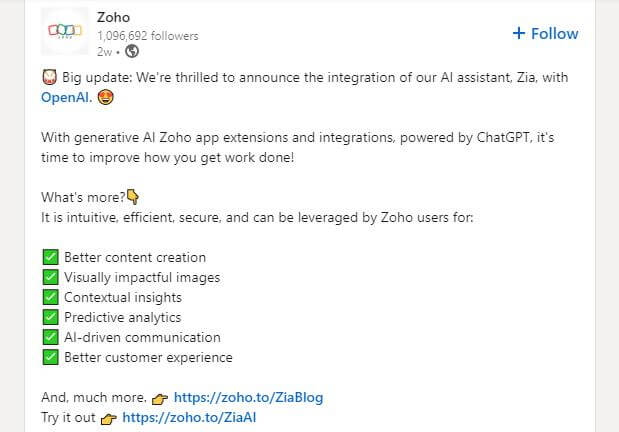 Include a strong CTA
You wouldn't want your LinkedIn followers to read your post and simply move on, would you?
You'd want them to continue engaging with it. Ask them to do so with a call-to-action (CTA):
Like this post
Share this ___
Comment on it
Join the conversation
Tell us what you think
Tag users in your posts
When tagging LinkedIn users, you call them out personally and ask them to take an active role in your post: like it, share it, or comment on it.
"Striving for high engagement of LinkedIn posts, you should avoid spammy behavior and tagging users who have nothing to do with what you're posting," warns Mark Pierce, CEO of Cloud Peak Law Group.
"Tag people only if it makes sense and if they are related to the topic. The optimal number of users to tag in a LinkedIn post is 2–3."
Amplify Your LinkedIn Likes and Shares With These Post Ideas
By implementing the above success tips for LinkedIn posts, you can enhance engagement and create meaningful connections with your audience on this social platform.
Are you ready to put these ideas to the test and achieve a snowball effect of shares and likes?
Just remember to strategize your content in advance, monitor your LinkedIn analytics regularly, and don't be afraid to experiment to get a much-needed interaction spike.
Happy LinkedIn-ing!
You might also be interested in...