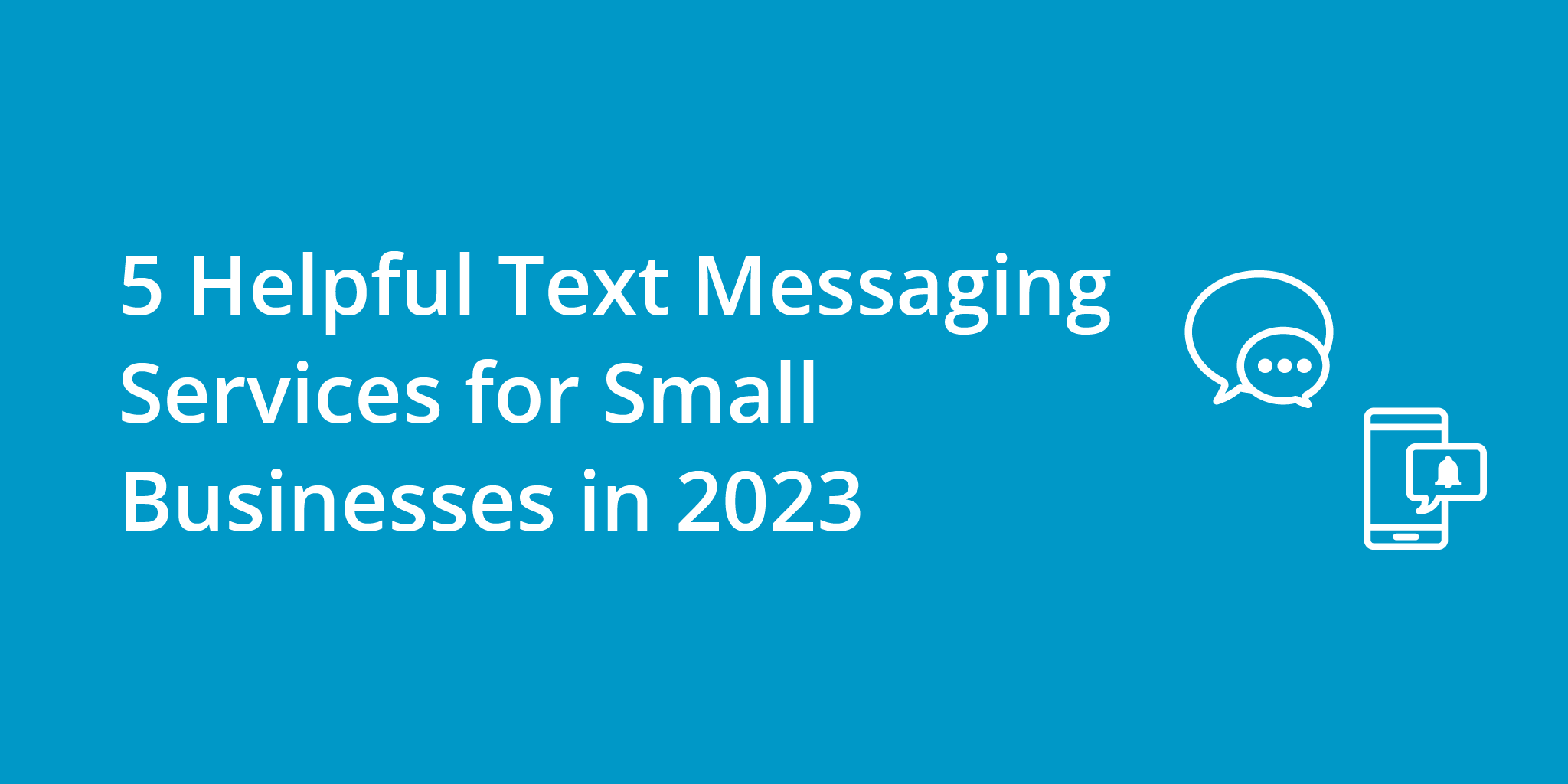 SMS may be the new kid on the business communications block, but it's SMS messaging that's really shaking up the world of business communications. SMS messages are fast, easy to use, and more importantly, they're read. In fact, SMS messages have a 98% open rate, which is significantly higher than email (21%, according to Mailchimp) or push notifications (around 5%, according to Business of Apps). That means that when you send an SMS message to your customers or employees, you can be confident that it will be seen and read. But what other benefits does SMS messaging have for small businesses?
SMS messages are also personal. Unlike email, which is often sent to a large group of people, SMS messages are meant to be personal and individualized. That personal touch can go a long way in building rapport with your customers or employees.
Another benefit of SMS messaging is that it's immediate. SMS messages are delivered right to the recipient's phone, which means they can be read and responded to in real-time. This is perfect for businesses that need to communicate quickly and efficiently.
Lastly, SMS messaging is cost-effective. If you are just getting started with SMS messaging, there are many affordable options available for small businesses.
SMS messaging is quickly becoming the preferred method of communication for businesses of all sizes. If you're not already using SMS messages to communicate with your customers or employees, now is the time to start! To help you narrow down the search, here are 5 top-rated business text messaging apps that are suited for various small business needs.
1) Textedly - Best for Getting Started for Free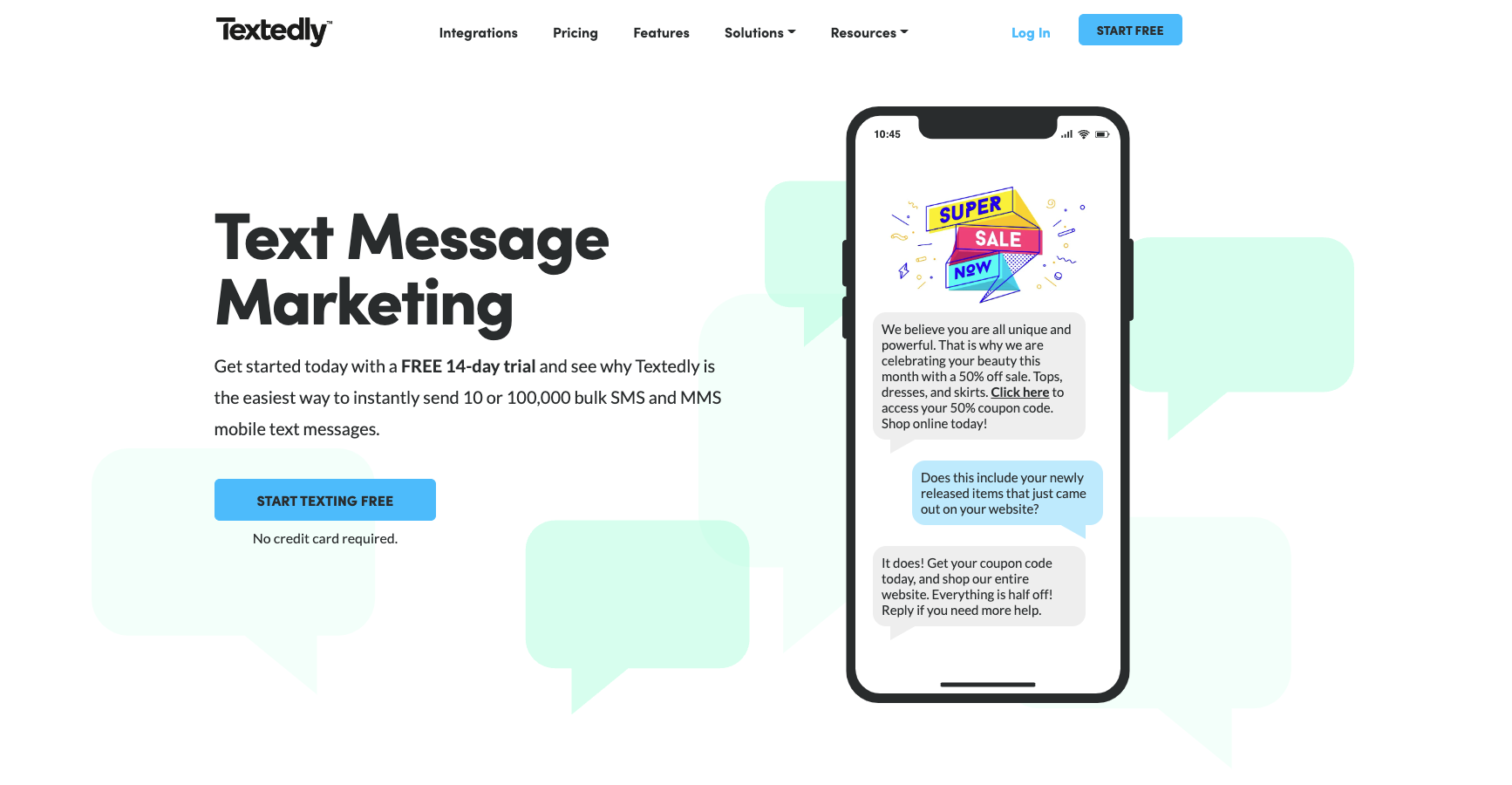 Textedly is a great option for small businesses that are just getting started with text messaging. The app offers a free, 14-day plan that includes 50 outgoing text messages and 1 text keyword so you can get started testing an SMS marketing campaign. There is also no contract required, which makes it easy to cancel if you decide text messaging isn't right for your business. The next plan is just $24/month for 1000 outgoing SMS messages, and free inbound messages.
Other unique features that Textedly offers include the ability to send an SMS with up to 300 characters, instead of the normal 160; scheduling a text for a later time/date; SMS surveys built within Textedly; and easy setup for auto-reply messages.
2) SimpleTexting - Best for Mass SMS Campaigns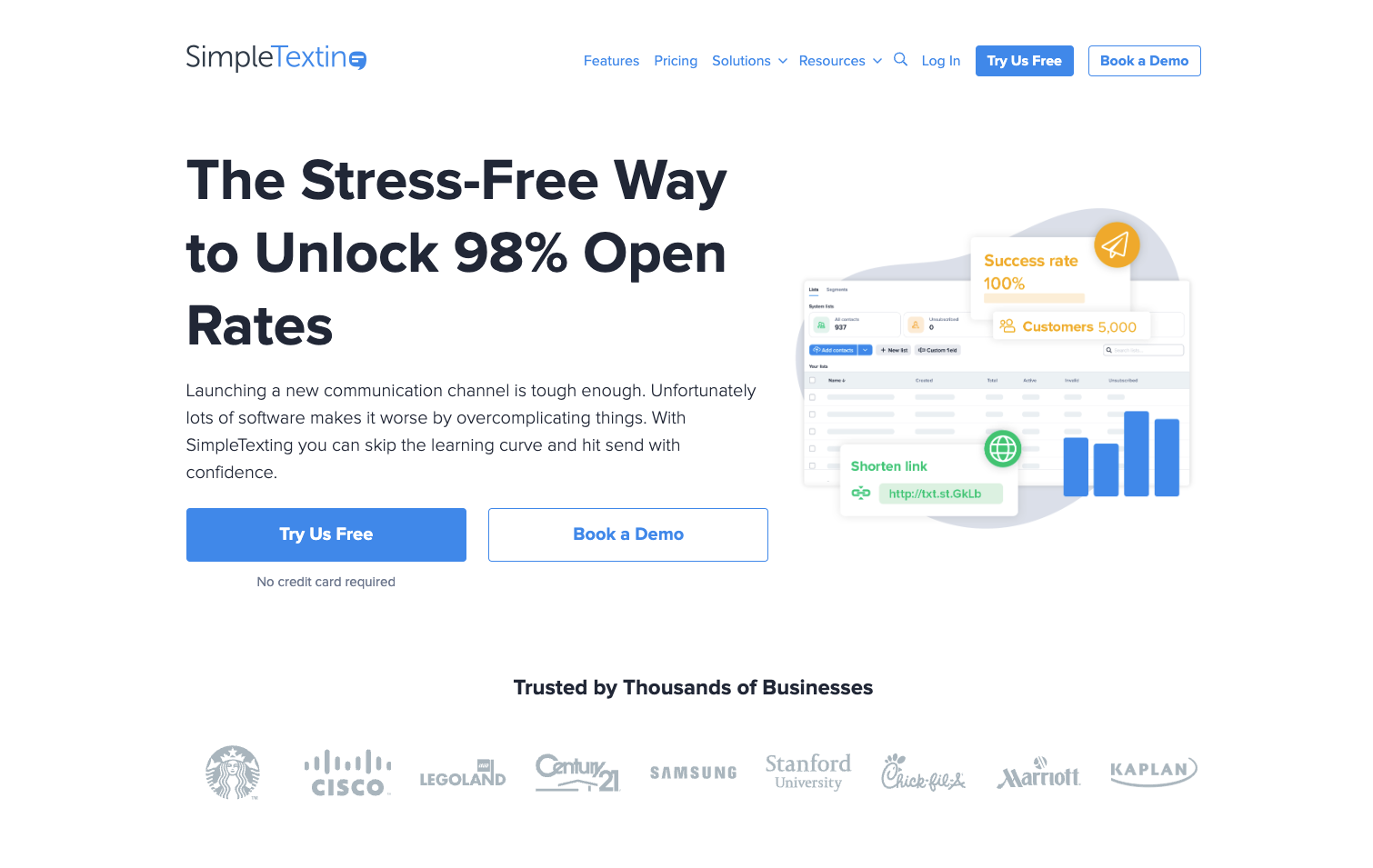 If you're looking for an SMS app that can handle mass outgoing text messaging campaigns, SimpleTexting is a great option. The app starts at just $29/month for 500 outbound message credits (1 SMS = 1 credit, 1 MMS = 3 credits), with other volume-based plans that are easy to scale. If you plan on receiving a large volume of incoming text messages to a short code (ie, "Text 00945 for more info."), SimpleTexting also has very competitive rates and quick turnaround times.
3) SlickText - Best for Text to Subscribe Campaigns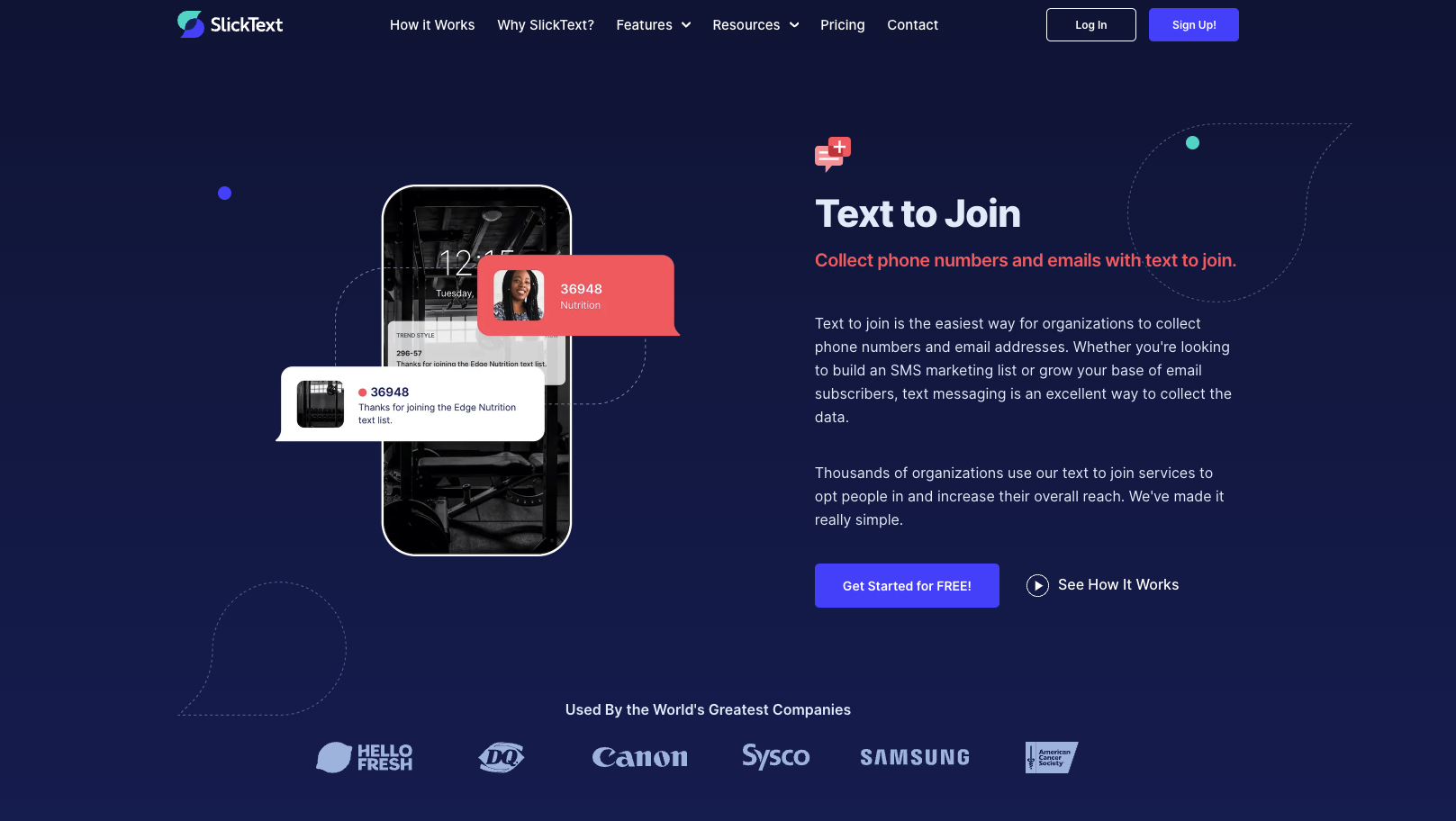 SlickText is an SMS app that specializes in text to subscribe and text to win campaigns. This type of campaign allows you to add a keyword to your print marketing materials (ie, "Text JOIN to 567890 for exclusive deals!"), which customers can text to opt-in to your text message list. SlickText offers a basic plan (at $29/mo) that includes 2 "textwords" or unique keywords that prospects can text to your short code to sign up for SMS messages from your business.
4) Omnisend - Best for Omnichannel E-Commerce Marketing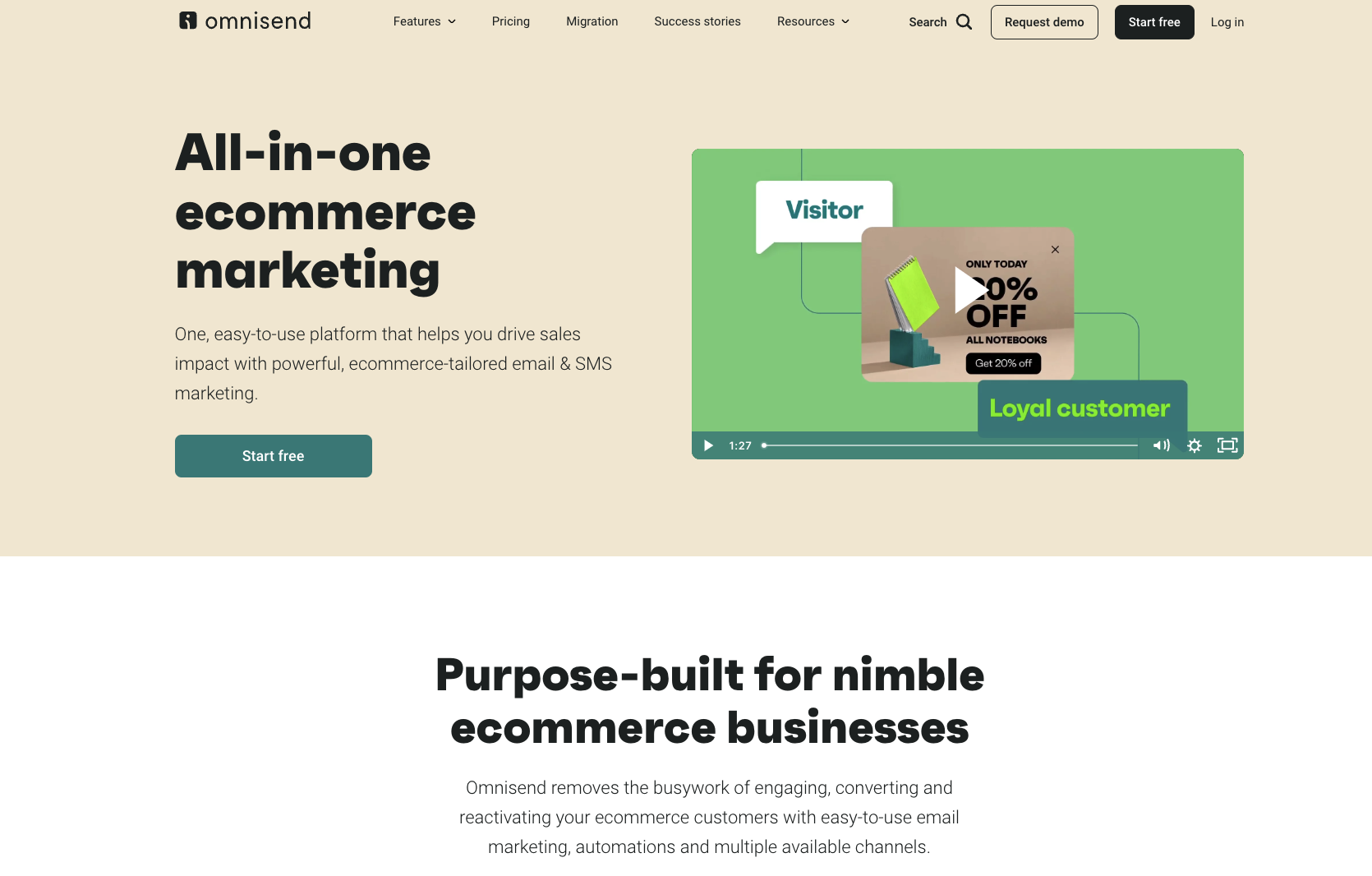 For those looking for one platform that allows a multi-faceted way to reach customers, Omnisend is a great option. Omnisend is more of an email marketing platform with SMS capabilities, not an SMS-specific provider. The platform also allows you to build e-commerce workflows, automate emails and SMS messages based on customer actions, create landing pages, popups, and other engaging forms. Omnisend's free plan (completely free, not a free trial) includes up to 250 contacts, 500 emails/mo, and approximately 60 SMS messages (depending on where you are located, and where you are sending your messages).
5) Kixie - Best for Voice + SMS Campaigns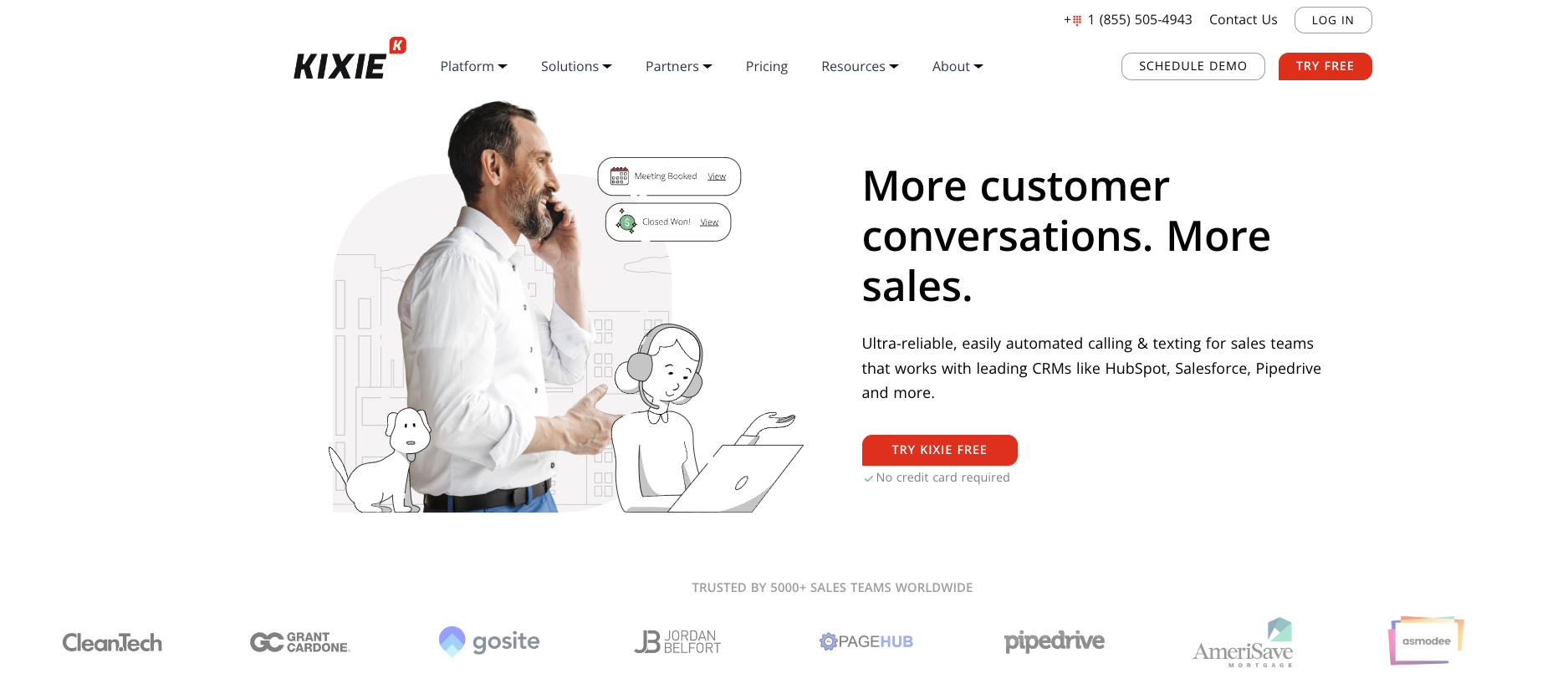 If you run an outbound sales team that uses calling and texting to get in touch with prospects, Kixie is the best choice. Kixie is a sales engagement platform that offers a multi-line (up to 10) power dialer, shared SMS inbox for incoming messages, SMS templates for sales follow-up, auto-calls triggered by customer actions (like an abandoned cart or form filled out), and more. By leveraging Kixie's voice and SMS automations, your sales team will be able to increase output, book more meetings, and ultimately close more deals. Get a free, 7-day trial with all of Kixie's features here.
Need more help getting started with your business SMS campaign? Check out our SMS sales and marketing content library, with more articles and actionable insights.
You might also be interested in...