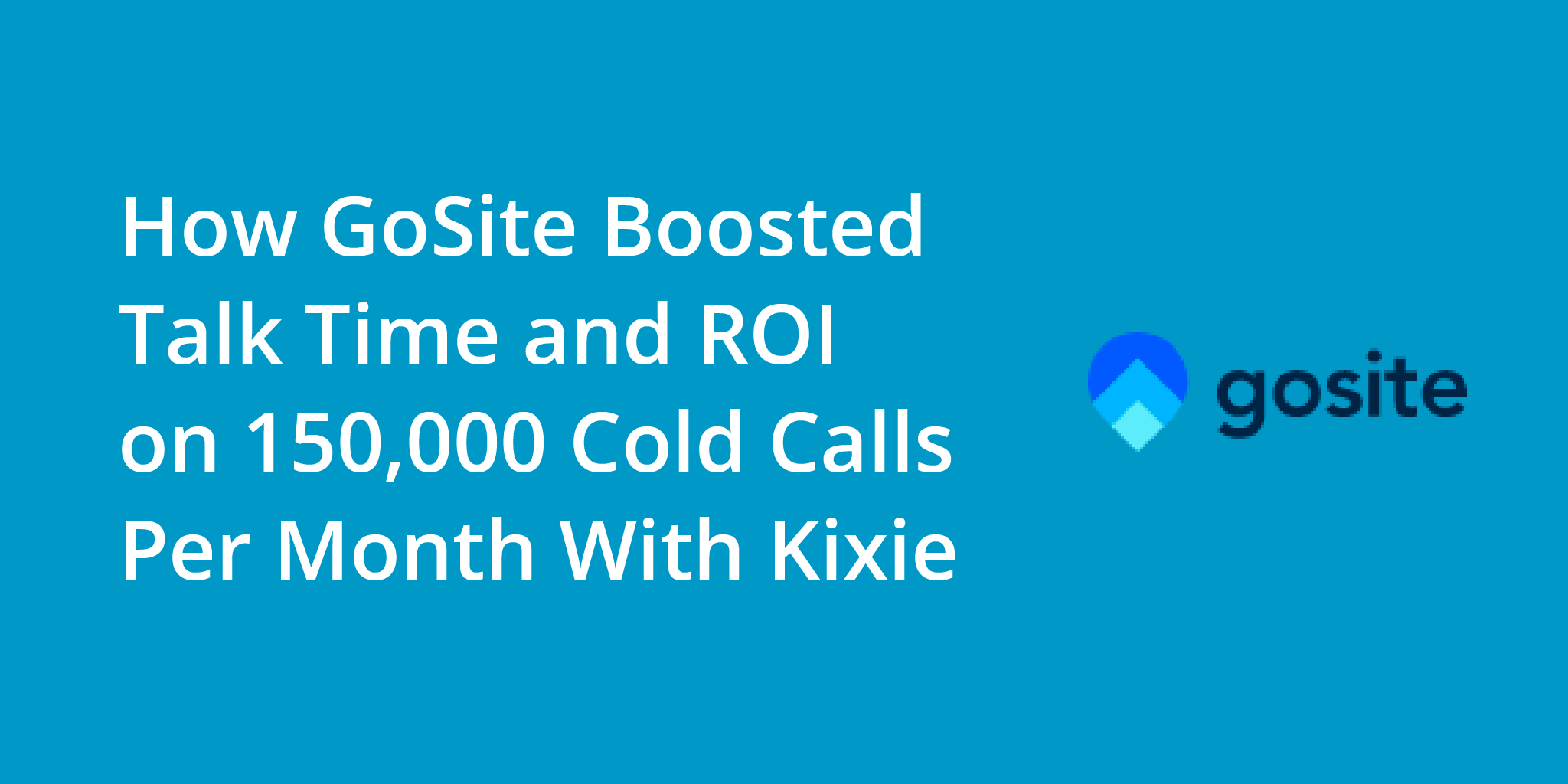 Industry: Software Development
Location: San Diego, CA
No. of Employees: 51-200
CRM: HubSpot
GoSite is on a mission to empower small businesses through easy-to-use digital technology. Everything from bookings and payments to managing contacts and reviews is available through their all-in-one platform tailored to small business owners, primarily in the home services space (roofers, contractors, plumbers, etc.).
"We help them with their digital presence, everything from building them a website to adding on conversion tools to make it more modern with website chats, online booking that syncs directly with their calendars, payment links, and reputation management," says Zach Cummings, VP of RevOps at GoSite. He continues, "We roll it all into a mobile app, which allows these businesses that are on the go all day to manage their entire business from their iPhone or Android."
Founded in 2013, GoSite has already received $40 million in Series B funding and numerous awards for exceptional company culture, diversity, and small business solutions.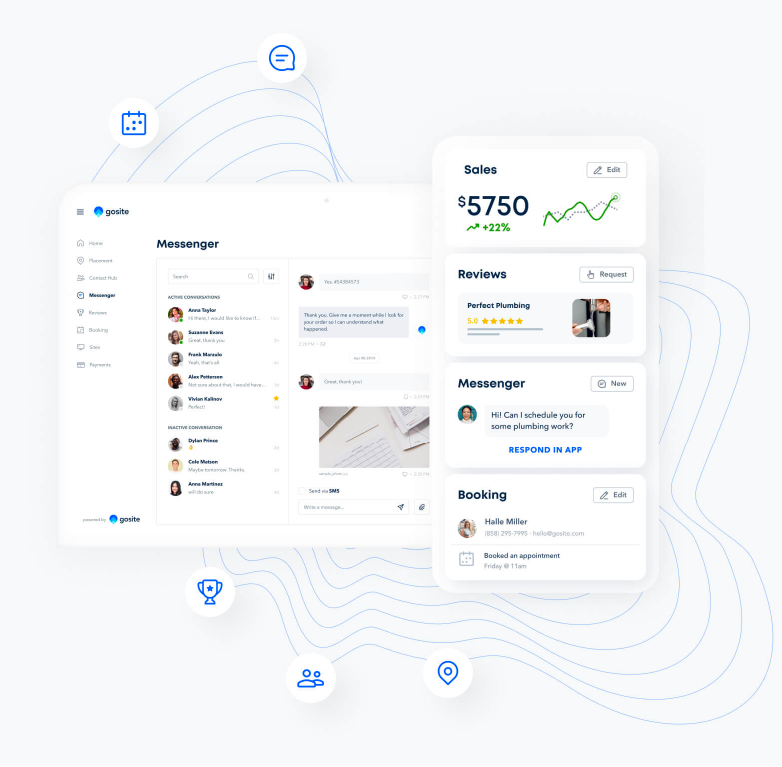 The Challenge
Vice President of Revenue Operations at GoSite, Zach Cummings, sat down with us and shared his experience of using Kixie to run their outbound sales team. The sales team at GoSite has been using Kixie's outbound calling solutions for three years, but before Kixie they tried a number of other calling companies.
"In the ten years [I've been with GoSite], I think I've tried every phone system out there, I mean, like, Five9, Ytel, Aircall… There's a couple more out there that we've tried—but we came across Kixie I think through one of those Capterra/G2 Crowd websites," Zach explains.
GoSite was looking for a phone system that was robust enough to fill their need for both inbound and outbound calling, and would help them scale their outbound sales efforts. After some trial and error, their search led them to Kixie. Zach goes on to say, "the big thing that stuck out to us was the dynamic local presence with multiple numbers. Around a year ago, we were making around 150,000 cold calls a month, and that dynamic local presence was a game changer for us."
The Solution
Since switching to Kixie, Zach and his team at GoSite have used just about every Kixie calling and SMS feature to implement their go-to-market strategy as well as train new sales development agents.
"We use [Kixie] for all outbound and inbound calling. We have multiple vendors that will send us qualified leads, so we use the ring groups daily […] and we use the texting functionality. Those are our primary components from a go-to-market standpoint. From an admin and operations standpoint, the reporting is very beneficial, [as is the] live call coaching and 'barging' in [to live calls]."
After using Kixie on a daily basis for just a handful of months, Zach and his team began to see productivity and revenue improvements. Now reflecting on three years of running his sales team on Kixie, Zach says, "Our productivity has gone up quite a bit. One of the main pieces that sets Kixie apart from other vendors that might be driving that productivity is that dynamic local presence.
"I can't say it enough, that local presence, when you have 10 different numbers per local area code that just spins like a clock…and the ability to turn it on and off after you build trust with somebody…it popped our revenue so much that I was actually pretty shocked to be honest with you.
"When you have the ability to spin up those numbers, you get a lot more people on the line and you get a lot more conversations. More conversations in sales typically leads to more closed deals and more commissions…it keeps the reps moving."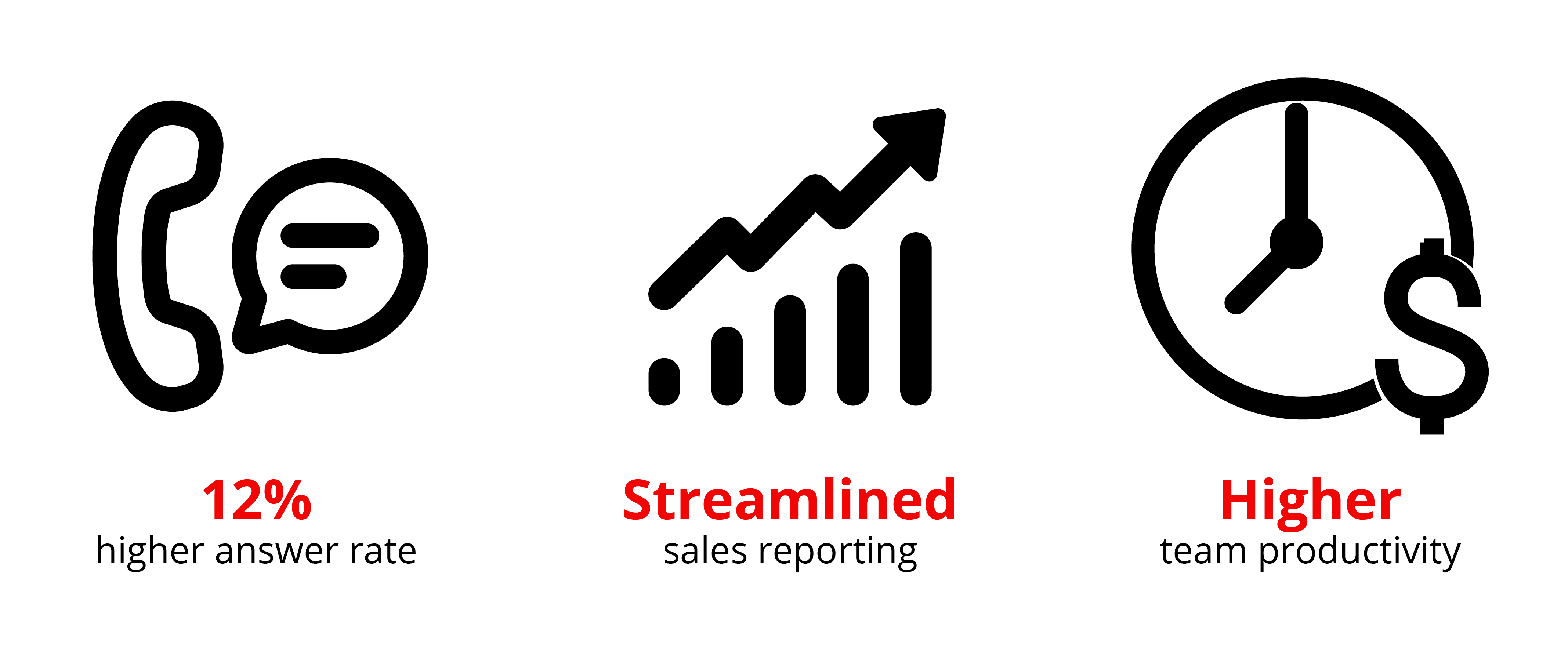 The Results
In addition to reaching more prospects and having more conversations with the support of local presence dialing, Zach's team has also leaned into time saving tools like voicemail drop, SMS templates, and click-to-call to streamline their sales process.
Reflecting on how much time each of his agents saves per day with these tools, Zach notes, "30-45 seconds per voicemail; custom [templated] texts can save anywhere from another 30-45 seconds…it adds up." He continues, "I have seen dial and talk time go up over the course of moving to Kixie, meaning [reps] have more time to be on the phones."
GoSite was able to increase their answer rates by 12% after switching to Kixie, a testament to the efficacy of ConnectionBoost, Kixie's advanced local presence feature with anti-spam likely detection and progressive caller ID.
From an admin and operations standpoint, another benefit that GoSite has realized with Kixie is the ability to seamlessly sync their sales operations with HubSpot. Kixie's HubSpot integration makes it easy for them to track call times, connection rates, and other activity metrics. Zach points out, "A lot of these companies are fully built around Salesforce, and we're a HubSpot shop, so the integration that Kixie has goes much deeper than a lot of other integrations with phone companies […] pushing all of our activity metrics into our HubSpot reporting so we can have weekly and monthly analysis of what's working and what's not has been a game changer.
"Dials are irrelevant if you don't know how many conversations you're getting into - so being able to track the connections that are 5 minutes or more for quality conversations, pushing that into HubSpot, and then layering that over vertical and industry and area has been extremely beneficial for us."
When asked how he would feel if he wasn't able to use Kixie any longer, Zach smiled, saying, "I tried to leave Kixie one time, and we did it solely because we got kind of blinded by a different price point. It was a more affordable price point. It was not the right call. I think I was back on the phone with Alex right away, saying, 'How do we get this back up and running? Sorry, we apologize.' So if we had to leave Kixie today I'd be pretty disappointed. It fits all of our needs for our sales strategy and our implementation, along with our post-sale [operations]."
You might also be interested in...