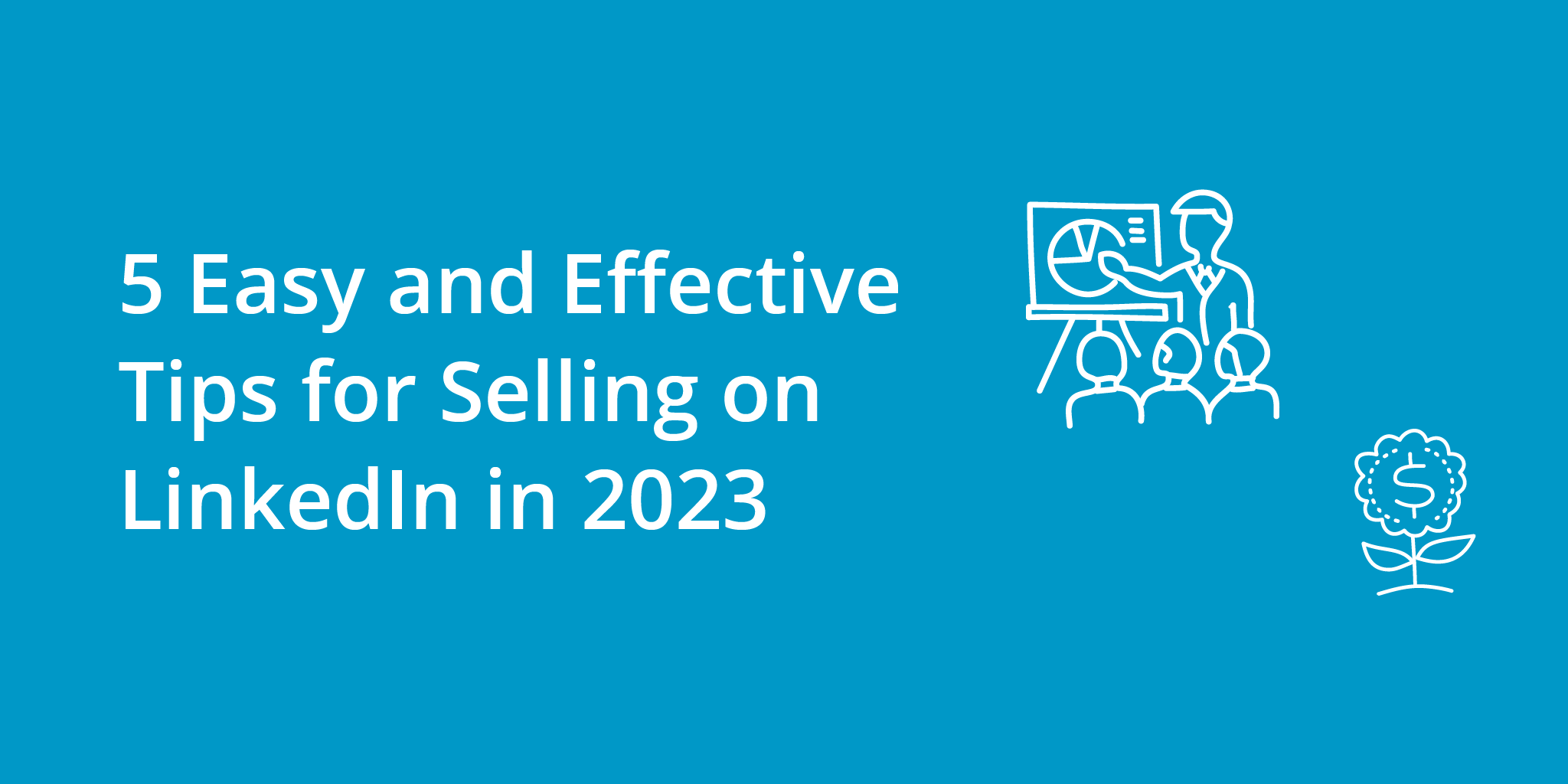 Looking for real-life examples of how different brands approach LinkedIn to generate more B2B leads? This blog post is full of best practices, from top-performing posts to high-converting bios. On top of that, you'll learn how to connect LinkedIn with your other channels for maximum ROI.
Before delving into details, here are some jaw-dropping LinkedIn facts that may motivate you to develop a LinkedIn lead generation strategy right away:
With that, let's supercharge your sales strategy with proven tactics for selling on LinkedIn.
1. Optimize Your LinkedIn Profile
Before posting something on LinkedIn, take care of your LinkedIn profile. Optimize it for lead generation. Paired with captivating content, you can turn your page into an inbound lead generation machine. 
Ready to practice?
Pro Tip: Make sure you've activated LinkedIn Creator Mode. This allows you to add custom links and hashtags to your LinkedIn profile and drive more views. Also, you get access to creator analytics.
Use a Professional Headshot
Your profile picture is the first thing people see when they visit your profile, and it helps you establish credibility and trust with potential clients or partners. You don't need to hire a professional photographer to get a great headshot, but you do need to pay attention to a few key elements:
High-quality, clear image
Solid or neutral background
Good lighting, preferably natural
Appropriate attire for your industry
Friendly and approachable facial expression
Head and shoulders shot, with your face taking up 60-70% of the frame
Recent photo (ideally taken within the last two years)
If your photo has a busy background, you can use a photo background removal tool to achieve a cleaner and more professional look. This will help you stand out and create a better first impression.
Get unbiased and free feedback on your headshot with a website like Photofeeler. Upload your photos and wait until you collect at least 25 rates. You can speed up the process by analyzing and giving scores to photos of other people.
Use a picture that gathers the highest score for a business headshot.
You can also use a tool like Snappr Photo Analyzer to score your current LinkedIn picture. The software uses a mix of AI technologies to give feedback on your smile, jawline, composition, and brightness. Combine two tools to create a stand-out headshot.
Create an Eye-Catching Banner with a Clear CTA
A banner is your captivating billboard on a busy highway. It's your opportunity to grab the attention of passing "drivers" (profile visitors) and invite them to engage with you further. And you only have a few seconds to convey your message.
Let's explore how LinkedIn influencers use banners to sell their services.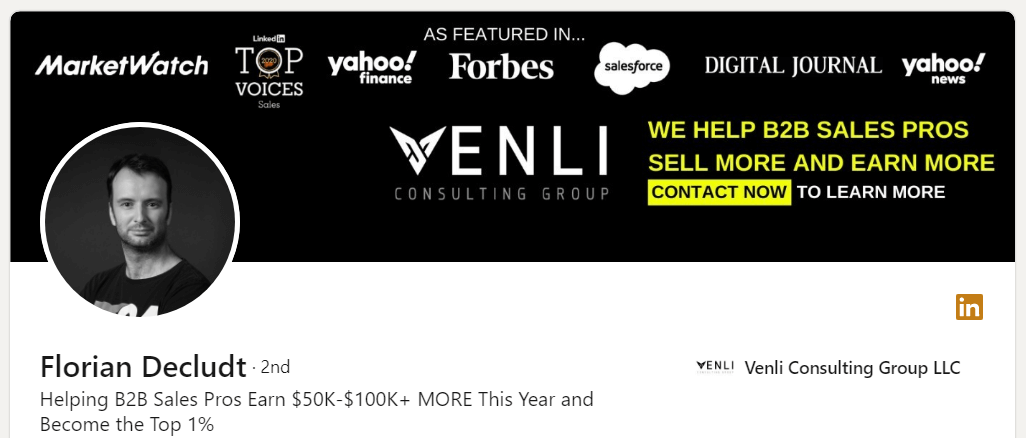 Florian's banner establishes trust by mentioning top-notch media outlets that wrote about Decludt's company. It also has a clear call-to-action and a short description of what you can find on this profile.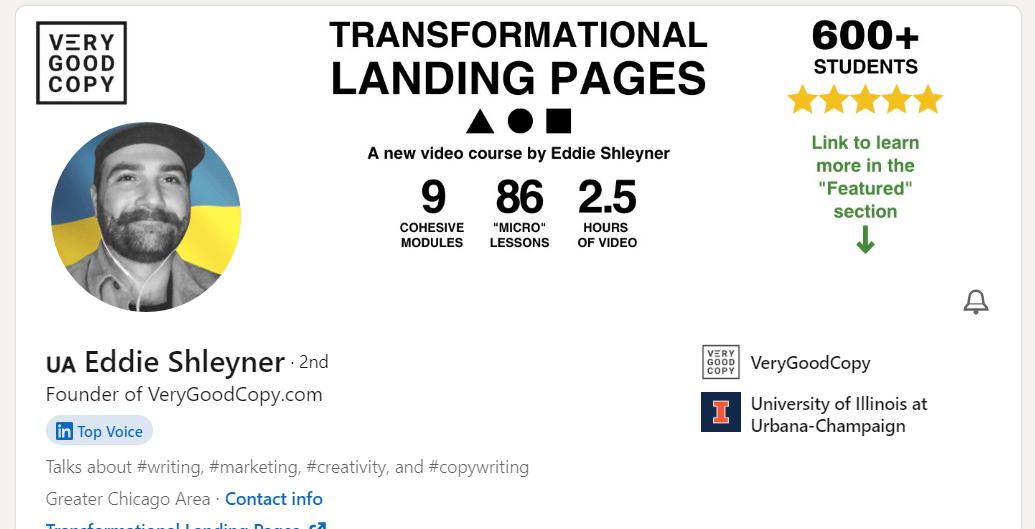 Likewise, Eddie Shleyner uses the banner space to sell his product on copywriting for landing pages.

Be authentic and bold to differentiate yourself from competitors. Turn colors up to the max, add your personality, and add emojis that identify you like Grace has done. It's okay not to be boring on LinkedIn, even if you sell B2B services.

Will Allred, Co-Founder of Lavender, piques curiosity with a provocative and super-relevant question for his target audience. With that, you can quickly get the sense that Will talks about cold emailing and sales. 
Write a Headline and Bio That Sell
Your LinkedIn headline is a short and sweet introduction to who you are and what you do. When crafted just right, it can make people stop scrolling and take the time to explore your bio (the About section).
Follow these tips to create engaging headlines:
Highlight your unique selling points
Use action verbs and strong adjectives
Include numbers, world-famous brands, etc.
Here's what LinkedIn creators from different niches write in their headlines and bios.

It articulates a clear and straightforward monetary value Florian can bring to you.

This headline capitalizes on the well-known brand HubSpot to foster credibility and drive more leads.

Matt's snappy and on-point headline assures you of monetary rewarding business outcomes.

Grace Lancer talks directly to the target audience to attract highly relevant leads and delves into her services.
Another good example of a LinkedIn bio comes from Roman Pikalenko. It's easily skimmable and pokes the target audience's pain points while hinting at an immediate solution.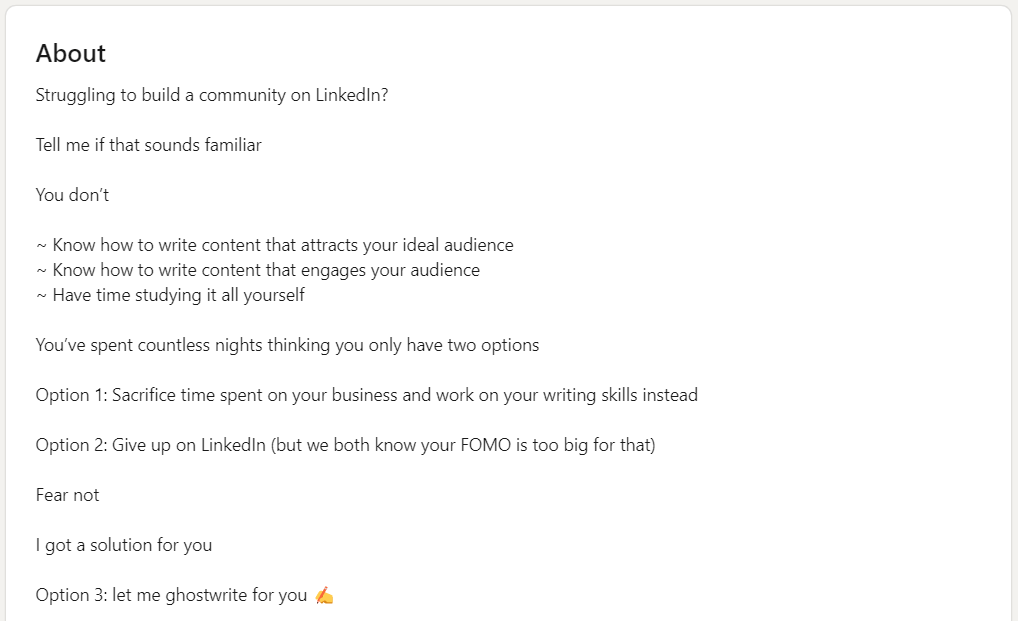 Include Any Relevant Links on Your Profile
Direct your customers to your products, landing pages, packages, etc., right from your bio, headline, and featured posts. Here are a few examples.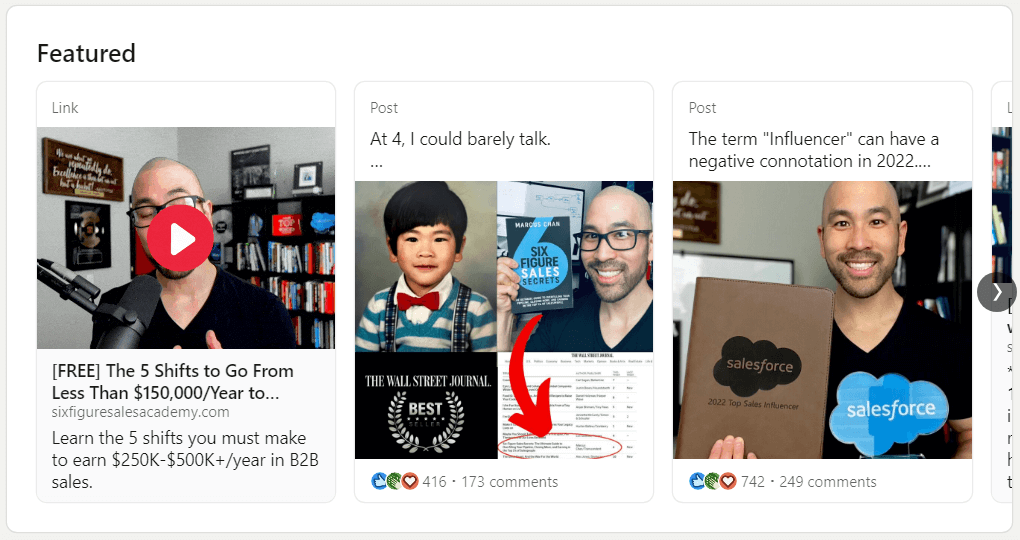 Use your Featured section to showcase your offers, rewards, and other selling points.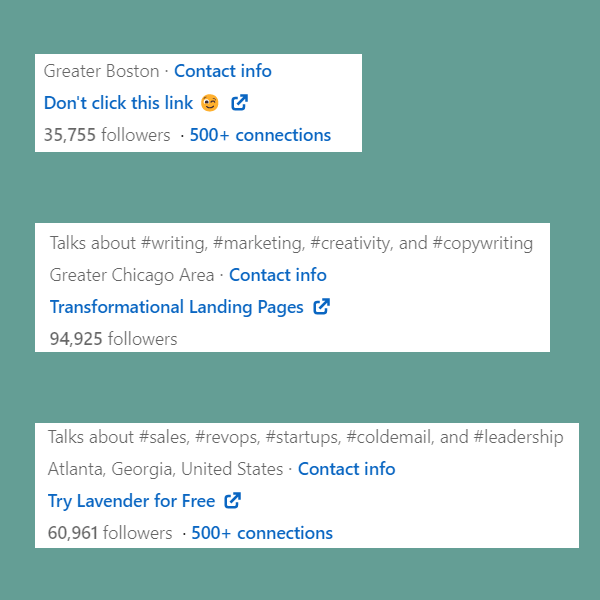 These three examples explicitly show you the best approaches to prompt people to click on the link. Playful, serious, and delivering the offer — try all of them and analyze your conversions.
2. Connect With Prospects and Potential Customers
LinkedIn is a goldmine for finding prospects and potential customers. With the free version of LinkedIn, you're limited to browsing people's profiles according to daily and monthly limits. To explore an unlimited number of pages and access advanced filters to find people who fit your ICP, you'll need to subscribe to LinkedIn Sales Navigator.
Here's a quick overview of the advanced filters available:
Spotlights
Years of Experience
Past Lead Activity
Seniority Level
Posted content by keywords
Groups
Annual Revenue
Headquarter Location
Company Headcount Growth.
In reality, you'll get 30+ filters to pinpoint your warmest leads.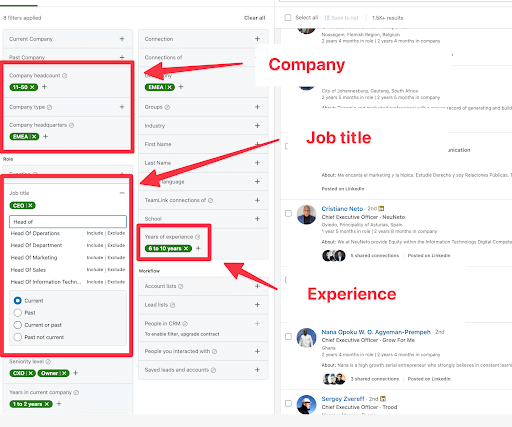 Once you create your list of relevant people, it's time to send connection requests to start a casual conversation.
Come up with genuine, friendly connection messages to increase the chances of people accepting your connection requests. You could also prepare automated personalized messages in bulk using LinkedHelper and send them to your selected contacts. Don't try selling to prospects straight away unless you want to make zero sales and jeopardize your reputation. 
Here are some samples of engaging connection messages that will make people want to accept your connection request.
Example 1.
Hi [Name], I read your recent post on [Topic], and I couldn't help but connect! I'd love to check out more of your content as I also [your interest, role, etc.]
Example 2. 
Hi [Name]!
I'm [your name] — [what you do and what value you deliver to your audience]. Let's connect to see new folks in our feeds and get more insightful content on [your topic].
Example 3. 
Hey [Name],
I'm a [your role], and I share my journey from X to Y. As you're in charge of X, you might be interested in such content 🙂 
No strings attached :D
After connecting with a prospect, continue engaging with them and their content. Leave meaningful comments, tag them in your posts, and deliver relevant content to their inboxes but DON'T spam.
3. Share Valuable Content With Your Audience
Share content and information that's valuable and interesting to your audience through your LinkedIn profile regularly. Try to post every day. The first weeks will bring low engagement and views, but with time and consistency, you'll see a spike in your impressions.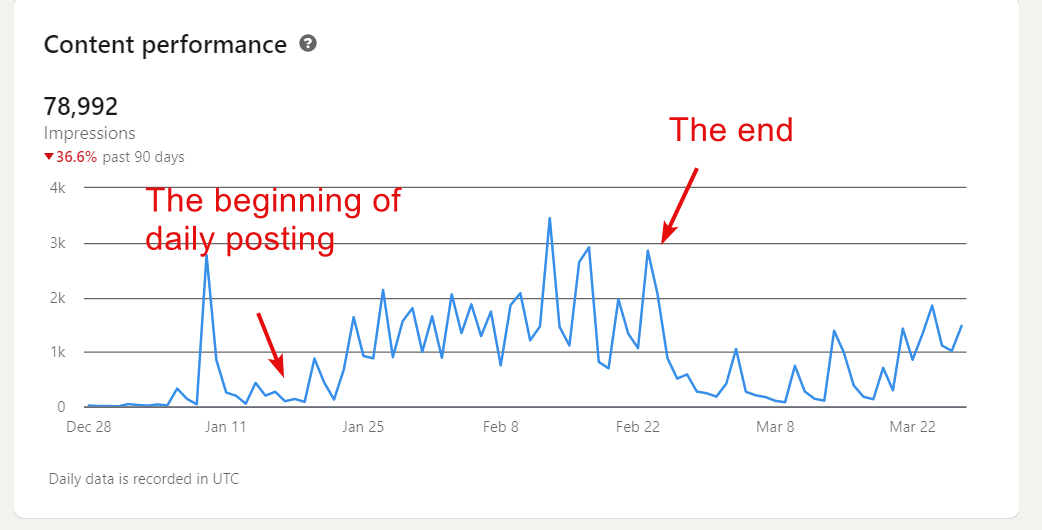 The power of daily posting is evident. It has a ripple effect on impressions. But stop posting and engaging with others' content, and you'll likely experience a dip.
Here are a few types of content that help you attract prospects' attention and build your personal brand:
Case studies
Pro tips
Observations
Fads
Personal stories
How to do X and get Y
Curated content
Carousels
Short videos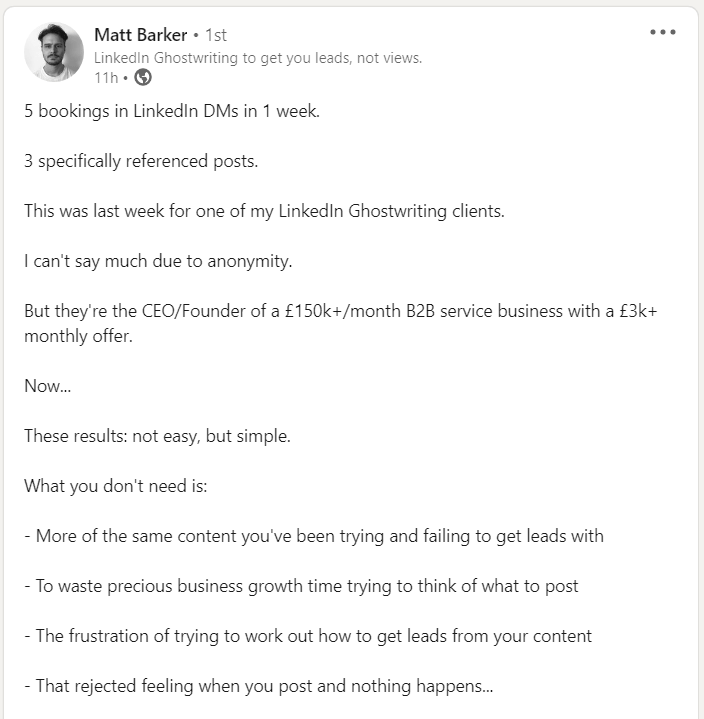 ✅Pro Tip: Consider an 80:20 split between educational and self-promotional content. It's fine to self-promote once in a while, but the majority of the content you post should engage and bring free value to the table. 
4. Join in on Discussions in Relevant LinkedIn Groups
LinkedIn groups can be a great way to find people who align with your ICP. Participate in discussions to build rapport and learn more about their challenges. Focus on providing value to other group members and avoid promoting your product or service directly.
Here's how to find relevant groups where your target audience hangs out:
Identify keywords that match your solutions and customer pain points, as well as your buyer personas.
Enter each keyword in the search box and click on Groups.
Go over the list and join both large and close-knit communities.
5. Combine LinkedIn With Other Channels
While selling on LinkedIn exclusively can work, you can close more deals by engaging prospects through multiple channels.
Here's an example of a multi-channel sales cadence you can try:
Day 1: Visit the prospect's LinkedIn profile and engage with their content.
Day 2. Do the same and send a connection request on LinkedIn.
Day 4: Send an email.
Day 7: If a prospect is active on LinkedIn, interact with their content again.
Day 10: Send a follow-up email.
Day 14: Call the prospect.
Sounds like a lot of work? It can be. Luckily, there are a number of tools you can use to save time.
Use Kixie to automate calling, texting, and voicemail drops. The software's detailed analytics and reporting features will help you understand how your outreach efforts are working.
If you're using Salesforce, you can use Weflow to automatically sync sales activities, meetings, and emails to your CRM system. You can also take advantage of Weflow's Chrome extension to update Salesforce contact records without leaving LinkedIn.
Wrap Up
The key to success on LinkedIn lies in being genuine, engaging, and always looking for opportunities to learn and grow. So, put these tips into action and watch your inbox get flooded with inbound leads!
Learn more about thison the topic:
Jenny Romanchuk is a freelance writer with over 6 years of hands-on experience in content marketing & sales for B2B SaaS. She writes for HubSpot, Userpilot, Tango, and other SaaS companies.
You might also be interested in...