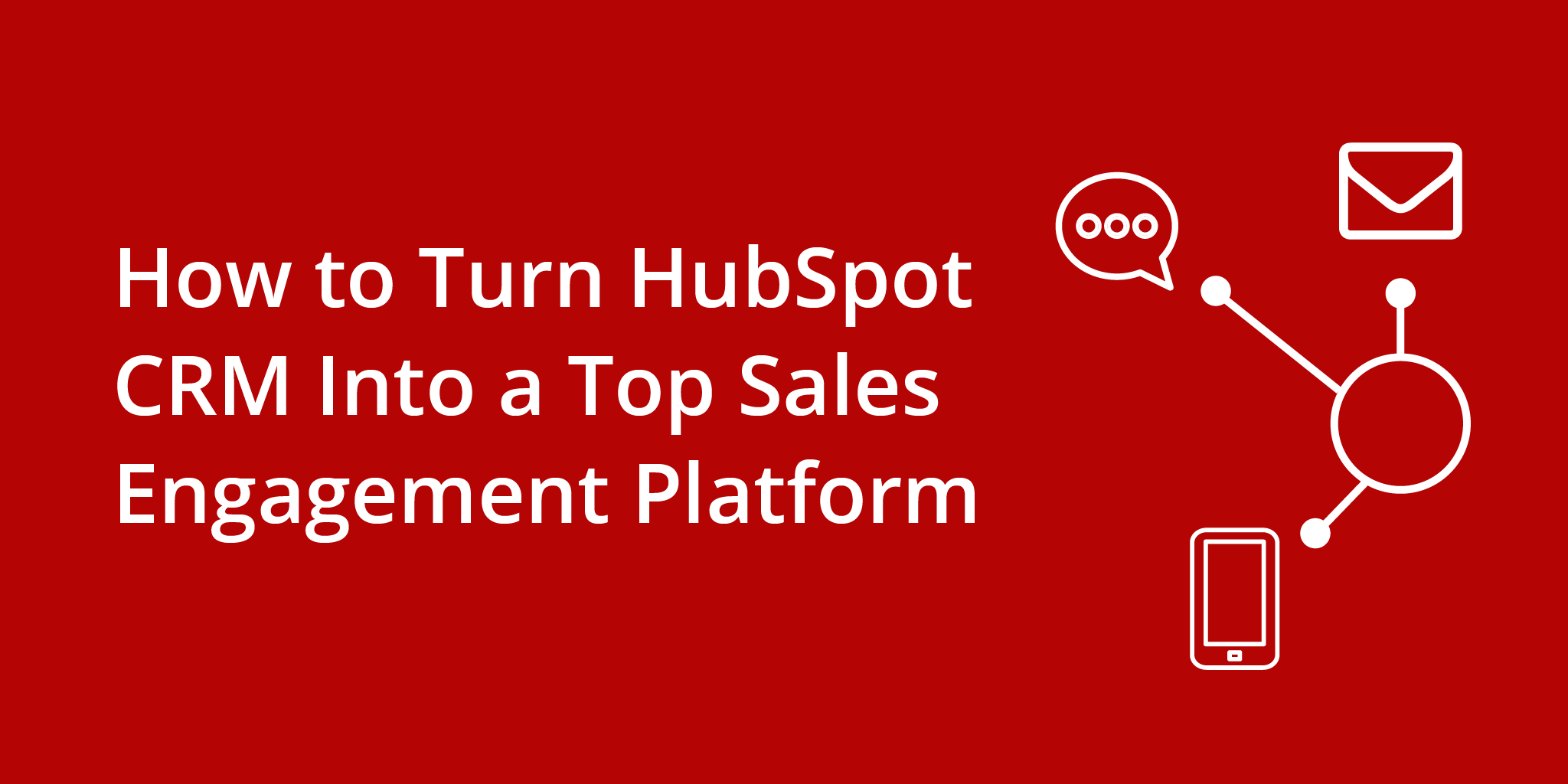 Whether you're setting up a new sales team or updating your sales organization to keep your competitive edge, one of the most important things to consider is what tools ("Sales Tech Stack") will best help your reps close more deals. If your team is still sending each text and email manually, dialing by hand, and spending the rest of their time entering notes and data into a CRM, it doesn't matter how good they are at their job – the competition will still be able to run laps around them.
Looking at the plethora of software tools available – dialers, automation tools, CRMs, email campaign programs – can be overwhelming, but it doesn't need to be. All you really need is one tool that does it all. This is where the sales engagement platform comes in.
What is a Sales Engagement Platform?
A sales engagement platform is the Swiss Army knife of sales: a comprehensive solution to cover all of your sales team's needs and streamline your sales cycle. It's all the tools you need in one convenient package, keeping all of your operations and data in one virtual location.
For sales reps, this means fewer programs and windows to jump between while their focus should be on closing deals. It also means less time spent on tedious tasks like sending that same email again, logging a call, taking notes, and so on – and more time speaking with prospects and most importantly, closing more deals. For sales managers, this means higher overall productivity, and one central dashboard to track that productivity and keep your team at peak performance.
The primary purpose of a sales engagement platform is to optimize your sales process through constant improvement, informed by data gathered on the platform. Let's say you have a sales cadence set up which involves calling, texting, and emailing your leads. Even with a relatively simple cadence, you have a plethora of data points to work with to improve your strategy and increase win rates. This data will show you what sales content is most effective, and which times of day are best to call, text or email your leads.
An Automated Calling and Texting Platform
Kixie is an automated calling and texting platform that integrates seamlessly with HubSpot to create one of the most effective and comprehensive sales engagement platforms on the market today. There are many other CRMs Kixie integrates with as well, but in this article we're focusing on HubSpot because the HubSpot team just released a really cool feature that lets you embed the Kixie Dashboard into your HubSpot reporting page, adding a whole new level to this integration.
Activity, Outcome and Cadence Reporting
Kixie already automatically logs calls, text messages, call outcomes, and activities in HubSpot, so you can see reports on your reps' activity in HubSpot's native reporting features. This means you can see, for example, graphs of activity by rep that include calls, texts, and emails; or reports on the total numbers of different call outcomes each rep has had over a given time period:
Embedding Kixie into your HubSpot reporting dashboard adds a whole new suite of features to your HubSpot dashboard. Not only can you view all of Kixie's native reporting alongside your HubSpot reports, you can also see live call reporting, manage user settings, set up advanced inbound call flows, and create automated calling and texting cadences – all within HubSpot: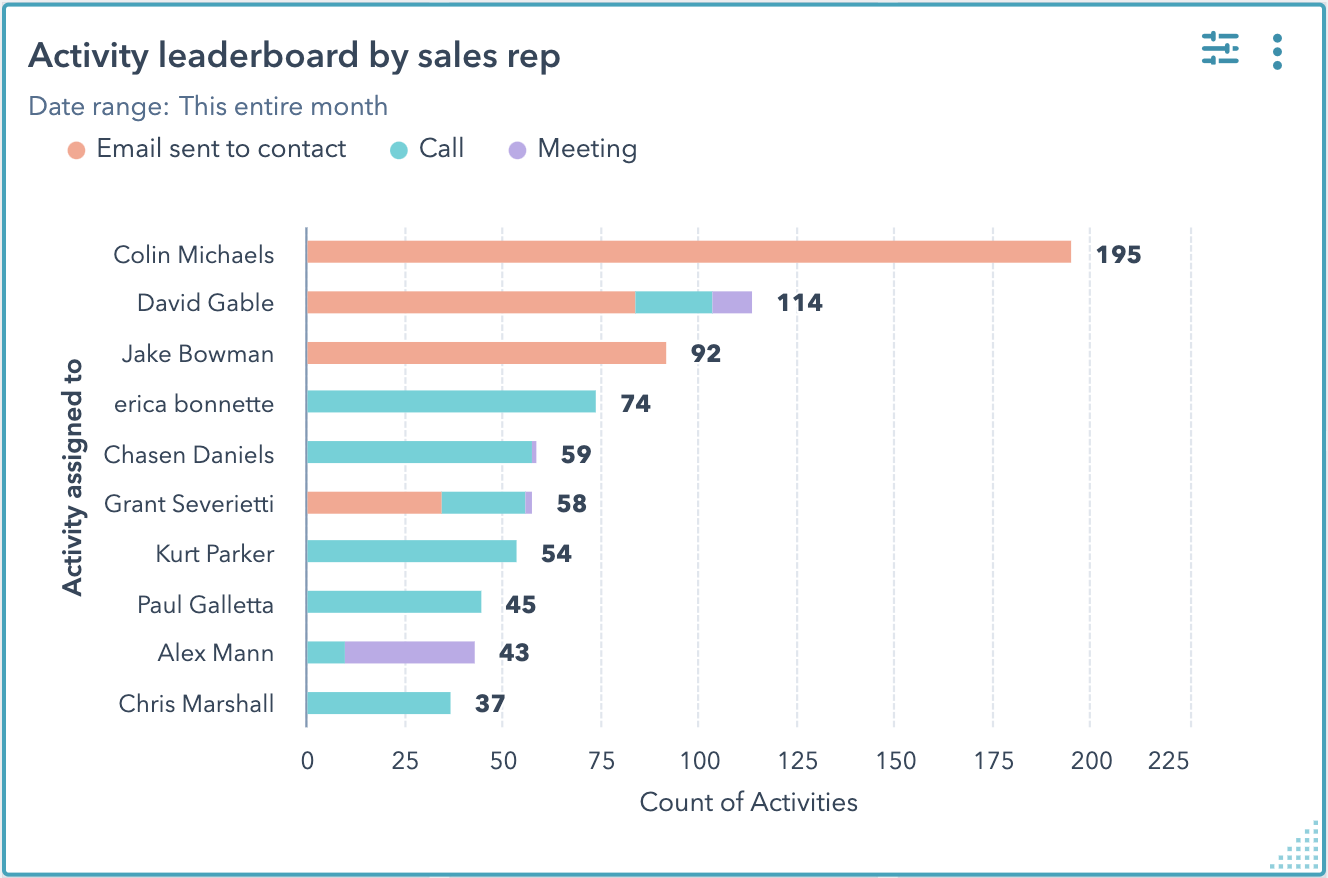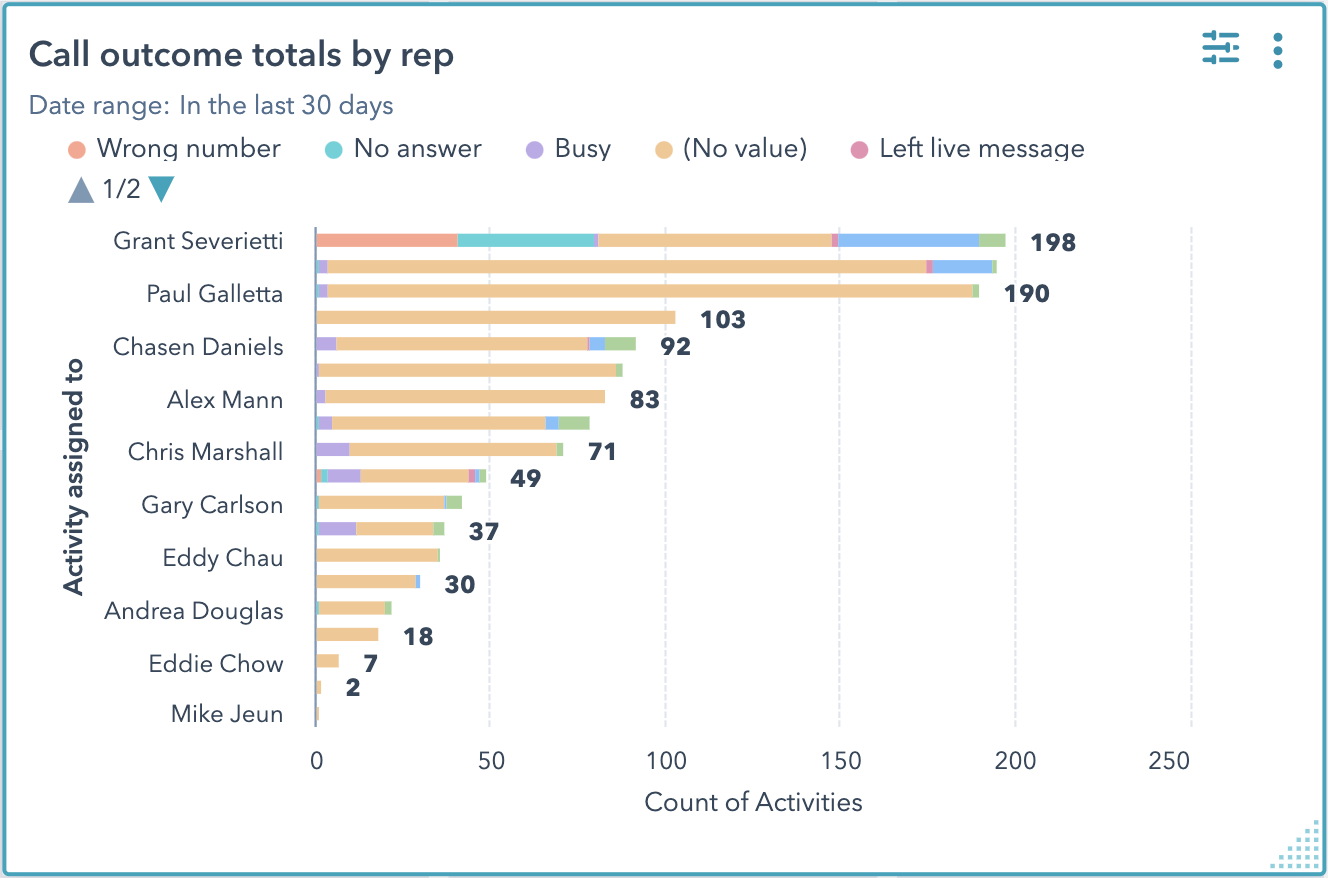 Live call reporting gives you a real-time bird's eye view of your reps' activity. It shows you whether a rep is logged in, if they're on a call, who they're on a call with, how long they've been on that call, and whether that call was incoming or outgoing.
User management lets you change the settings of your Kixie users from within HubSpot. You can change an agent's telephone number, add or remove features or permissions, and even create new users.
Advanced inbound call flows like IVR auto-attendants, ring groups, queues, and automatic forwarding can be easily managed or created without leaving HubSpot.
Automated calling and texting cadences can be created here as well, and can include rules like how many times a contact should be called each day, what hours they should be called at, and when they should be unsubscribed from the cadence.
Setup Instructions
Combining Kixie and HubSpot reporting dashboards is easy, and takes less than a minute.
Navigate to your HubSpot reporting dashboard: In the top your HubSpot CRM, go to Reports > Dashboards and select the desired dashboard in the top left corner of the page
Click the "Actions" button in the top right corner of the page, and select "Embed external content" from the dropdown menu
In the popup window that will appear, you can make the name "Kixie" or anything you want. Next, paste https://app.kixie.com/ into the URL section below, and click "Create"
Kixie is now embedded in your HubSpot dashboard! We recommend making the Kixie dashboard full size; to do this simply click the top edge of the Kixie window and drag it to the right side of your reporting dashboard, and then click the bottom right corner of the Kixie window and drag that corner out to the left side of your reporting dashboard to enlarge it to full size.
If you are currently a Kixie customer and have any questions on how to set this feature up, please email us at support@kixie.com. If you're interested in becoming a new customer, please email sales@kixie.com, or simply sign up for a free trial here.
You might also be interested in...