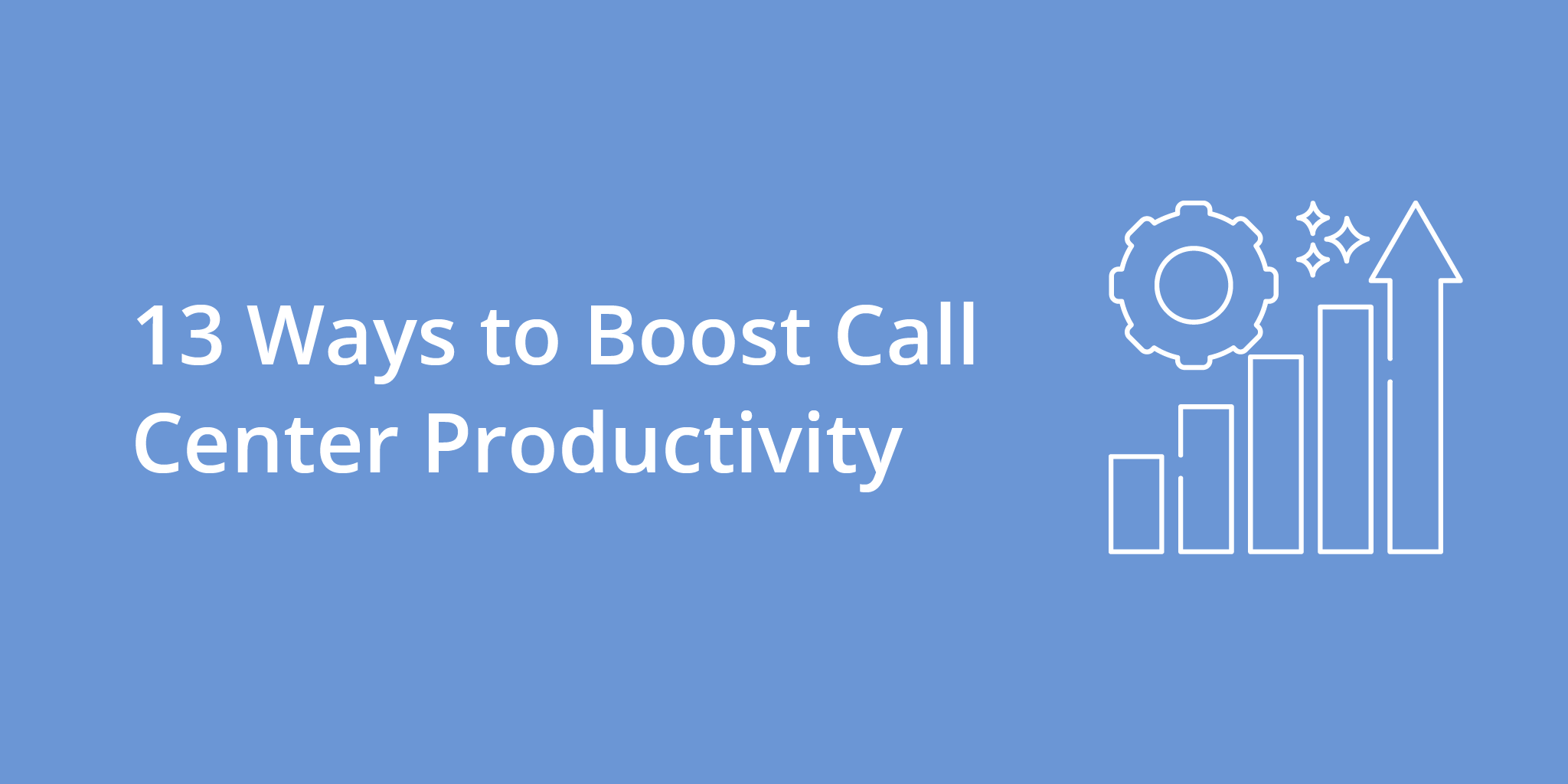 Improve the productivity of your call center, and your business can skyrocket.
Even just a few percentage point improvements in key performance indicators (KPIs) can translate to happier customers, more repeat business, and lower operating costs.
Every step that improves call center productivity by even a small amount should be considered. Can you reduce the average time customers spend waiting in a queue? Can you lower the cost per call while increasing the percentage of calls that are resolved the first time the customer calls?
There are hundreds of ways you can get more output from your contact center. Below are our top tips for increasing the efficiency and productivity of a call center.
1: Offer Self-Service
70% of call center managers say they experience a reduction in call volumes when automated systems are employed. Customers, especially young people, like the ability to perform simple tasks through automated systems without being required to speak to anyone at all.
Not all customers like to interact with a bot, though. Offer a quick way to transfer to a human when necessary.

2: Trust Your Agents to Perform Autonomously
A micromanaged atmosphere where agents must follow a strict set of canned responses creates disheartened, bored agents. It also restricts the agents' abilities to help customers when problems occur outside the norm.
Trained agents with autonomy continue to hone their skills and feel great when helping your customers, leading to better performance and improved interaction with customers.
3: Give Your Agents the Information They Need
Accessibility of information is a significant driver in how quickly an agent can complete a call and how likely they are to resolve an issue on the first contact. Well-informed agents ensure a customer's experience is brief and positive, resulting in better customer loyalty and more repeat sales.
While this begins with training, agents should have instant access to information on the customer, your company's products and procedures, and the typical outcome of the interaction. This comes down to employing excellent contact center applications that empower the agent with the knowledge they need to handle every call.

4: Allow Agents to Take Short and Frequent Breaks
It's a mistake to push agents to answer calls 100% of the time. Call centers are hectic places to work, and agents need breaks to refresh and regain control over their stress levels. They'll be able to greet every customer with a smile when given a short time to reset.
5: Measure Individual Agent Performance
The KPIs of a department can give you a high-level view of performance, but they don't show plainly which agents are struggling, why those agents are performing as they are, or how they can improve. Intelligent call center analytics can give you deeper information on how each agent interacts with customers and manages their day.
6: Incentivize High Performance
Motivation is the key to contact center success. Call leaderboards and similar call center gamification techniques can make the workplace fun while motivating workers to perform at their best.

7: Develop Multichannel Agents
Customers often dislike being transferred between agents or departments because they feel their query isn't being dealt with promptly. It also increases call times because the same information needs to be relayed time and again.
Multichannel agents—those who can perform more than one duty—solve this problem, as they're able to resolve the issue for the customer in a single call. Training agents with new skills also lowers the turnover rate and can potentially reduce the number of staff required on the floor.
9: Improve Channel Integration
When it's not possible to have agents perform multiple duties, you should at least ensure transfers between departments are smooth. When several agents will deal with a single customer, ensure there's a fast process in place to get each agent up to speed on the situation and what's required.
Integrating your phone system with your customer relationship management (CRM) system can go a long way to offering agents the correct information when they need it, shortening call times, and lowering customer frustration.
10: Sticky Agents
Through automated systems, you can route customers to the same agent each time they call. This eliminates the time agents usually spend getting up to speed on what's happening in the case. Customers typically prefer it, too, as they feel their issue is being taken seriously, and they don't need to keep reiterating the same information over the phone.
11: AI/Skill-Based Routing
Lower the amount of time wasted on calls being answered by the wrong agents by employing a skill-based routing system. Calls can be routed to suitable agents once the caller has indicated the nature of their query to an automated system.
Systems can route calls to agents based on analytics, so agents have time to perform other duties such as email support and social media management. An IVR system allows customers to select the nature of their question or issue from an automated menu, ensuring that they are routed to the correct agent every time.
12: Let Agents Reflect on Their Strengths and Weaknesses
The critical thing about individual call center agent analytics is to ensure agents can reflect on their performance and think about ways they can improve. Through call coaching and analytics, you can show them where they might be slipping up.
Listening to agents' concerns about processes slowing them down or other causes of dissatisfaction can also help you find ways to further streamline your call center.

13: Recognize Great Performers
Lack of recognition is a major motivation killer. Begin by authentically recognizing when employees perform well, then incorporate one-on-one meetings and a formal recognition program. Companies with a recognition program see a 31% reduction in employee turnover.
Recognized workers stay with the company for longer, meaning you have more experienced agents at your disposal, and they're motivated to work hard as they know their efforts will be noticed.
Reach Greater Heights in Your Call Center Performance
These are just some of the ways you can boost call center productivity. Innovative sales engagement platforms with CRM integration are leading the charge in call center performance improvements. These tools can help contact center KPIs soar by assisting you in routing calls efficiently, monitoring agents, giving effective feedback, and motivating employees to perform at their best.
You might also be interested in...