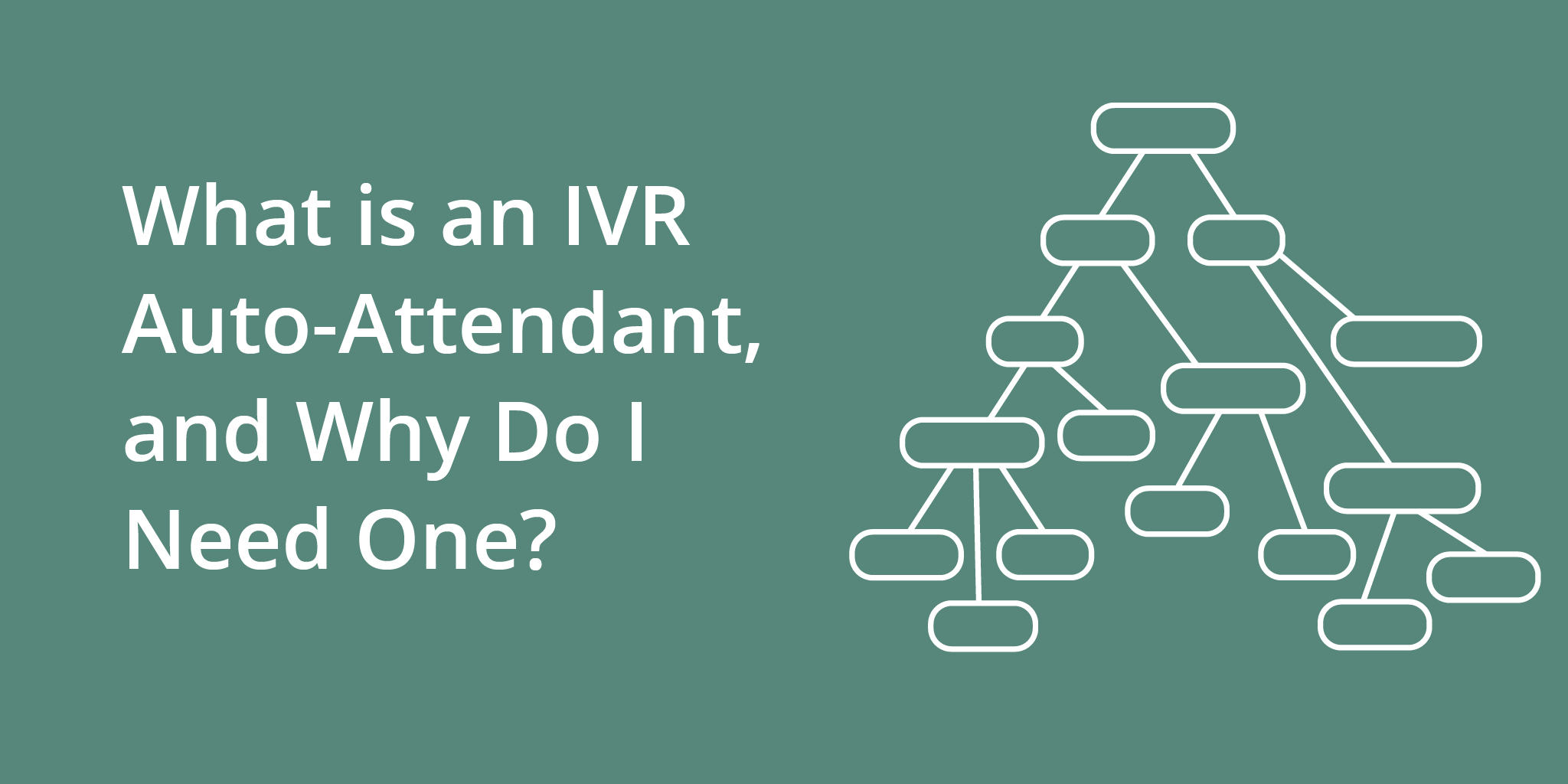 What is an IVR?
An IVR is an acronym for Interactive Voice Response. Sometimes referred to as a "phone tree," an IVR is an automated attendant that a customer can interact with over the phone before being connected to a live agent.
If you've ever had to call into a 1-800 toll free number, chances are you were greeted by an IVR. A typical IVR will start with a greeting, such as "Thank you for calling [company name]. Your call is very important to us. So that we can connect you with the right person, please press 1 if you are an existing member, press 2 if you are inquiring about a new membership,…" and so on.
After selecting an option on an IVR menu, you might be directed to another IVR menu with further options, directed to a voicemail, or connected to a real person. (If you want to hear a real life example of what an IVR sounds like, feel free to call our IVR at (855) 505-4943.)
Why Should I Use an IVR for My Business?
Regardless of whether your company has hundreds of employees or just a few, having an auto-attendant can have major benefits for you and your customers or clients. That said, there are some differences between small and large businesses when it comes to the benefits of interactive voice response systems and the way you use them.
Why IVRs are Useful for (Very) Small Companies
It might come as a surprise that no matter how small your business is, you can still benefit greatly from setting up an IVR (or even multiple IVRs). Even if you are a one-person operation or have just one person answering the phone, using IVRs can have multiple benefits.
Know what the call will be about before answering the phone.
Let's say you've just started your business and you're the only person answering the phone. You want to know if an incoming call is from a new client or an existing client, and if it's an existing customer you want to know if they are having a technical issue or simply want to make changes to their account.
Simply set up an IVR with all of these options leading to you. The end result will be the same no matter what option the caller selects, but when the call comes in it will be labeled accordingly with the menu option they selected.
Send certain calls to voicemail.
With your small business, you've got limited time and resources to answer calls. You don't want to miss any opportunities to bring in new business, but if an existing customer wants to upgrade their account or has a question, you might want to have them leave a voicemail so you can screen their call and decide when to call them back based on the urgency of whatever it is they need.
So, you set up an IVR where the "new client" option rings your phone immediately, and the "existing client" sends a customer to a voicemail asking for a detailed description of what they need, and assuring them that you will call them back ASAP.
Create a professional appearance.
Calling into a toll-free number and being greeted by an automated attendant creates a much more professional experience for the customer. It can even have the added benefit of making your company appear larger than it really is!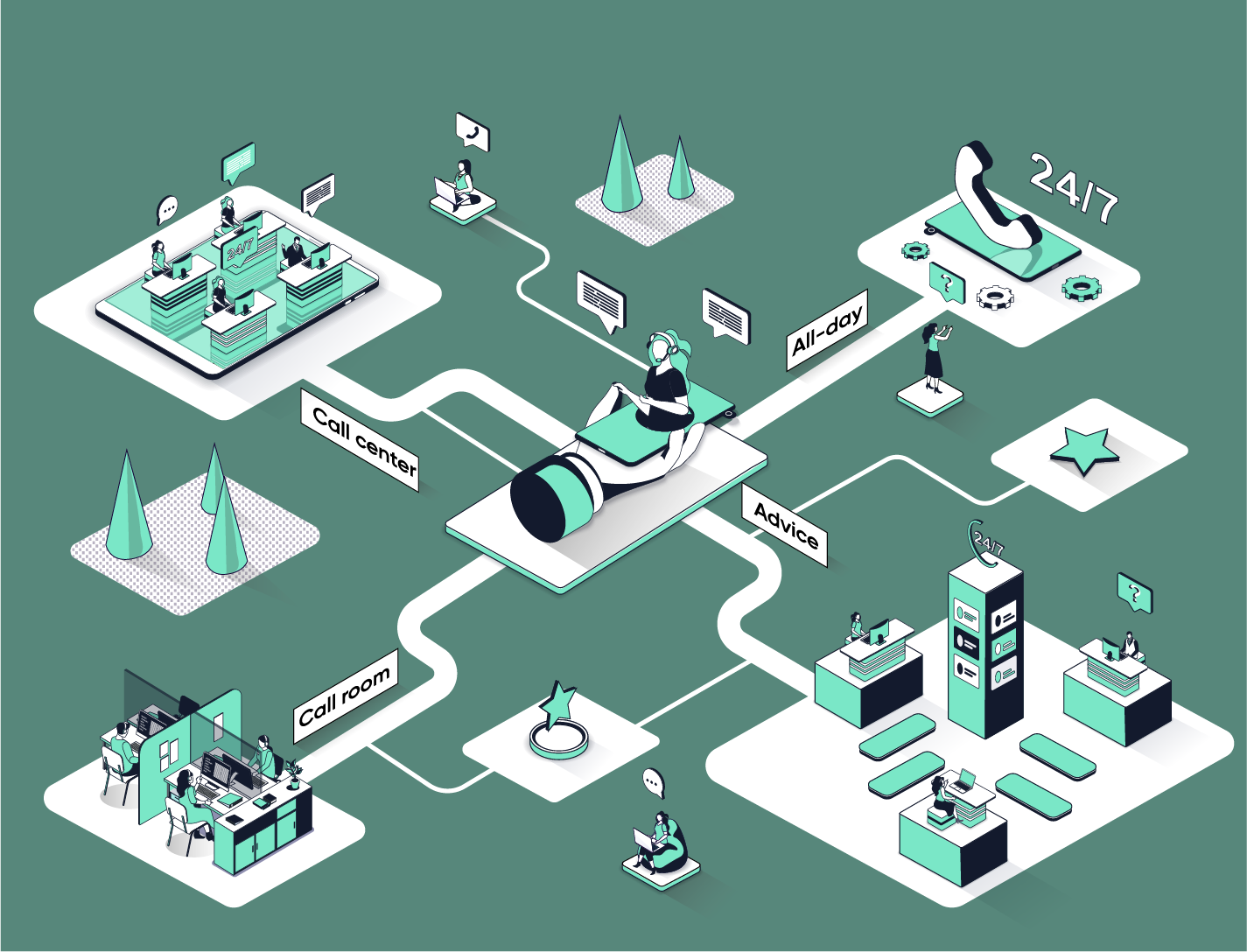 Why IVRs are Useful for Larger Companies
It's probably less surprising that IVR technology is an important tool for larger companies. Having an auto-attendant to direct calls to the right department is crucial if you don't want your sales reps and customer service reps to be constantly transferring calls back and forth.
A lot of the same reasons IVRs are useful for very small companies apply to bigger companies as well. Sending certain calls to voicemail, for example, might still be useful if a particular department is understaffed or needs to give equal priority to things other than phone calls. That said, there are some benefits that only apply to medium to large call centers as well.
Offer a dial by name directory or extension dialing.
At a bigger company, someone might call into the main number and want to speak to a particular agent they spoke to before. Instead of the call going to any one of dozens of call center agents, the customer can dial the extension number of the agent, or even the first few letters of their name and be connected immediately.
Direct some inbound calls to pre-recorded answers or to visit your website.
Sometimes people might call in asking for your hours of operation, your address, or other pieces of basic information. There's no need to take up your team's time and energy with these requests, so you can simply have a recording provide the answer. For status updates, closures, or holiday hours you can simply direct customers to visit your website.
How Do I Set Up an IVR?
Setting up an IVR is simpler than you might think. The path to creating a smooth and efficient customer experience within your phone system can be broken down into three steps.
Plan your customer path. When someone dials into your main number, what are the first options you want to offer? Remember, you can offer subsequent menus after the first one, so you don't have to list all the options on the first menu. It helps to draw a diagram of how you want to route calls, like the one below:

Record your greetings and menu options. This is fairly straightforward, but you'll probably want to find someone with a pleasant voice who can enunciate well to do the recording. If no one on your team is up to the task, you can hire a freelancer to record one for you. Either way, make sure you've got the script ready to go ahead of time!

Set up the IVR system. Each phone system is at least somewhat different so we won't go into too much detail here, but it should be pretty straightforward. It should be something along the lines of; upload your recording(s), select how each menu option is routed, and assign a phone number to the IVR. In some cases, you might want to build a ring group or a call queue first.
What If I Need Inbound and Outbound Calling Tools?
Outbound and inbound call center features are critical components of staying connected with clients and customers. Outbound call functions typically involve initiating calls from a call center to contacts that could be potential customers or existing customers.
On the other hand, inbound call call center features usually involve managing incoming call inquiries from existing customers or redirecting them to the appropriate contact quickly and efficiently.
These two different call functions provide businesses with an efficient way to keep their clients engaged and up to date on their products or services. Together, these features make it possible for call centers to provide exceptional customer service and meet customer demands.
If you're looking for a system that offers inbound features like call routing, IVRs, and ring groups, plus outbound calling features like an auto dialer, local phone number presence, and voicemail drop, look no further than Kixie. We have a range of inbound and outbound calling tools, that you can try for free (without a credit card) for a full week to test out the functionalities for yourself.
In Summary…
No matter what size your business is, if you're receiving a decent number of incoming calls you might want an IVR. It's easier than you think to set up, and it's not expensive, either.
And if you're a Kixie customer, we'll even help you plan it and set it up. How easy is that?!
Questions? Comments? We want to hear them! Give us a call (and hear our awesome IVR) at (855) 505-4943, or email us at sales@kixie.com. Don't like those options? Click that little red circle in the bottom right corner of the page to chat with a live agent!
You might also be interested in...