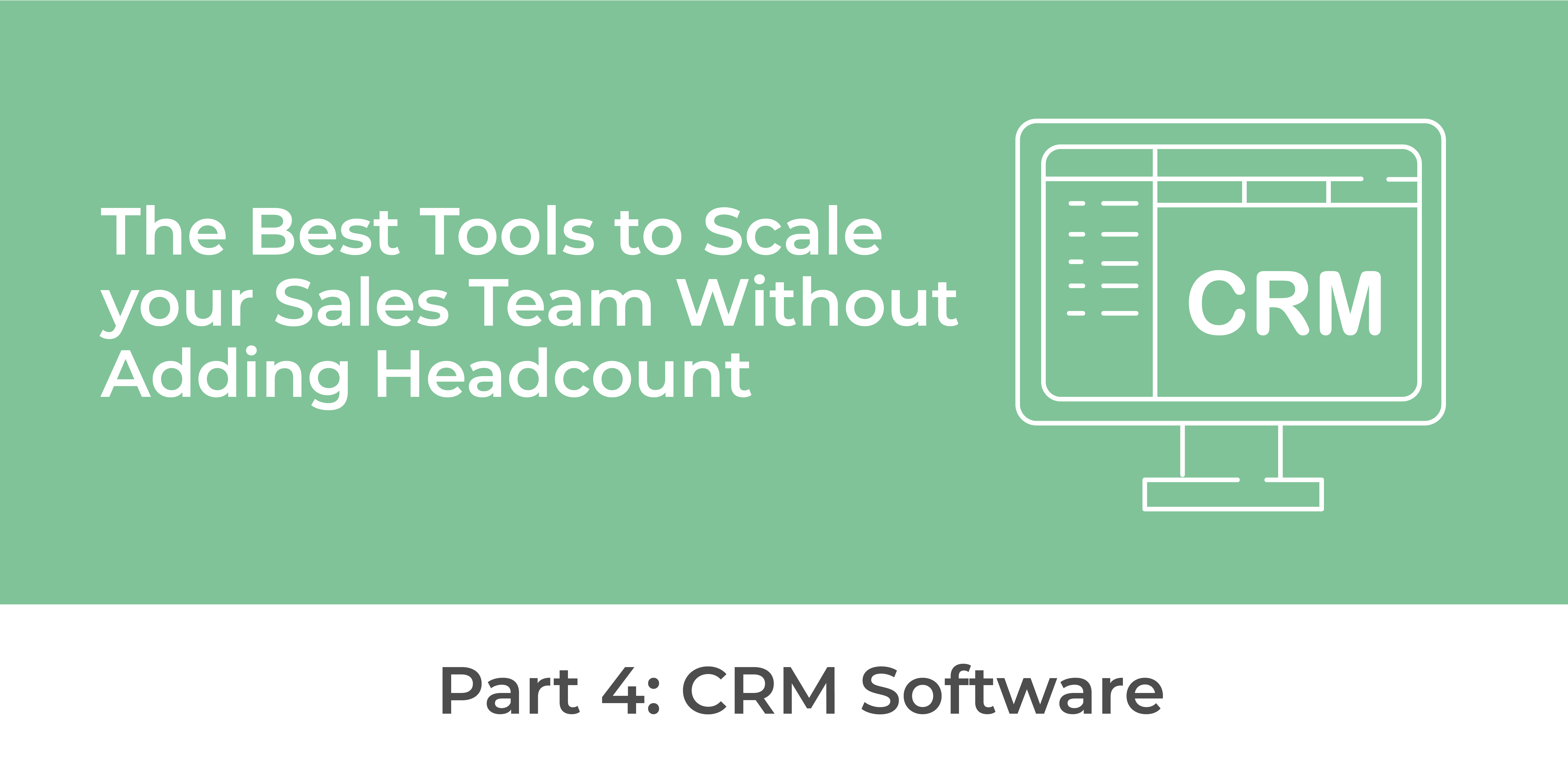 CRM Software
Throughout this series of blog posts, it's been the elephant always lurking in the back of the room. CRM software is an essential tool for any sales team, no matter how big or small. In fact, there's a good argument for it being the most important tool in sales. Your CRM is your single point of truth for all aspects of your sales process, from new leads to the records of sales closed long ago.
Of course, as anyone who has had to oversee migration to a new CRM will know, switching CRMs is no easy task. It requires moving all of your contact data, deal data, and more from one platform to another. It's one thing to transfer lists of contacts that can be exported and imported in .csv format, but migrating things like notes, email templates, ownership, and pipelines is a whole other ball game.
It is not something you want to do more often than you need to, which is absolutely critical to make an informed decision before adopting a new CRM – regardless of whether you are starting a new company or moving an established sales team over to a new CRM.
One of the hidden benefits of working with a product that integrates with lots of CRMs is that you get to know those CRMs pretty darn well. So in this post, I'll only be writing about CRMs that I have personally used and helped customers to use during my time at Kixie. That might sound restrictive, but given Kixie's wide range of integrations, it's actually a fairly comprehensive list.
HubSpot CRM
HubSpot Sales Hub CRM is part of a wide range of offerings from HubSpot, which include Service, CMS, Operations and Marketing Hubs. It's a powerhouse of a platform, and practically anything it lacks can be found as an integration. The Sales Hub CRM has robust automation capabilities, so you can create workflows to move or assign deals automatically, send emails, and even send auto-calls and auto-SMS (with the Kixie integration). Our sales team uses HubSpot internally, so it's safe to say it's got our stamp of approval.
Pros:
Easy to use out of the box
Excellent, easy to use automation features
Sleek, intuitive design
Offerings for Marketing, CMS, Service and Operations make it a viable solution for your entire organization
Free version is free for life, and incredibly capable for a free CRM
Ability to schedule emails, track email opens, and track email link clicks
Lots of integrations, including Zapier
Cons:
Pipedrive CRM
Pipedrive and HubSpot have a lot in common. They're both solutions that are ready to go out of the box, making them a good choice for businesses that don't have lots of IT resources at their disposal. Like HubSpot, Pipedrive's interface is intuitive and easy to use, and should that fail it also has solid resources when it comes to documentation and troubleshooting. One more similarity is that we use Pipedrive internally at Kixie as well, and have been happy with it for quite some time.
So what's the difference, you ask? Obviously there are plenty, but I've identified two big ones as the most important: price and automation. When it comes to price, Pipedrive is fairly middle of the road. Think of it as a halfway point between HubSpot's free CRM and their paid offering. Pipedrive doesn't have a free version (though they do offer a 14-day free trial), but it's a lot cheaper than HubSpot Sales Hub. Similarly, Pipedrive's automation capabilities are not as robust as HubSpot's Sales Hub, but are still a big step up from the free version of the CRM.
Pros:
Easy to set up
Includes preset templates for your pipeline that can be tweaked to fit your needs
Ease of use
Ability to schedule emails, track email opens, and track email link clicks
Good range of integrations, including Zapier
Automation setup is easy and intuitive
Reasonably priced
LeadBooster add-on for top-of-the-funnel lead acquisition
Cons:
Automation capabilities not as robust as HubSpot
No suite of offerings apart from the Sales CRM and some add-ons
Salesforce CRM
Salesforce used to be synonymous with CRM, and in some circles, it still is. And for good reason – it was the first CRM to become commonly used around the world. "CRM" is even Salesforce's stock symbol on the New York Stock Exchange (NYSE), so it's safe to call Salesforce the godfather of CRMs.
Salesforce's possibilities for customization are virtually limitless, so there is very little the platform can't do. It's an extremely advanced platform, which is at the same time its biggest strength and greatest weakness. For big enterprise companies with very specific requirements – and large IT teams – Salesforce is often the ideal solution.
However, just because Fortune 500 companies are using it doesn't mean it's right for your business. If your business falls into the category of startup or SMB, you may find yourself creating more headaches with Salesforce than it solves.
Pros:
Extremely advanced platform
Customization possibilities are unmatched
Lots of other Cloud SaaS offerings – your whole business could be run on Salesforce
Huge amount of online resources
Over 3,400 integrations on the Salesforce AppExchange
Cons:
Difficult to set up, requires a lot of technical expertise
Layout is not very intuitive
Feature names are sometimes confusing
Expensive
Zoho CRM
In terms of aesthetics, ease of use, and non-CRM offerings, Zoho sits somewhere between HubSpot and Salesforce, leaning more towards HubSpot. In terms of price, however, Zoho is the cheapest of the bunch. Like HubSpot, Zoho has a "forever free" CRM, although it is limited to 3 users.
Zoho's interface is not as sleek or intuitive as a Pipedrive or HubSpot, but in many ways it's just as capable. It has solid automation capabilities, a lot of options for customization, and apart from its somewhat clunky interface it can compete with Pipedrive and HubSpot in most categories.
It also has some features that differentiate it from the crowd. The Zoho SalesInbox prioritizes your emails based on information stored in the CRM, grouping messages into categories like Deals, Contacts/Leads, Not in CRM, and Colleagues. It also places relevant CRM information side by side with emails. Zoho CRM also features an excellent integration with Google AdWord, so you can track the ROI of your campaigns from within the CRM.
Pros:
Wide range of non-CRM offerings
Lots of integrations
Unique SalesInbox feature
Very reasonably priced
Custom color themes
Cons:
Layout is somewhat clunky
Not the easiest setup
Other CRMs
There are, of course, many other CRMs out there that might be a better fit for your specific use case than any of the ones listed above. Podio, for example, seems to be a favorite in the real estate industry. However, the four CRMs listed above are clear leaders in the industry. Hopefully this article will be helpful in picking a CRM. If you are shopping for a CRM and would like to chat about what options might be right for you, please feel free to reach out to sales@kixie.com or call us at (855) 505-4943.
In our next installment…
Not all tools come in the form of software. Our next piece in this series will explore the wonderful world of sales enablement, a loosely defined term that encompasses content, processes, and yes, some software as well. Stay tuned to learn more about what sales enablement really means, why you need it, and how you can deploy it to help your team close more deals.
You might also be interested in...