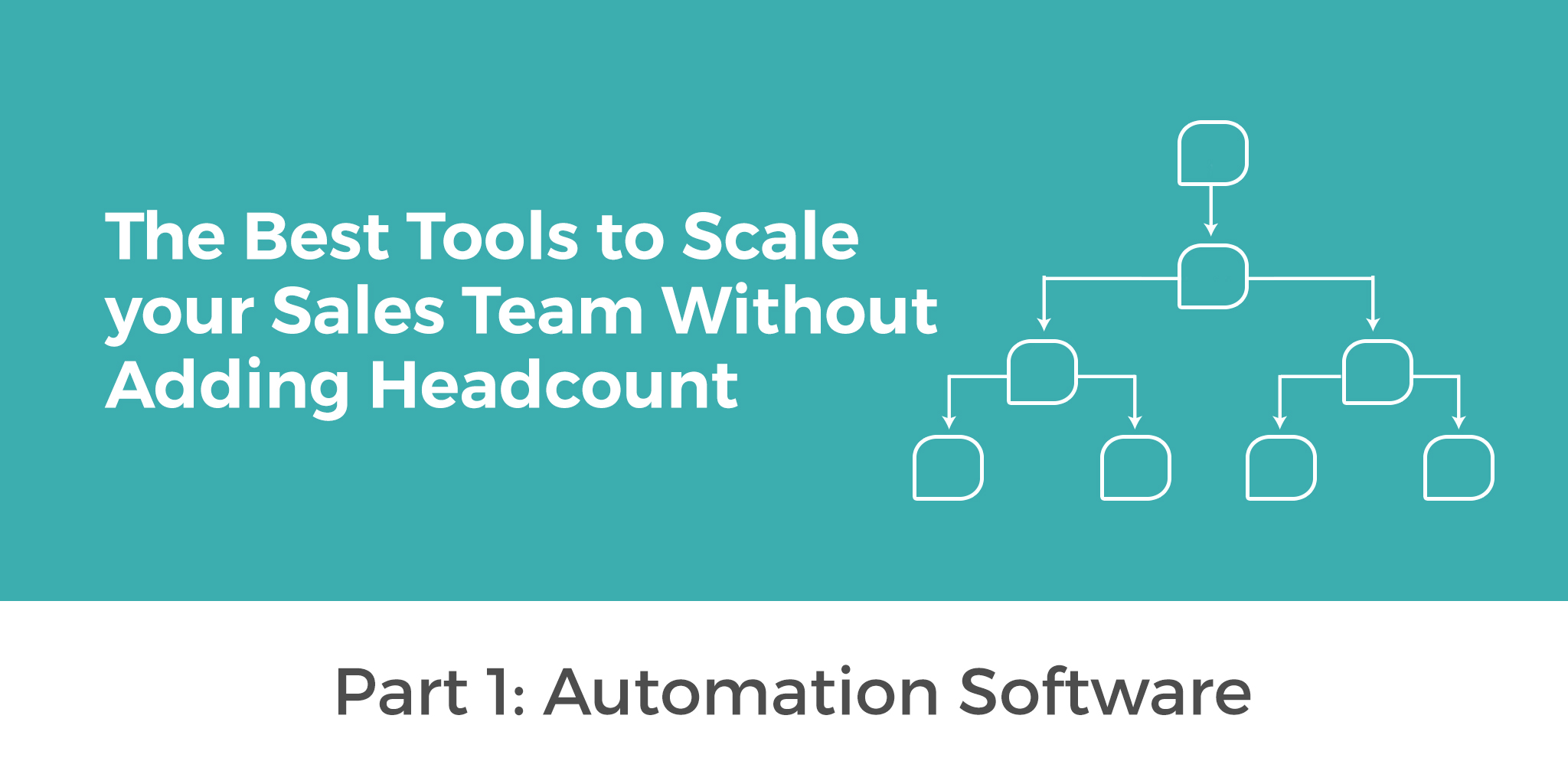 Automation Software
When most people think of scaling a business or team, they think of it in terms of hiring and training new employees. However, before making the time and budget to bring on a new hire, every sales leader should first ask themselves if they are getting the full potential out of their existing team.
I'm not talking about setting ever-higher quotas or demanding longer hours from your team. Overworking your team, while it may yield short-term results, will only lead to more problems down the road. Instead, consider what tools you can make available to your team in order to let them unlock their full potential, generate more revenue, and earn more in the same amount of time.
A 2019 report by HubSpot showed that on average, salespeople spend only 34% of their time selling on the phone or in person. The overwhelming majority of the tasks that take up the rest of their time can be automated, including emails (21%), data entry (17%) and scheduling meetings (12%).
Automation
When it comes to bulking up your pipeline without adding more sales reps, nothing has a bigger impact than automation. According to HubSpot's 2020 Sales Enablement Report, 61% of sales leaders who outperformed against revenue targets used their CRM to automate parts of their sales process.
Some examples of automations to boost your sales productivity:
Use a call outcome/disposition (left in your dialer or CRM) to:

Move a deal to a different pipeline stage
Send a follow up email or text message
Close-won or close-lost a deal

When a lead opens a specific email, prompt the sales rep to call the lead
Send an automated email, text, or call prompt when a new lead enters a pipeline
Send automated email/SMS reminders before a scheduled demo
There are two main categories of automation software for sales teams: standalone automation software, and CRMs with built in automation software. The former is typically more capable and is compatible with a wider variety of other programs, but if your CRM already has built in automation features (or if you're currently shopping for a CRM) you may want to first see if your CRM can meet your automation needs before adding the additional program and expense to your sales tech stack.
What to Look For
There are many options to choose from when it comes to standalone automation programs, and which you choose will depend on your specific needs. That said, there are two frontrunners that stand out.
For small businesses looking to dip their toes into automation, Zapier is a popular and cost-effective solution with over 3,000 integrations. It's also scalable, and allows for complex automation, webhooks for non-native API integrations. More tailored to enterprise scale customers, Tray.io allows for greater flexibility and even more complex automation than Zapier for those who really want to get their hands dirty.
What to look for in an automation software:
Integrates with your existing tech stack
Performs the necessary actions to build the automation you need (both app specific and general built-in functions like filters, timers, etc.)
Ease of use: will you be able to create and update automations yourself, or will you need help from your IT department? If IT needs to be involved, do they have the bandwidth to help?
Scalability: will this be a sustainable solution in 6 months? A year?
Resources: are there significant resources online, such as how-to videos, troubleshooting, or active community forums?
Automating with your CRM
Ideally, you're already using a CRM that can perform the automations you want to set up. There are also quite a few CRMs that have some kind of built in automation, but in many cases the capability and number of integrations are fairly limited.
A notable exception is HubSpot CRM, which in some cases actually outperforms standalone automation products like Zapier. HubSpot has two types of automation: Workflows and Sequences. Workflows are more similar to Zapier-type automation, whereas Sequences are more tailored to email drip campaigns, similar to services like ActiveCampaign.
Pipedrive and Zoho CRM deserve an honorable mention as well, though their limitations may leave you relying on a third party automation product for some of your more complex automations.
No matter what automation software you use, the key to success is to be creative and keep an open mind when it comes to what to automate. There are more opportunities than first meet the eye, so keep automation in the back of your mind for any time you're performing a task that could be automated.
In our next installment:
In order to get the most out of your automations, you'll need a calling and texting service (a sales dialer) that integrates with your automation platform. In part two of this series, we will show you what to look for in a dialer – from automation compatibility to local presence, and a whole lot more. Stay tuned!
You might also be interested in...