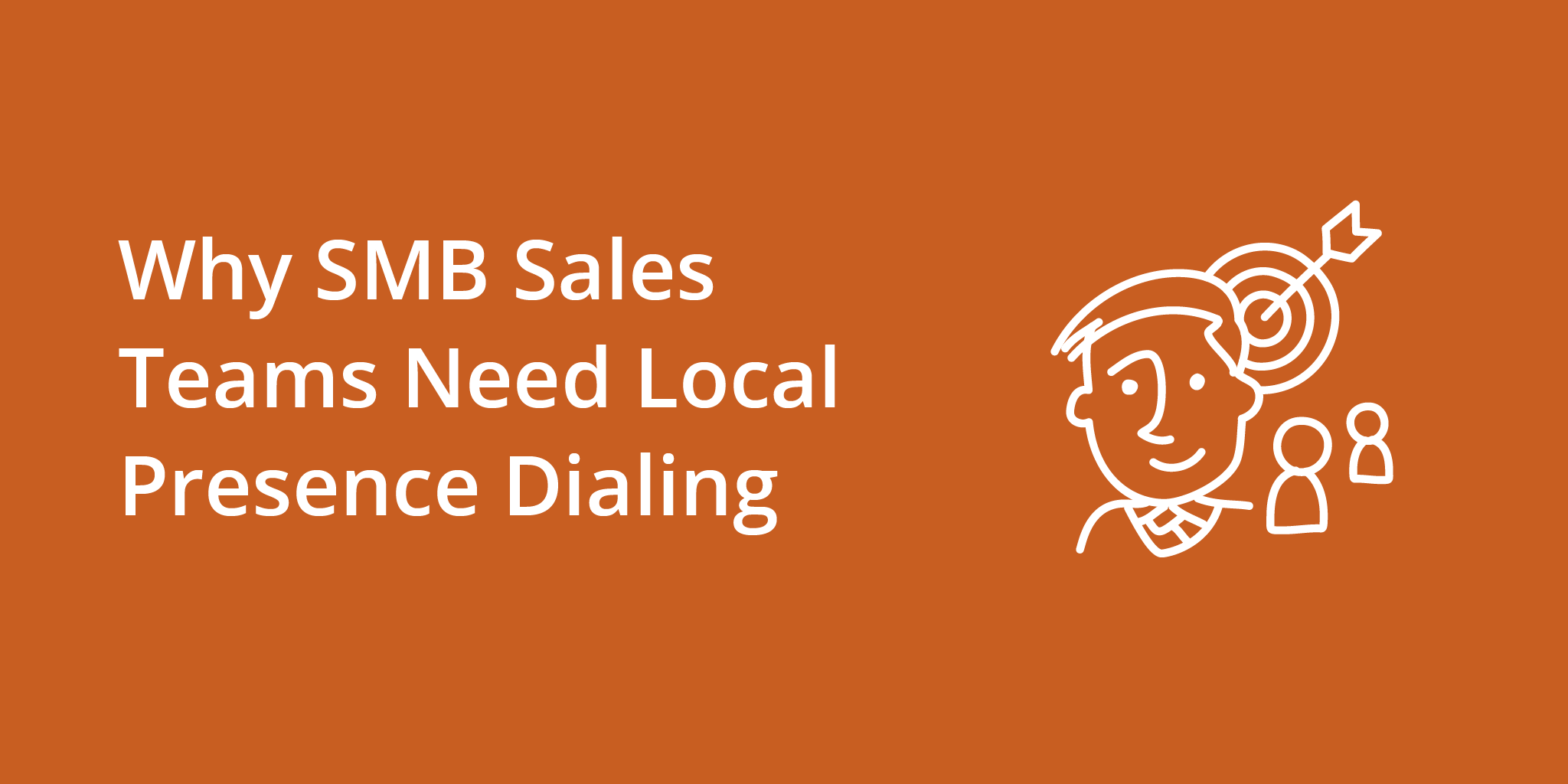 As a sales rep, you're always seeking a way to enhance and improve your ability to connect, engage, and ultimately close deals with customers. This would include looking to increase your contact rate, provide a personal touch and gain a competitive edge when it comes to connecting with customers via phone.
In this case, a local presence dialer will certainly give you the competitive edge you need to improve your connection success. It's one of the many capabilities as part of your sales engagement platform you need alongside a powerful customer relationship management (CRM) tools like HubSpot or Salesforce. A local presence dialer provides a dynamic new way to reach out to prospects and clients. So, before we delve into how local presence dialers helps you connect and sell, let's review what this unique capability is and how it works.
What is Local Presence Dialing?
In short, local presence dialing is a powerful sales engagement feature that enables you to call from a different area code - one that's local to your prospect's phone number. In other words, you don't have to be in Chicago for your caller ID to show up as a Chicago area code number. You could be located in the heart of Kansas, a warm beach in the Caribbean, or anywhere else for that matter. Wherever you are located, your number will be displayed as a local one on your prospect's incoming call list.
Local Presence is NOT Call Spoofing
You may have concerns that this could be a lot like caller ID spoofing, but no worries. Spoofing is designed to purposely dupe the call recipient into thinking the call is coming from a company other than the one making the call.
For example, the caller ID might read "A1 Rental Service" or "Pizza Piemakers" when the call is really coming from a debt collector. This practice has been popular with robo-callers and debt collectors who want to fool recipients into thinking the call is coming from an otherwise credible source.
Local presence isn't about deceiving the person on the other end of the line. It's all about expanding your connection ability as a sales rep and establishing a local presence with your customers. While spoofing frustrates prospects with fake numbers and IDs, local presence provides local numbers they can actually use to call you back. Let's be honest, there is nothing worse when you call a customer using your local presence and they can't call you back at that number.
With Kixie's AI local presence feature, you can generate more meaningful connections from your calls by using a phone number that is local to your prospects. And with its automatic spam number detection, you can spend less time worrying and time selling.
Now that we have that out of the way, let's move on to the good stuff — how it helps sales teams and the benefits it provides.
Benefits of Local Presence Dialing
This truly is a great capability that helps you create a local presence for the customers you're calling. Some of the benefits we see with every sales rep using this include:
1. Increased Contact Rates
This is the critical one—the ability to actually connect with customers (or not). Numerous studies show that people are four times more likely to answer the phone for a local number. This is a competitive edge of nearly 400% — and you know the more people you can contact, the more you can convert.
But it's not just these research studies— check out the results of a survey conducted by Software Advice. They asked participants about how they would respond in three scenarios: receiving calls from an out-of-state number, a toll-free number, and a local number. The results?
Toll-Free: When receiving an unknown call from a toll-free number, only 7% said they'd be likely to answer, and 80% indicated they'd be extremely unlikely to pick up.
Out-of-State: When receiving a call from an unknown number with an out-of-state area code, respondents were more likely to answer the phone, with 13% indicating they'd be somewhat or extremely likely to pick up and 75% saying they'd be extremely unlikely to answer.
Local: When receiving a call from an unknown number with a local area code, 28% of participants said they'd pick up the phone, and only 53% indicated they were extremely unlikely to do so.
It's quite clear that having a local phone number gives you a significant boost in the percentage of people picking up the phone for your sales calls.
2. Geo-Targeting
As a sales rep, you might not think about geo-targeting as much as your marketing counterparts do, but it should definitely be on your radar. Local presence dialing enables you to gain visibility using geo-targeting metrics to take advantage of the local reach you are establishing.
Geo-targeting is a marketing strategy that puts your business in the right place at the right time to capture more local sales. The "near me" internet search has really changed the marketing and sales landscape with an exponential increase in the number of mobile searches for services and goods located in the searcher's area. This has the potential to ultimately increase engagement, increase the number of leads you're capturing and attract more customers for increased inbound sales.
3. It's Effortless
No extra effort, all the added benefits — that's what local presence dialing gives you. Kixie's AI local presence dialer is built right into the platform, and integrates with multiple CRMs including Hubspot, Pipedrive, Salesforce, Zoho and many more. No manual process involved, Kixie does all the work for you.
Managing your phone numbers that get flagged as spam can also be a daunting task. With Kixie's AI powered Local Presence you never have to worry about it again. The system automatically removes any flagged numbers so you can focus on having great conversations with your customers.
Get Started Calling With a Local Area Code
As the leading provider of local presence dialing services across North America and the world, Kixie makes it easy for everyone from boot-strapped start-ups to big businesses to increase connection rates through calling & texting.
Kixie offers three affordable local presence dialer packages that give sales teams instant access to over 500 local area codes throughout the United States and Canada, making choosing the right features and options easy and affordable.
With Kixie, you can even connect with international prospects using the Local Presence Premium option - a tool that matches the phone number that's displayed on your outbound calls with the country code of your prospect.
Kixie also provides for full integration with leading CRM's like Salesforce, HubSpot, Pipedrive, and Zoho, giving your sales team the competitive advantage they need to achieve record-breaking sales numbers.
Try Kixie Today
Ready to harness the power of local dialing for your enterprise?
Sign up for a free trial of the Kixie local presence dialer – the #1 sales engagement solution you need to connect with clients and prospects anywhere and everywhere.
You might also be interested in...