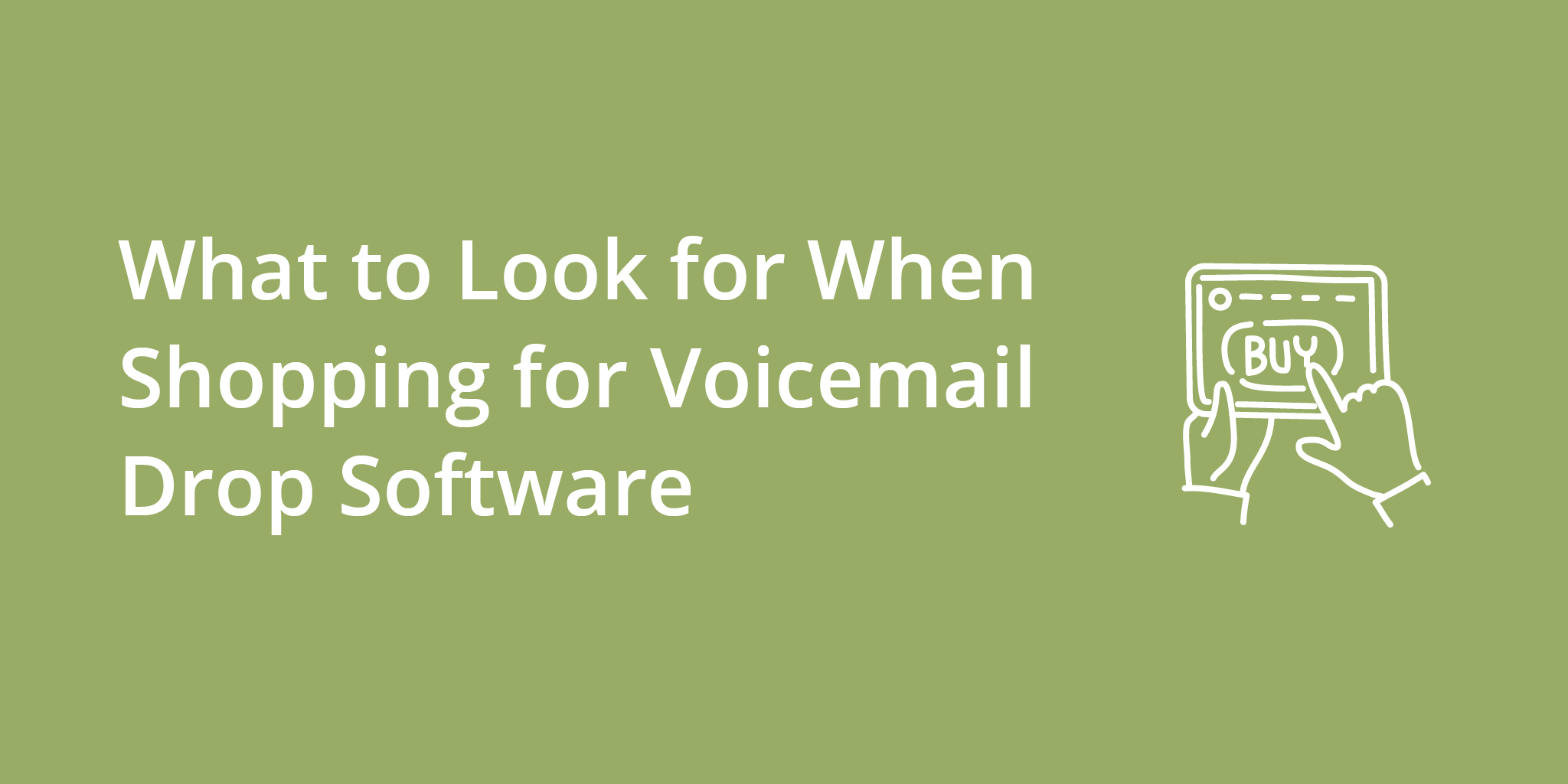 Imagine a situation where you have to reach out to a hundred prospects (or more) in a day. You're stuck repeating a personalized message each time the calls go to voicemail. How long before your voicemail starts to sound a little…tired?
Research of American consumers from 2019 found that 97% of consumers ignore calls from companies and unknown numbers, a sobering number for sales people making outbound phone calls. How can your voicemail message cut through the noise? The answer: voicemail drop.
What is Voicemail Drop Software?
Voicemail drop software is a sales tool designed to speed up the process of leaving voicemail messages. Simply put, voicemail drop software allows you to leave a pre-recorded message in someone's voicemail box at the touch of a button.
On average, sales representatives leave 70 voicemails each day. A sales representative can expect to leave over 2,000 voicemails per month, which equates to about 25 hours of work on just leaving voicemails.
Voicemail drop software allows you to leave a pre-recorded, professional, and fresh voicemail each time you call a prospect and get no answer. Software like Kixie allows you to select the specific voicemail message you'd like to drop, and leave it in a prospect's inbox as soon as you hear their voicemail greeting.

Benefits of Voicemail Drop Software
Voicemail Quality Improvement. Because your representative can record the message once and send it multiple times, they will always sound cordial, refreshed, and amiable. Taking the time to optimize your voicemail script so that your customers only hear the best version of your sales rep creates a better first impression.
Efficiency. Voicemail drop software lets you leave a pre-recorded message as soon as you hear the voicemail greeting. You can also save as many pre-recorded message versions as you'd like, and have access to all of them when completing an outbound sales call campaign.
See how the sales team at Fischer Homes saved an average of 2 hours per agent per day using voicemail drop and other Kixie tools.
Things to Look for When Shopping for Voicemail Drop Software
Unlimited Pre-Recorded Messages
Pre-recorded messages are the high point for voicemail drop software as they're one of the ways your sales rep teams deliver quality service in less time. The best voicemail drop apps will come with features that allow you to record as many messages as you want in your dashboard.
For instance, when calling on the Kixie dialer, you can always choose which one of your already recorded messages to drop. Pre-recorded messages will help managers test which voicemail gets the most response from prospects. This feature can help optimize representatives' sales communication and is therefore essential.
Cloud-Based Control
Remote work is becoming the new normal, so you must opt for a voicemail drop service that you can access from any location and device away from the computer on which you downloaded the software. Apart from that, you could be on vacation and need to quickly pop-in or need to drop a voicemail while on your commute.
Third-Party Software Integrations
When comparing voicemail drop providers, look for one that offers seamless integration with your CRM. This will allow you to track your outbound calls and voicemails, and make your CRM the single source of truth within your sales team.
For instance, the Kixie + HubSpot CRM bi-directional integration includes in-depth call tracking, call recordings, conversation intelligence, and click-to-call straight from the CRM or webpage to make your sales process smoother.

Seamless User Interface
Software solutions are designed to take the edge off and reduce the time required to complete tasks. If your solutions keep your salespeople on the system longer or almost as long as manual processing, it will end up creating more headaches.
Your voicemail drop software should seamlessly fit into your calling campaigns and be easy to use. It should be simple for sales reps to record and drop the messages.
Tech Support
Selecting a service provider that offers technical help during your office hours or while you're utilizing their program is a good idea. This way, you can resolve unforeseen concerns or problems swiftly and effectively.
In the event of an issue, your service provider should be able to provide you with round-the-clock tech support. Kixie offers US-based support for timely help.
Make Your Voicemail Drop Software Choice
You cannot overemphasize the importance of voicemail drop software for your business. It's a quick and efficient method of reaching many potential customers, and has the potential to save your outbound sales team hours each day.
If you're ready to get started with a phone system that includes voicemail drop today, see what Kixie has to offer by starting a free trial or scheduling a demo.
You might also be interested in...