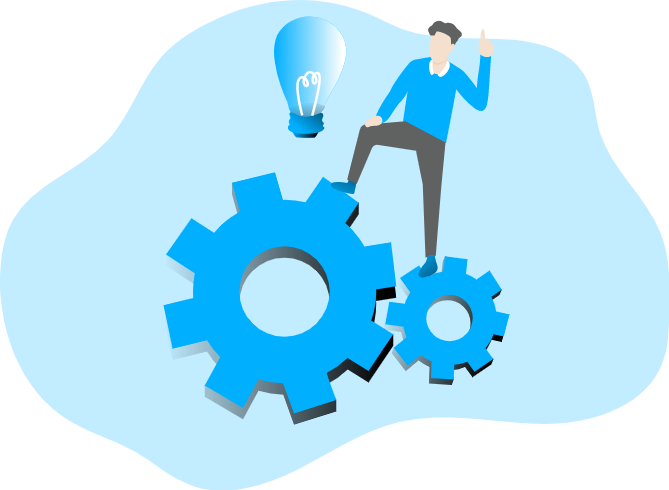 Quite simply, your sales process should be the detailed journey that a potential customer follows along the sales funnel. And more importantly, this should include the steps your sales team takes to guide them through the funnel.
A sales process is often depicted as the classic "funnel." Details are added at each level of the funnel to show the activities your sales team takes to push their leads through it. There dozens, maybe hundreds, of different sales funnels models out there, but here's a pretty good one from HubSpot which shows the primary stages of converting visits to customers: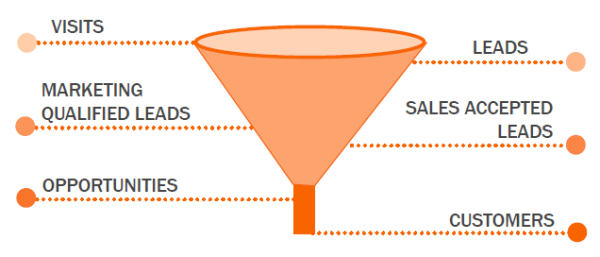 What makes a great sales process?
Having any old process isn't enough to convert calls to deals and make quota—you want a well-defined process that truly drives repeatable revenue. (And having a great calling & texting solution to make those calls is certainly helpful). So let's set our sights higher and review what makes a great sales process.
Your sales process is great if it is:
Focused on the customer, not the company. We're living in the digital economy where customers look for the best experience, not always the best price. Every touch point is part of the total experience, and that's why having a good customer-centric strategy throughout your sales process is critical. Think about what people need (the job to be done) instead of what you have to sell.
Clear & Understandable. Your sales process is not the place for misinterpretation. A clear sales process means every customer will receive a consistent level of service, even when passed off from one sales rep to another during the process. Plus, your sales reps should be well aware of the expectations in adhering to the process each & every time.
Intuitive. Be sure to focus on the flow of your sales process. It should align to how your sales team works so they can quickly adopt and follow it. The more intuitive the process is for your sales team, the better the experience for your customers, too.
Repeatable. A great sales process can be executed the same way, every single time, across your entire sales team without confusion or mixups.
Aligned with objectives. As you develop a great sales process, be sure to think about how to measure success. The best sales processes are held accountable to goals that your whole company understands, with regular reviews throughout the year.
Adaptable. Anything can happen, especially when you're a fast-growing small business: new technology, new product or service offerings, other unpredictable changes in your market, the list goes on. That's why it's important to build some adaptability into your sales process so you're ready to adapt when necessary.
Scalable. Build a sales process that can grow as your team grows. Think ahead as you're planning: how might these steps need to change when your sales team is handling twice the number of calls, leads, or customer engagement than they are today?
Top benefits of having a strong sales process
If you haven't nailed down a standardized sales process yet, here are four benefits to show why that's a good idea to nail it down now:
More efficient selling
With a sales process in place, your sales team will be more focused on the behaviors that need to be driven. They'll know the volume of cold calls that should convert to appointments, how to close more quickly without bogging down in objection handling, how to use marketing content during the sales engagement to move the prospect closer to the deal and more. This also means you're likely to improve your customer conversion rate, as well as reducing the "non-selling" time spent by your team, which can pay off with real revenue impact on your top line.
Faster sales rep onboarding
Growing your business and your sales team this year? A great sales process can make your sales meetings more efficient and reduce the time it takes to bring new reps up to speed on selling your products or services. That means your new hires could be selling more quickly with fewer errors and blockades.
Consistency for future customers
A great sales process also protects your brand. With a clear and easy-to-follow process in place, each prospective customer receives the same high-quality service no matter who they're talking to. This goes a long way toward creating a brand experience that aligns to the principles your business is seeking to foster with increasing customer trust and loyalty.
A happier sales team
Increasingly, your sales teams make be working remotely. According to a recent Gallup study on working remotely, it is becoming more common and this flexibility can drive performance. This also means setting clear expectations is one of the most important ways to increase sales rep engagement and retention. Your great sales process should clearly outline how you expect your sales team to nurture leads and close sales, so hitting and exceeding quota can be a feat you look forward to each and every quarter from every rep!
You might also be interested in...