If you're looking for a Salesforce auto dialer, Kixie is pleased to say that we now offer our seamless voice integration with Salesforce CRM as well! If your sales team already uses Salesforce or plans to, then they will instantly increase productivity with our sales productivity software and phone service. The Kixie dialer integration with Salesforce will make your entire sales process smoother; your sales reps can now make HD quality calls while tracking that information seamlessly inside Salesforce.
Click to call right from Salesforce with our Kixie Phone Call Integration
When clicked, Kixie pulls up a window, auto logs call, length of call, recording of call. From there, a sales user can quickly add a call disposition, notes, and even schedule new activities such as a future call.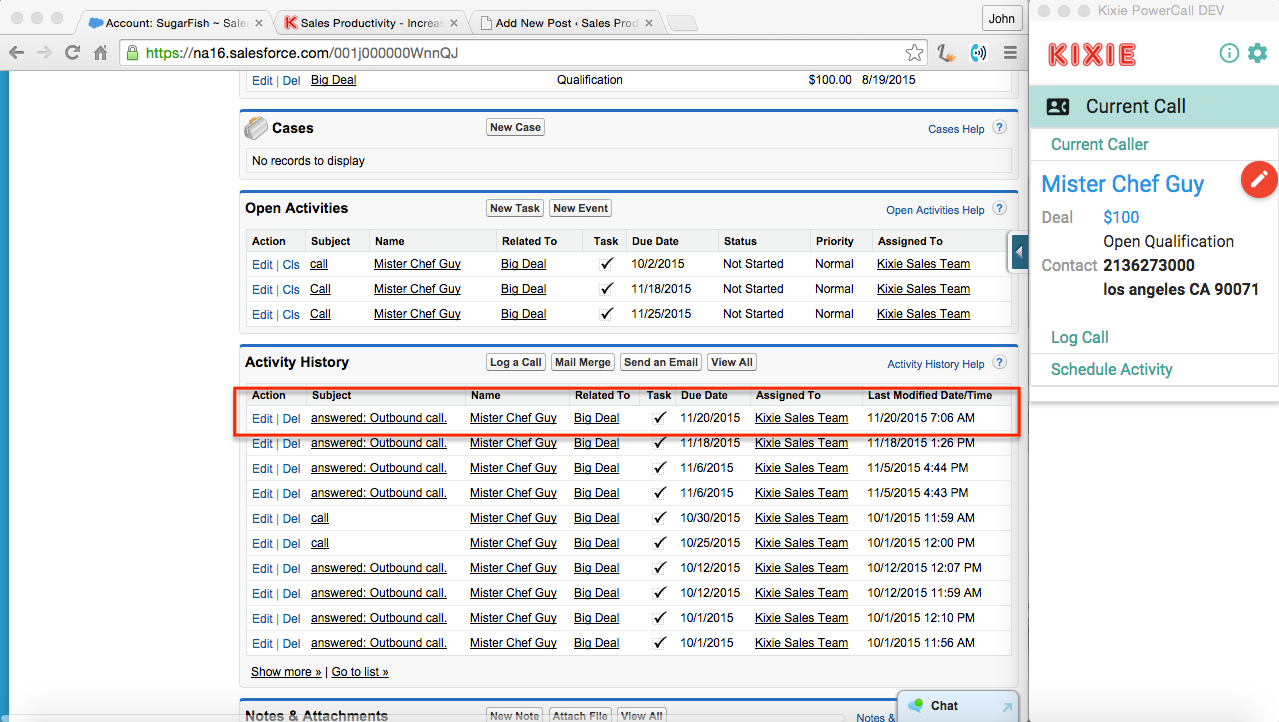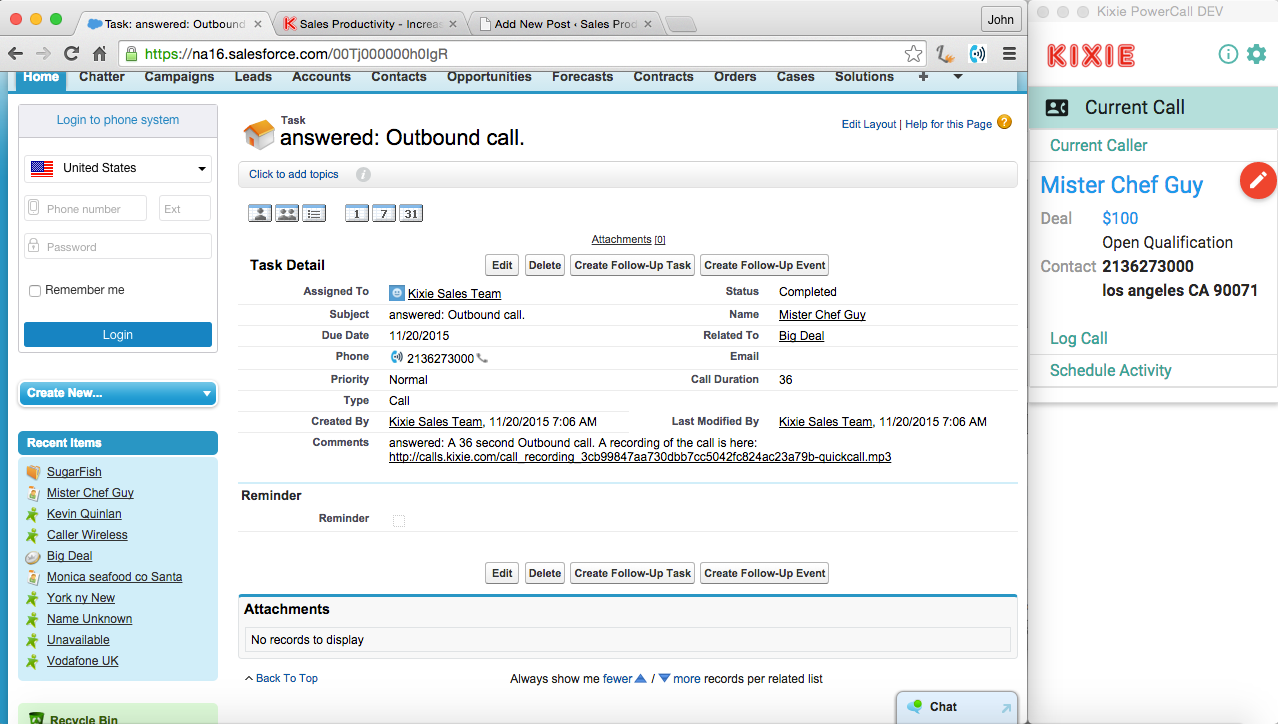 Automatically creates new phone call leads
Kixie will automatically create names of leads (through our enhanced caller ID system) that are not in Salesforce inside of leads. So if you are dialing numbers and there's no match of that number, boom everything is done for you.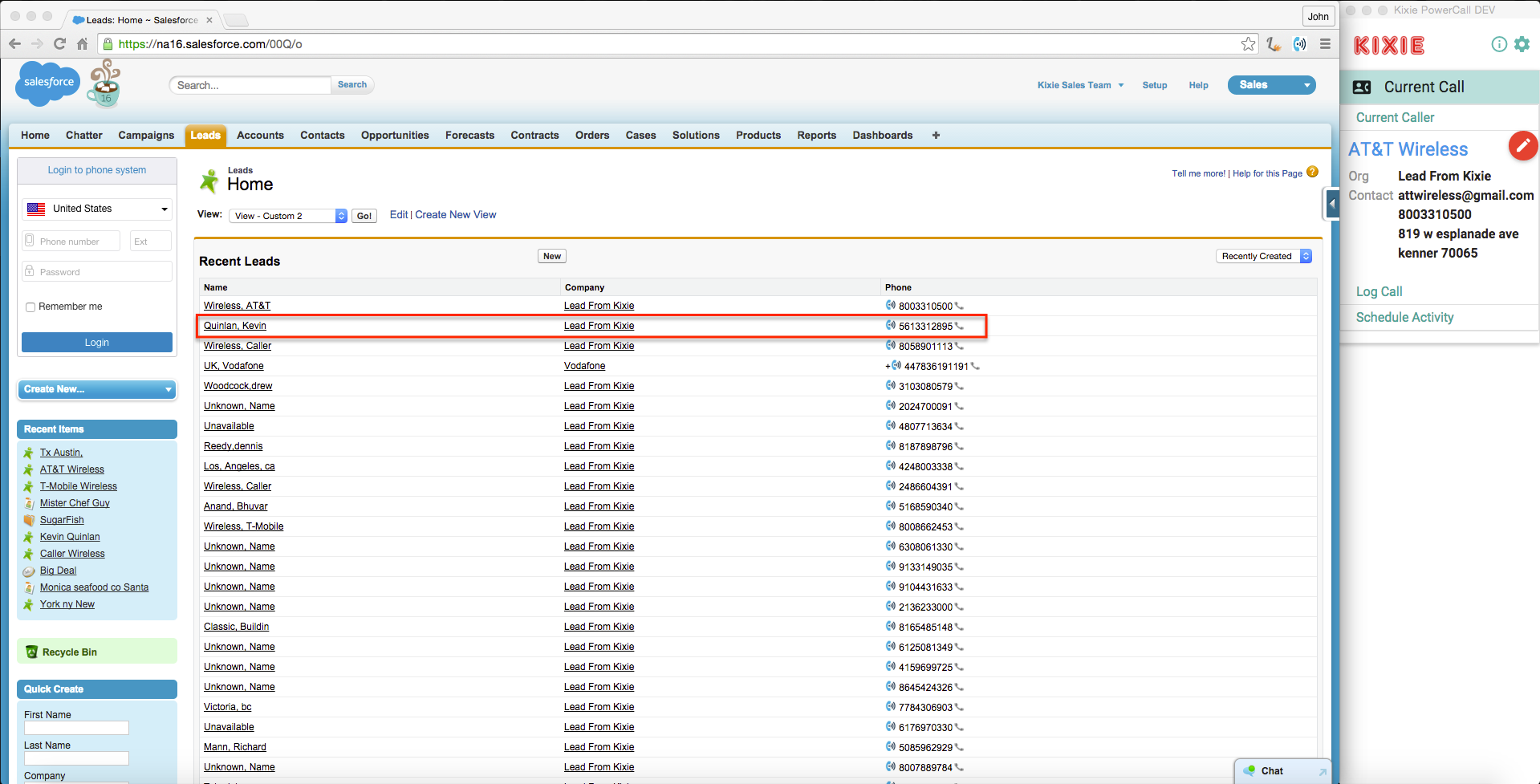 Never leave the Leads or Accounts Page
In the "Phone" column under Leads or Accounts, there is the Kixie PowerCall icon where you can quickly crank through an entire list of people to call. The PowerCall overlays for you to quickly add notes and it auto logs the interaction (time, recording, result, etc).
[

Auto create task post call.
After the call completes (and you hang up), it will automatically allow you to schedule a task and prefill in all of the information.

Quickly complete Phone calls on the Salesforce Home Screen
Currently, custom tasks and "interaction logging" don't work really well together from the Salesforce Home Screen. What we have done at Kixie is – if you get a task reminder, it'll include the phone number. Simply click the Kixie click to call icon, the Powercall windows comes up right on top on Salesforce and quickly complete the task and log the interaction.

Syncs with cell phone/existing phone systems
This is super easy to setup and we make it extremely easy to ensure that all phone interactions are auto logged and that the manual data entry process is extremely limited for the end user.
Plans start $29/mo/user
To start a free trial in under 3 minutes, no credit card required, please click here. Thanks!
You might also be interested in...