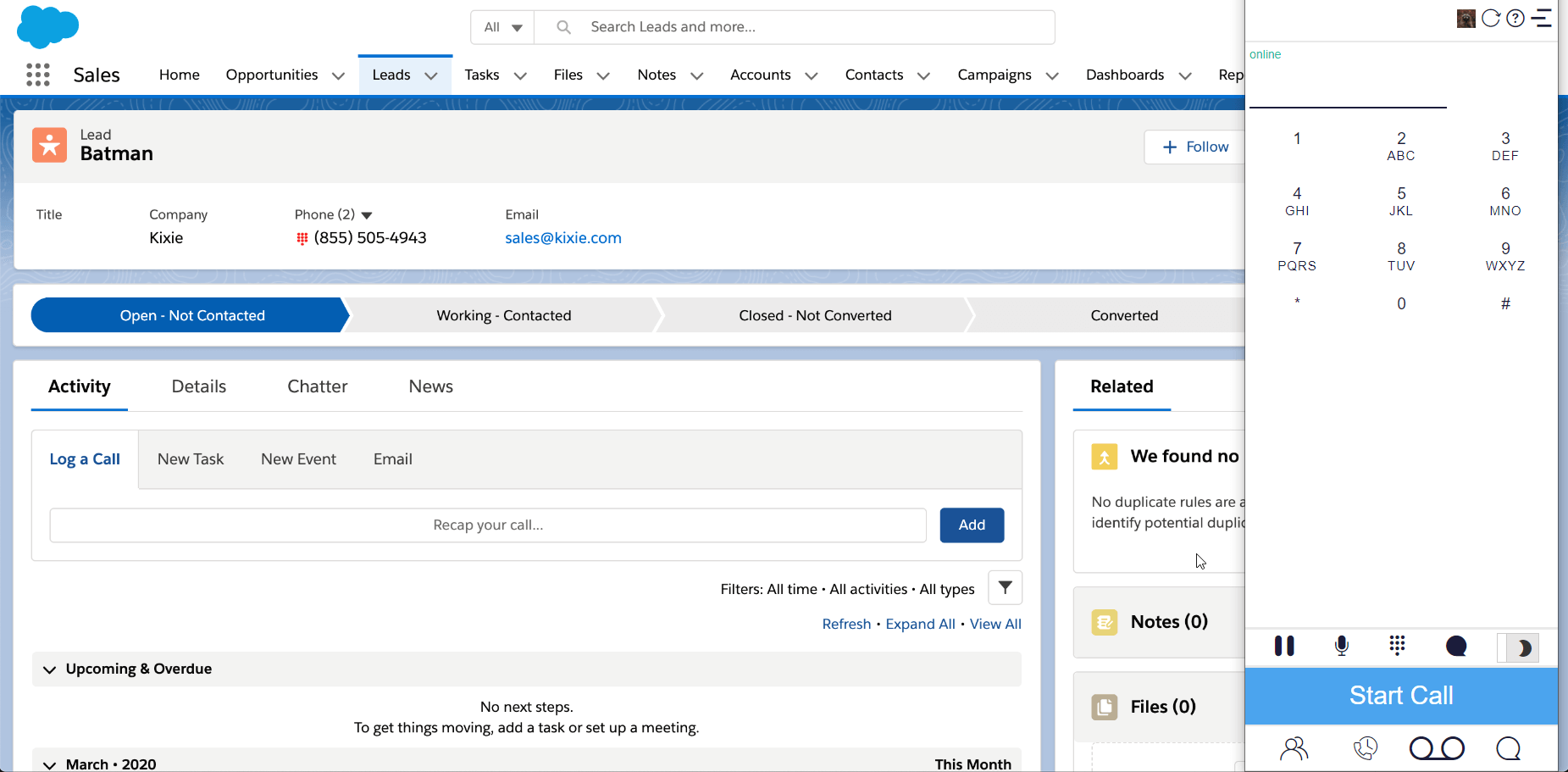 Salesforce Dialer for Sales Teams
Connect with 500% more leads and close more deals with the Kixie sales dialer for Salesforce CRM. Salesforce is a phenomenal sales CRM, but for companies looking for an inbound and outbound calling solution, Salesforce alone is not enough. Kixie has the best Salesforce dialer and voice platform for sales teams. And that's just the beginning. Kixie is an enterprise cloud phone service combined with a powerful Salesforce dialer and seamless Salesforce CRM integration.
Your sales team can get Kixie setup in 3 minutes with no hardware to install.  Once your sales team is setup, your incoming and outgoing phone calls will intelligently integrate into your Salesforce contacts and deals. So you can not only run your entire phone system on Kixie (outbound/inbound calling, local numbers in 60+ countries, IVRs, ring groups, etc.), and tear up your old phone bill, but you can also take advantage of Kixie's powerful Salesforce sales dialer features:
Click-to-Call Salesforce Power Dialing
Call leads with one click dialing from within Salesforce CRM. Plus, anytime a new phone number calls into your business, Kixie will automatically create a new contact record for that person within Salesforce.
Salesforce Dialer with Local Presence Dialing
Show up as a local number automatically to all your leads and increase your connection rate by 500% with local phone number presence dialing. Kixie automatically rotates through local phone numbers and removes numbers that are likely to be flagged as "Scam Likely" on outbound calls, to dramatically increase your connections on cold calls.
Multi-Line Salesforce Power Dialer
Call up to 10 leads at a time with no connection lag or "dead air" before connecting a live call to an agent. Kixie's multi-line auto dialer can increase your connections and allow you to dial down lists of cold leads faster than ever before. Save time and energy with Kixie's outbound dialer for Salesforce.
Voicemail Drop
Leave pre-recorded voicemails for outbound sales calls with one-click. Record as many voicemails as you'd like for all of your outreach campaigns, at no extra cost. Save up to 2 hours each day by leveraging voicemail drop technology.
SMS Messaging
Send texts through your direct business number from Salesforce CRM, plus take advantage of SMS templates to speed up your sales follow-up process. Team SMS is also available, to field incoming text messages with efficiency and ease using a shared inbox.
Enterprise Phone Service
Setup a cloud PBX phone service in 3 minutes with no hardware to install, and get access numbers in over 65 countries. Make calls from your computer, desk phone, or cell phone for added flexibility and remote teams.
This is all in addition to a perfectly seamless integration with Salesforce, with lifetime call recordings automatically logged inside the Salesforce contact or lead every time! Kixie is designed from the ground up to be an entire voice and SMS solution for sales teams using Salesforce.
Here is a demo video of how the Kixie Salesforce Dialer works.
You might also be interested in...