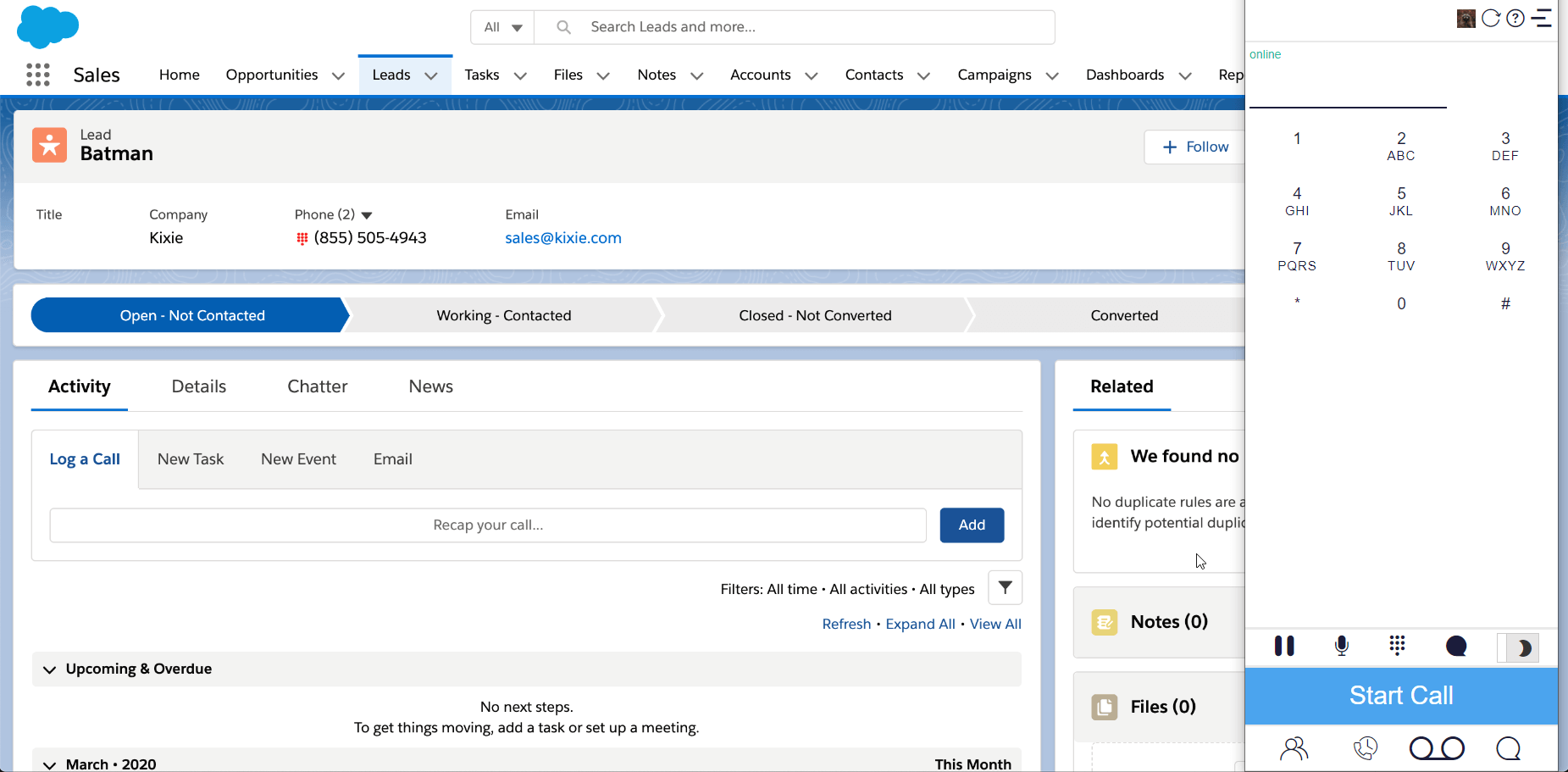 Salesforce Dialer for Sales Teams
Connect with 500% more leads and close more deals with the Kixie sales dialer for Salesforce CRM. Salesforce is a phenomenal sales CRM, but up until now, integrated dialers have not managed to play nice with it. Kixie has the #1 Salesforce dialer and voice platform for sales teams. And that's just the beginning. Kixie is an enterprise cloud phone service combined with a powerful Salesforce dialer and seamless Salesforce CRM integration.
Your sales team can get Kixie setup in 3 minutes with no hardware to install.  Once your sales team is setup, your incoming and outgoing phone calls will intelligently integrate into your Salesforce contacts and deals. So you can not only run your entire phone system on Kixie (outbound/inbound calling, local numbers in 40+ countries, IVRs, ring groups, etc.), and tear up your old phone bill, but you can also take advantage of Kixie's powerful Salesforce dialer features:
Click-to-Call Salesforce Power Dialing
call leads with one click dialing from Salesforce CRM

Salesforce Dialer with Local Presence Dialing

show up as a local number automatically to all your leads and increase connect rate by 500% with local presence dialing.

Voicemail Drop

leave pre-recorded voicemails for outbound sales calls with one-click

SMS Messaging

send texts through your direct business number from Salesforce CRM

Enterprise Phone Service

Setup a cloud PBX phone service in 3 minutes with no hardware to install and get numbers in over 40 countries. Make calls from your computer, desk phone, or cell phone.
This is all in addition to a perfectly seamless integration with Salesforce, with lifetime call recordings automatically logged inside the Salesforce contact or lead every time! Kixie is designed from the ground up to be an entire voice solution for sales teams using Salesforce.
Here is a demo video of how the Kixie Salesforce Dialer works.
You might also be interested in...