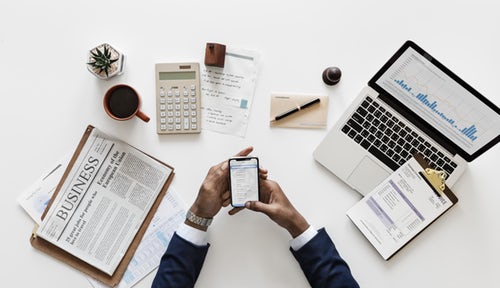 Kixie: An Alternative to RingDNA
Leading a sales team can be stressful. Sales teams must master productivity and efficiency in order to be effective. In order to close as many sales as possible, sales representatives should be able make as sales calls they can.
After all, the more opportunities a sales person has to connect with a lead, the more opportunities they have to convert that lead into a paying customer. Unfortunately, the process of making sales calls has been clunky.
Sales calls require team members to find the number of a person they want to reach out to, dial the number manually, wait for an answer (or no answer), have a conversation (or leave a message), then hang up. After a sales call, representatives must record notes about the call and the customer's status.
Thankfully, today, companies have made sales dialers, which automate the process of calling and make it easier to keep track of important information when you talk. There are many sales dialer options, including Kixie and RingDNA.
But, with so many available, how do you know which one you should choose for your organization?
So you don't have to do the hard work of tracking down reviews and specs, we have gathered all you need to know about how sales dialer RingDNA compares to Kixie.
The Options: RingDNA and Kixie
If you want to start using a sales dialer for your team, two options you can choose from are RingDNA and Kixie. Look at the breakdown of both that follows to see which one you should choose to help power your business.
Table of Contents
Overview of RingDNA and Kixie
RingDNA
RingDNA is a popular option of sales dialer. The creators of RingDNA intended for it to be an inside sales solution for Salesforce. RingDNA can help sales teams be more productive and engaged with their work. The founder of RingDNA created it in 2011 and entered a prototype of it into Salesforce's Dreamforce Hackathon. Today, they describe the product as an "inbound and outbound voice solution that your sales reps will love." The company explains that "inside sales teams use RingDNA" and that the product is geared towards enterprise-scale organizations.
Kixie
A sales dialer designed to boost sales is Kixie. Kixie is a rapidly growing company at the forefront of the industry. The company was founded in Los Angeles in 2013. As it has grown, they have created a celebrated tool for sales calls across a huge variety of industries. Kixie facilitates telephone communication, but it is a tool that is specifically geared towards improving sales results. So, companies should choose Kixie if they want to empower sales and marketing teams. Kixie is a platform that has been reviewed extensively online. The company has 92 reviews on g2crowd.com and they receive a 5-star rating (out of 5) on Capterra.
Things to Consider When Choosing a Sales Dialer
When it comes to sales dialers, one size does not necessarily fit all. Choosing the right sales dialer for your company can be important, since it will ensure that you're spending within your budget, using a tool designed to help your company increase revenue, and meet your technological demands.
Before selecting a sales dialer, it's important to understand more about the technology and how it can help your company. It's also important to take a look at your company's specific wants and needs to make sure that they will be met with the solution you choose.
Sales dialers are often used for automatic or easier calling processes. Are you a large company that needs to sell to a huge audience? Alternatively, are you a small company that only needs to target a very select pool? Look at the size of your customer base and decide how powerful you need your dialer to be.
Some dialers can automatically call huge lists of numbers at once. Some can just dial one number at a time for you without your having to do any manual work. Decide whether you have enough people to call to need a power dialer, or whether a solution that simply lightens your workload (like an automated dialer) will suffice.
Consider the size of your sales team before you decide on what sales dialer you're going to use. If your sales team is only one or two people, you don't need a comprehensive, powerful solution that can dial hundreds of numbers at once. However, if you do have a giant sales team that you can distribute calls to, you may want to invest in a predictive power dialer that can make a ton of calls and then direct the ones that are answered to available representatives.
Sales dialers come at a range of costs and with all sorts of plans. Do you have funds to pay for an expensive monthly service? Do you want to pay for phone minutes as you use them? Would you benefit from having access to unlimited minutes for calls? Look at the amount you have allocated for a sales dialer, and make sure that the service you're choosing fits within the right price range.
Sales teams rely on CRMs to keep track of leads and customers. A sales dialer may be able to integrate with a CRM to boost productivity and make updating information faster and more accurate. If a sales dialer offers a robust or comprehensive integration, it may make the entire sales process easy to use.
Each sales dialer offers unique services to help customers. Consider the features that will help you meet your goals then choose the service that offers those. Certain features are key for sales teams, depending on what they're trying to accomplish. You may need voicemail drop if you want to leave voicemails but you don't have time to repeat the same message over and over. Alternatively, you may need a platform that thoroughly integrates with your CRM so that you can improve your lead nurturing process.
Finally, you can't overlook service when it comes to a sales dialer. After all, what's the use of having a bunch of features if you can't figure out how to use them or they don't work? Sales dialers should offer reliable and helpful service and support.
Plans and Pricing
RingDNA Plans and Pricing
RingDNA offers straightforward pricing to use its services. Businesses can get quotes directly from the company to figure out how much usage will cost them. They do not offer multi-tiered pricing plans.
Kixie Plans and Pricing
Whether you have a ton of money to throw into a sales dialer, or whether you need to be budget conscious, you can afford a Kixie plan. The company offers a selection of plans, including those that have multi-tiered pricing, and ones with unlimited minutes. Choose a plan that fits your budgets and needs. If your needs change or your company grows, you can always switch your Kixie plan to match.
Rowdie Mitch Goudy, a user of Kixie, sums up their offerings saying: "Simplicity. Consistent. Great pricing. I can't recommend it enough."
Dialing Capabilities
Kixie Dialing Capabilities
You can use Kixie's PowerCall Dialer software to call a long list of people at once. This can speed up your sales process and stop you from wasting time while dialing numbers or reaching out to people who probably won't answer. Power dialing is one of the most efficient ways to call the right people who will become leads or customers.
RingDNA Dialing Capabilities
When it comes to dialing, RingDNA does not have true power dialer capabilities. Instead, RingDNA offers one-click calling of lists, which still requires human action in order to make a call. Kixie customer Stephen C. touts the power dialer as an easy, automated way to reach out to all a company's old leads. He explains:
" I have even been recommending kixie to my friends…Don't forget to use the power dialer either. EASY way to follow up with old leads."
Local Presence Options
Kixie Local Presence Options
Kixie has local presence dialing for international numbers. Local presence is an important and secret tool of successful sales team. Show up on caller IDs as a local number, whether you're local or not, and increase the chances you're not ignored. Kixie doesn't just offer local presence city to city and state to state. It also offers international local presence at no extra cost, so you can look like you're selling from the same place as the person you're selling to. Kixie also offers a unique feature called Progressive CallerID. Your sales reps can now dial fearlessly and really try to get leads on the phone with Kixie Progressive CallerID. Customer William A appreciates that local presence comes at one flat rate. He explains,
"I also like how Kixie only charges one price for local presence. I have spoken with and used several phone providers in the past. All of them charge you on a per area code bases. Kixie gives us the ability to get a better overall connection rate, but without all the extra cost that would usually be associated with it."
RingDNA Local Presence Options
You can use RingDNA for local presence dialing, even if you're calling another country. Your call will look like it's coming from a local number or caller, no matter where you're calling from.
Customer Service and Onboarding
RingDNA Customer Service and Onboarding
RingDNA is straightforward to set up and does not require tech knowledge to understand or learn. They have full customer service options.
Kixie Customer Service
Kixie prides itself on having excellent customer service with fast response times. Kixie's support staff is onshore, which means that their business hours make sense for U.S. companies and align with U.S. work schedules. Kixie customer Jenna A. raves about the individual attention she gets from Kixie's customer support team. She explains,
"I like that after some time now I have an established relationship with our rep at Kixie. He is extremely helpful, accommodating and available whenever we need him!"
Another Kixie customer, Ronan G., calls Kixie's customer service "the best in the game hands down."
Convenient Calling and Voicemail Features
Kixie Convenient Calling and Voicemail Features
In addition to a power dialer, Kixie offers a range of features that make the process of calling leads simpler and more convenient. With click to call everywhere, you can use Kixie to make calls easily and fast with the click of one button. No need to waste any time dialing numbers. Additionally, Kixie offers voicemail drop. When you make a sales call and get someone's voicemail, you might want to leave a message. However, leaving the same message over and over again is tedious and a waste of energy. Use Kixie's voicemail drop feature to leave an automated voicemail by simply clicking a button. Pre-record the voicemail, then use it again and again. A Kixie client who works in education management says,
" I can drop a pre-recorded voicemail and Kixie is doing the work while I'm already off to the next thing. Saves me time, makes my work easier."
RingDNA Convenient Calling and Voicemail Features
Using RingDNA, you can click a phone number in a Gmail email and it will make the call for you. You can also do the same thing from Salesforce. These are the two places from which users of RingDNA can take advantage of click to call. RingDNA also has a voicemail drop feature.
CRM Integration
Kixie CRM Integration
If you work in sales, you understand how important your CRM is. It's where you store all of the information about your customers and potential customers, and it's how you keep track of your lead nurturing process. One of the best benefits of Kixie is that it integrates with many CRMs, so there's a good chance you can continue using the software you're familiar with and that contains all of the data you've recorded so far. If you use any of the following CRMs or sales solutions,, you can expect them to integrate with Kixie: Salesforce, HubSpot, Pipedrive, Zendesk, Insightly,Capsule, amoCRM, Nutshell, signpost, Highrise, Slack, Propserworks and Zoho. Customers who currently use Kixie support the ease of integration with the sales dialer. Customer William A. explains,
"Kixie provides a reliable solution that is easy to implement. The zoho integration works really well."
Another current Kixie client Arthur C. goes further into how convenient Kixie makes working with a CRM. He describes his process saying,
"I use a simple CRM called pipedrive which I like, and Kixie integrates with my chrome browser, and with pipedrive. Whenever I call a new number, Kixie creates a new prospect record inside pipedrive. And when I'm using my CRM to call either clients or prospects, a single click and Kixie is at work a-dialing."
RingDNA CRM Integration
RingDNA integrates with Salesforce so you can use the two sales solutions in tandem. It does not integrate with any other CRM.
Mobile App and Features
Kixie Mobile App
Kixie provides a mobile app for both Android and iOS for their customers at no extra cost. Kixie users can easily download Kixie through the app store. The mobile app allows users to send SMS text messages,  check voicemails, make and receive phone calls, and access their CRM contacts.
RingDNA Mobile App
RingDNA currently does not offer a mobile app for Android nor iOS.
Conclusion
There's no doubt that companies have to spend a significant amount of an auto dialer if they want it to power their sales teams. When a company relies on a call center to generate and nurture leads, every single aspect of the tools they choose to use is crucial.
From the tech features of a sales dialer to the information you can get from the platform in order to improve calls, each detail should be weighed and considered to know you're selecting the right platform for your company.
Look at all the benefits each offers, then make sure you've gotten the features you need in order for your company to thrive.
RingDNA and Kixie are two options people look to for powering their sales calls. RingDNA is very Salesforce focused and appeals to companies who are aligned with that tool. For a wide variety of companies, with different sizes and types of sales teams, Kixie can work.
Kixie offers their happy customers affordable service and tools, and they have a customer service team that's incredibly present and responsive. They also tout helpful sales-focused features like local presence and voicemail drop.
The company created a solution that enables sales teams to improve workplace performance by doing things like: making calls faster, recording helpful information more easily, and taking advantage of strategies that increase the chances that people will answer and convert.
Organizations that want to improve sales and revenue no matter what CRM they use should consider turning to Kixie. The company's offerings can improve your processes and the way that people perform, their support team can also walk you through the process of getting set up, and then the two together can be there by your side every step of the way to success.
You might also be interested in...