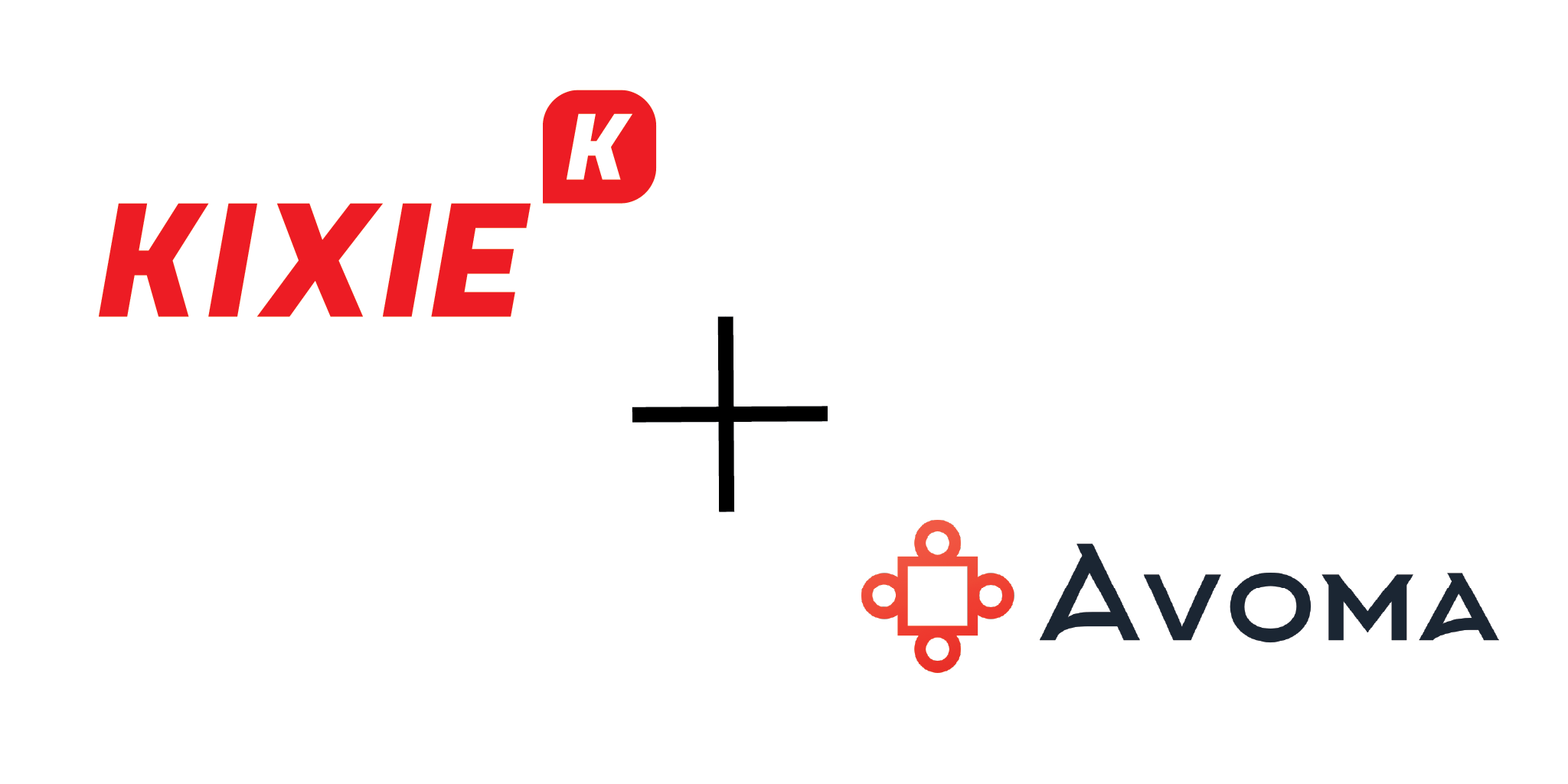 Improving customer-facing interactions and increasing productivity is central to our mission here at Kixie, and one of the ways we are able to do this is by integrating with every component of your sales tech stack. The more your sales technology platforms can "speak" to one another, the less manual data entry your team will need to do between sales calls.
Today we are excited to announce a brand new addition to our ever-growing list of integrations: Avoma. Avoma is a conversation intelligence platform with a large array of features to help you improve your sales performance and reduce administrative tasks like taking notes and updating CRM information.
Avoma is an acronym for "A Very Organized Meeting Assistant," and it is just that. Avoma transcribes your calls and video meetings (Zoom and Microsoft Teams are some other notable Avoma integrations), but it does so much more than that as well. After transcribing a call or meeting, Avoma's AI will create notes and draw insights from the conversation, tracking topics, keywords, trends, and more.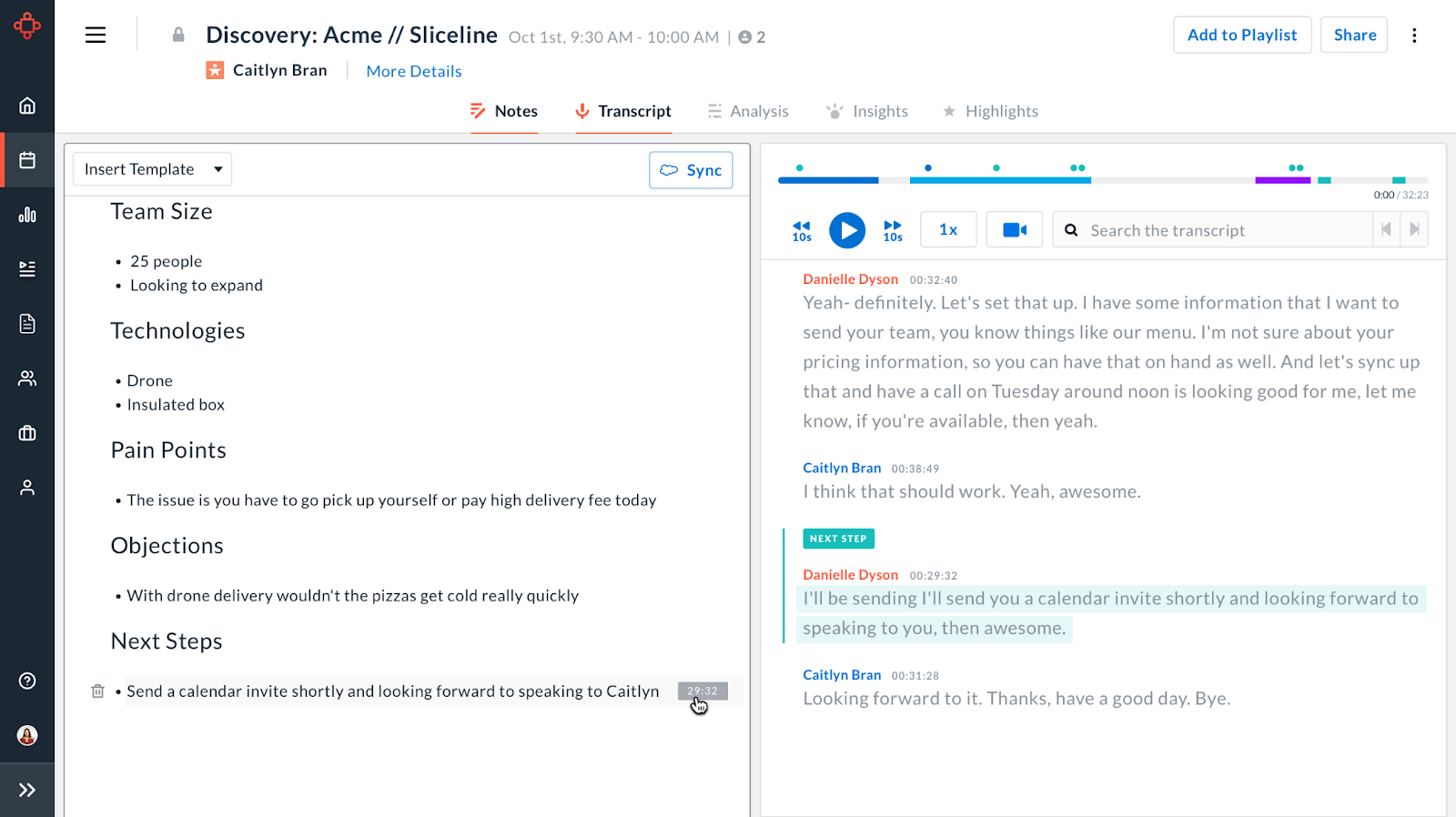 How the Integration Works
After a quick and easy setup, all calls made or received through Kixie will be automatically sent to your Avoma account for transcription and analysis. Additionally, outcomes left in the Kixie dialer are synced with Avoma, so you can easily filter conversations by outcome. If Avoma is integrated with your CRM, call transcripts will be sent to the appropriate contact, deal, or company page(s) in your CRM.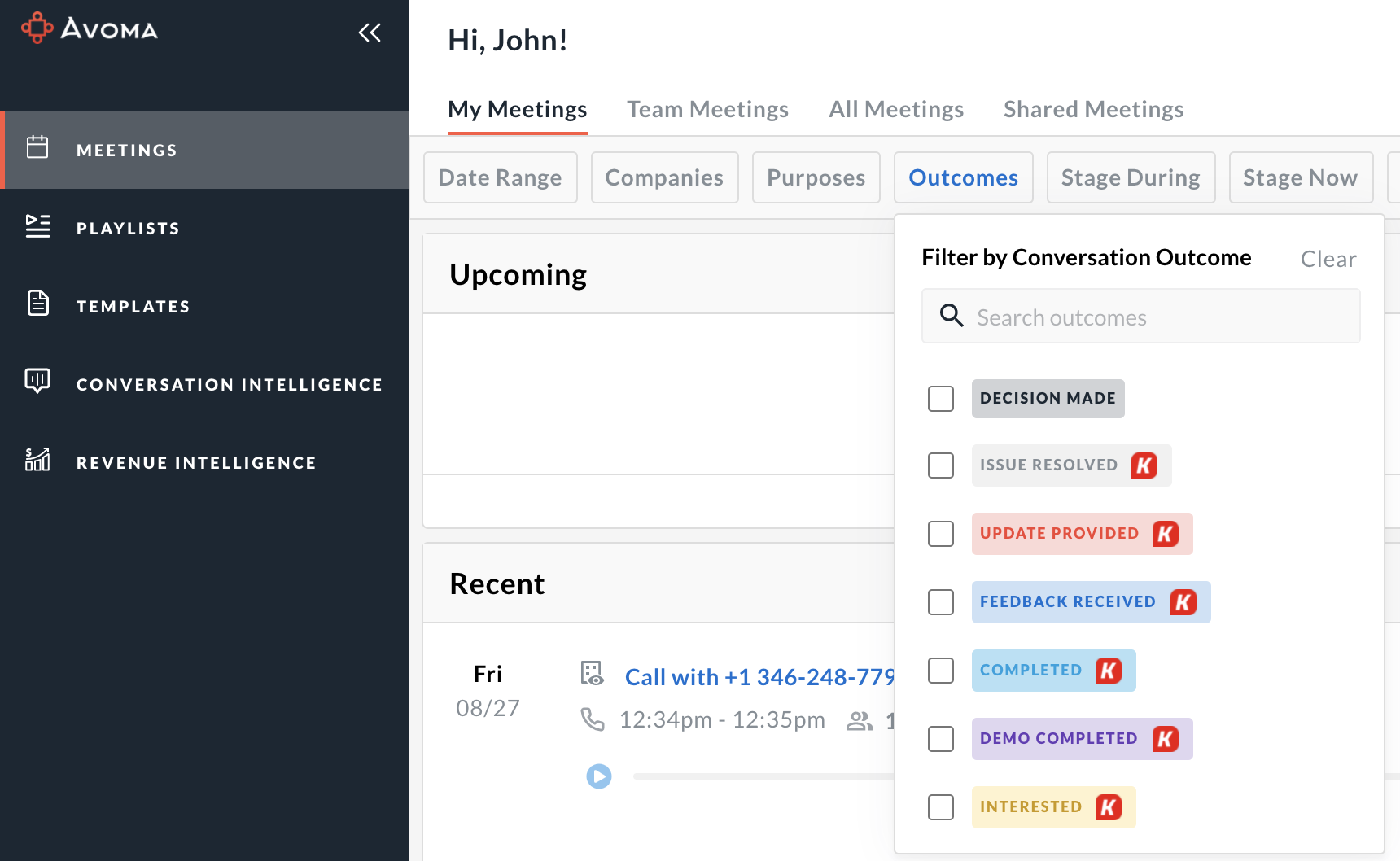 How Avoma Helps Sales Teams on Kixie
One major goal that Avoma and Kixie share is to help sales teams spend more time on the phone speaking with customers and closing deals. As a sales dialer, Kixie does this with tools like voicemail drop, local presence, SMS templates, integrations, automations, and a whole lot more that you can read about in other articles.
Similar to Kixie, Avoma helps your sales team spend more time selling in many different ways. Here are some of our favorites:
How it helps SDRs, BDRs, and AEs
Searchable, editable transcripts give salespeople the power to quickly find a particular moment in a conversation, making it easy to recall what was said on any call.
AI powered note taking removes the distraction of taking notes manually while on a call, allowing salespeople to stay 100% focused on the conversation.
Objection handling insights allow sales teams to track the most common objections and most successful methods of handling those objections.
Talk time analytics empower salespeople to know when they need to spend more time listening to the customer, shorten their monologues, or ask more open ended questions.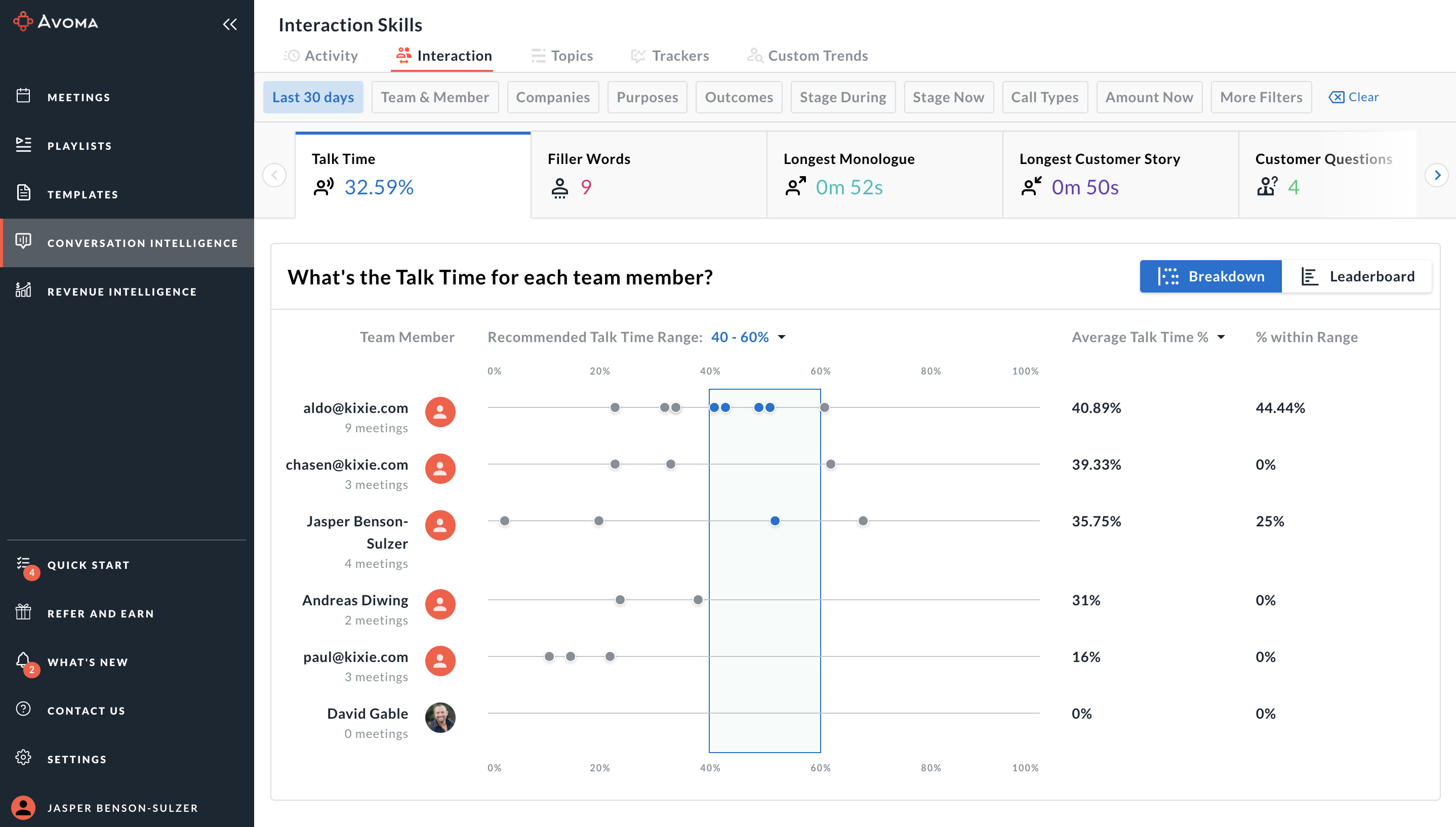 How it helps Sales Leadership
Training and coaching:

Instead of (or in addition to) shadowing calls, new hires can skim call transcripts and pick out specific parts of calls to listen to.
Avoma automatically flags particular subjects such as next steps or pricing, so if a rep needs to improve in a particular area they can review how top performers handle that subject.

Asynchronous communication:

Team leaders can comment on particular moments in a call, and reps will be notified of the comment and can respond on their own time.
Asynchronous communication reduces the need for meetings, and allows everyone to communicate effectively without needing to make changes to their own schedules.

Keyword tracking:

Sales leaders can get notifications when a particular keyword is used, so that they can review that part of the call and see how it was handled.
Avoma uses specific keywords to automatically track conversation topics and how much time is spent on each.

Custom trends: Avoma can identify custom trends, such as:

"Are prospects asking for discounts?"
"Are reps using too many filler words?"
"Are reps pushing to close deals?"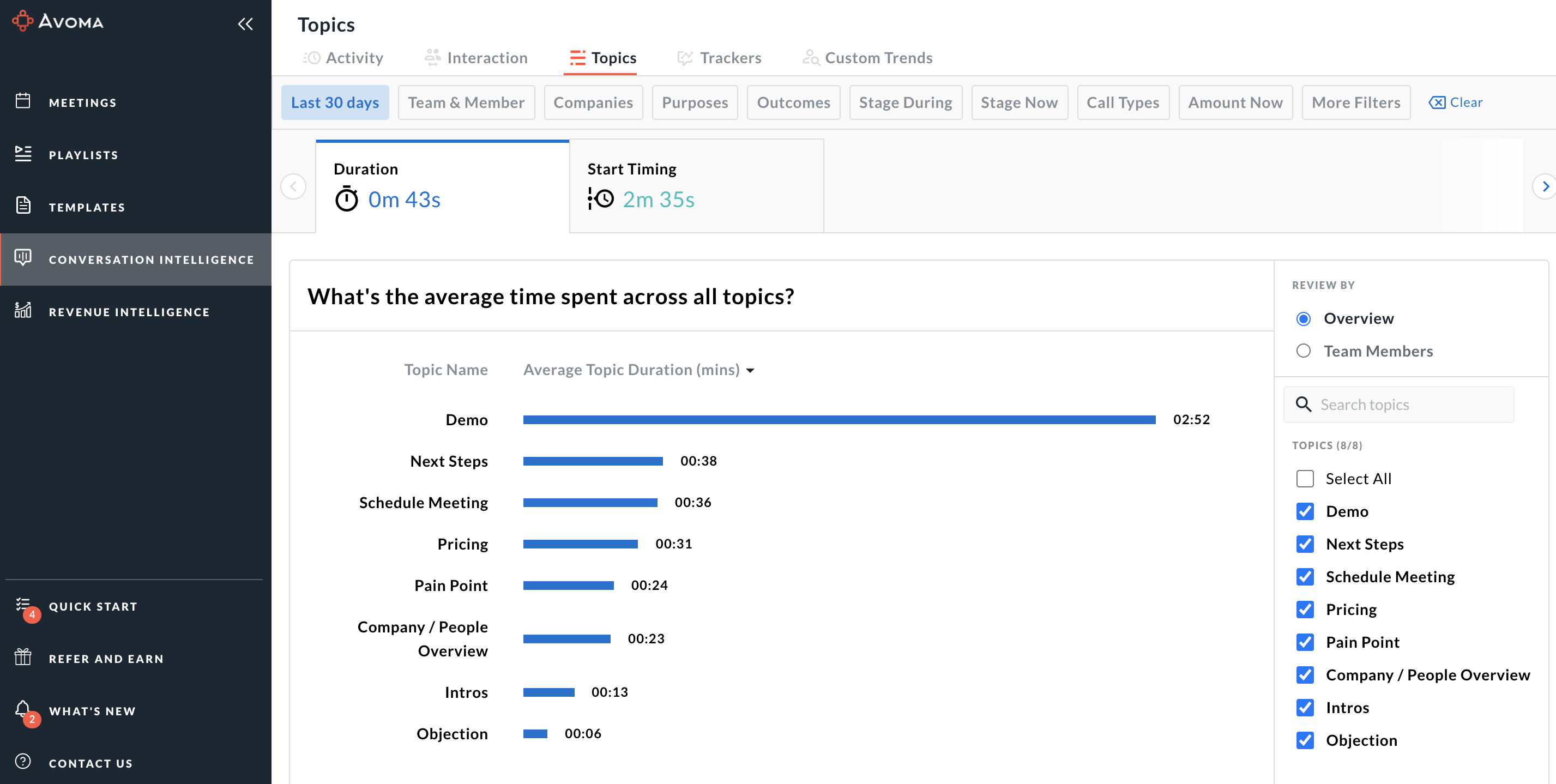 How Avoma Helps Customer Service Teams on Kixie
There's a decent amount of overlap between how Avoma can help sales teams and how it is useful to customer service teams, and if you're a customer service professional reading this, you probably noticed that already. Still, there are some other benefits specific to CS that are worth noting here.
Compliance: customer service managers can get notifications when certain words are used, such as inappropriate language or untenable promises or guarantees.
Customer disputes: if a customer claims to have asked for something on a call that they didn't receive, call transcripts are searchable so you can verify what was promised on the call.
Churn indicators: CS teams can get notifications when keywords indicating the possibility a customer may churn are used on a call, and see overall trends in these churn indicators over time
Friction points in onboarding/adoption: another use of keyword analytics is to identify friction points during adoption calls. If a particular feature is a common friction point, or a particular rep is having more friction than others, Avoma helps you identify these issues so you can rectify them quickly.
In Closing
Now that you've learned a little more about Avoma, we hope you're as excited as we are about this integration. There's lots more to learn about on their website, but the best way to really see what Avoma is about is by signing up for a 14 day free trial. It's a powerful tool, and we're excited to be using it internally here at Kixie!
You might also be interested in...