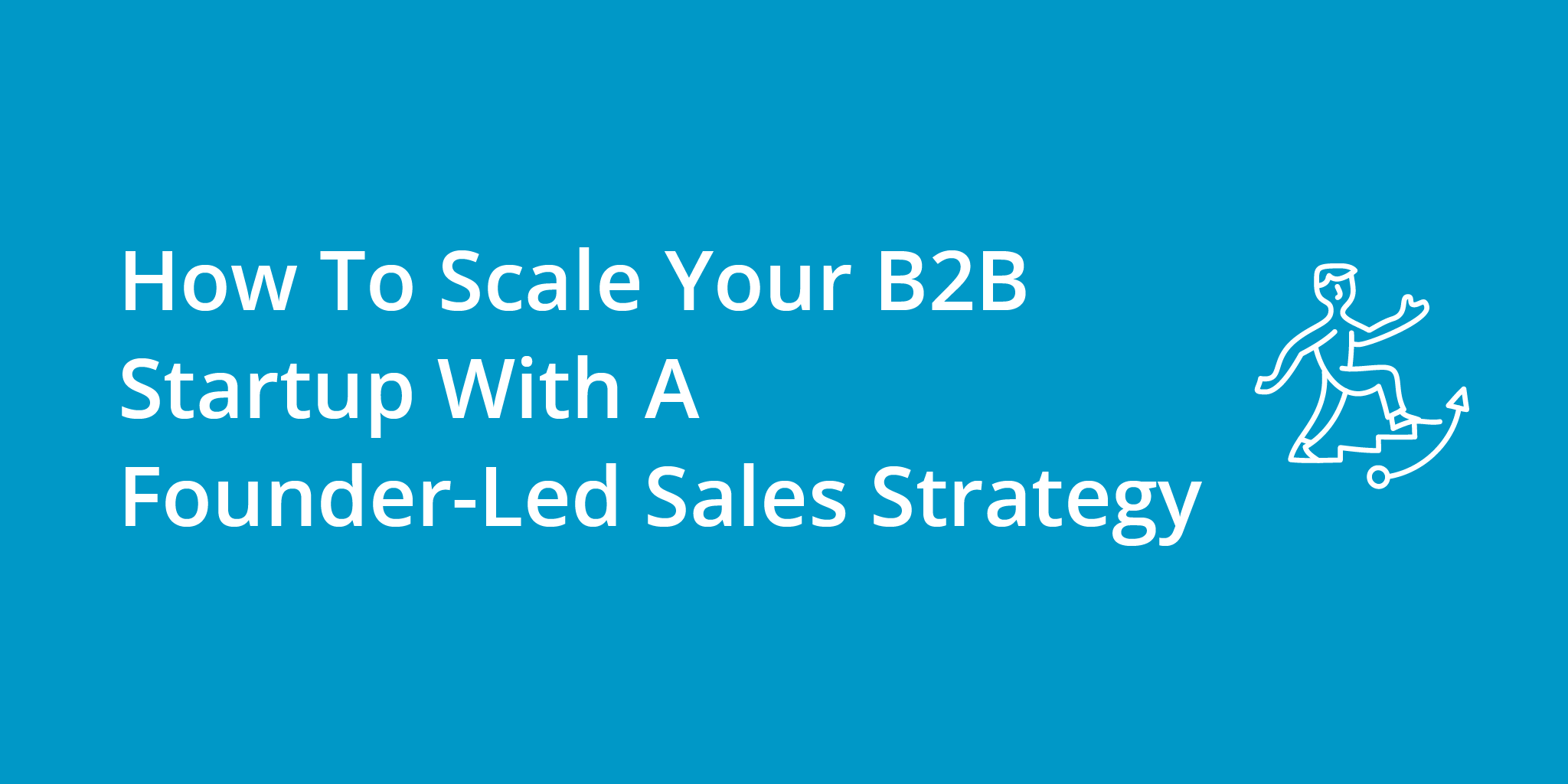 How a Founder-Led Sales Strategy Can Transform Your B2B Startup
Building a B2B sales strategy starts with the founder. Achieving high-growth status as a startup or simply hitting sales targets involves having a plan and a scalable sales process.
Founders need to lead that strategy, do the work, and build the processes before recruiting a sales leader or sales team to implement the strategy.
A founder-led sales strategy can work wonders for your B2B startup. Many founders send out thousands of emails and hope for the best. However, scaling means going beyond seeing what sticks.
To develop a sustainable, reliable, and scalable revenue stream, B2B startups must develop and implement a proactive and repeatable sales strategy.
9 Steps for Founders To Create a B2B Sales Strategy
Before you can launch a sales campaign, there are several steps founders need to take first. These steps often intertwine with achieving product-market fit (PMF). In other words, knowing exactly who your target market is, what your potential customers need, and how to deliver the right product at the right price point with a compelling offer.
At the same time, your product/service needs to deliver a return on investment (ROI) that will keep churn to a minimum while increasing customer lifetime value (CLV), monthly recurring, and annual recurring revenue (MRR and ARR).
Steps one to six are all the pre-launch actions that a founder-led sales strategy needs to include to achieve the results you want. If you skip these steps, there's a greater risk that your sales campaign will fail.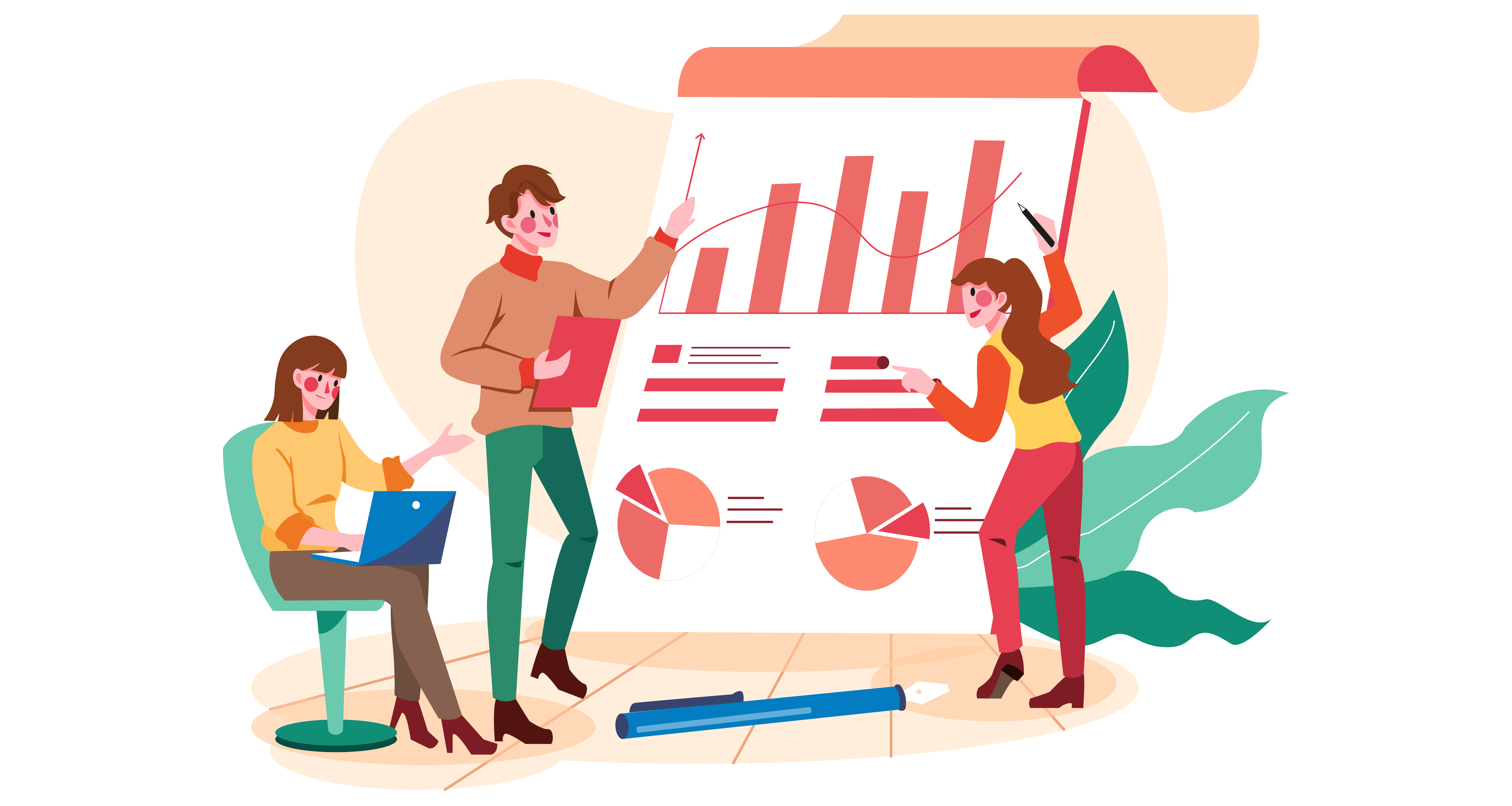 1. Define Your Target Market
Before you can start selling, pitching, or launching any B2B sales outreach campaigns, you need a clear understanding of your target market.
Who are your customers?
To answer this question, work out the following:
Your startup's Total Addressable Market (TAM);
Serviceable Available Market (SAM);
And finally, your Serviceable Obtainable Market (SOM).
With this information, you should have a comprehensive overview of the following:
How many potential customers can you reach with an outbound B2B sales strategy?;
Where are your customers (geographically)?;
The average size of your customers (e.g., revenue, market cap, headcount, etc.);
Whether the markets/segments your customers are in are doing well, or you need to rethink your target market.
During challenging economic times, there's no point spending 3-6 months on sectors that are contracting, stagnating, struggling, or don't understand the value of your product/service. Now is not the time to make sales any harder than it needs to be.
Instead, focus on sectors and niches where there's measurable growth and where you don't need to educate potential customers.
To achieve a successful founder-led sales campaign, focus on sectors where they can understand why they need your product, want it, and have the budget to make the purchase.
A qualification process is integral to successful sales campaigns. If you don't check that a sales lead is a good fit early on, you could waste valuable time pursuing someone who's never going to become a customer.
2. Understand and Create Your Ideal Customer Profile (ICP)
The next step is to create an Ideal Customer Profile (ICP), a persona you can use to target these potential customers more effectively. Before you do this, you need to know whether your startup has achieved Product-Market fit (PMF).
Product-Market fit is when a company's offerings and services align with its target market/customers. It takes time, effort, and numerous iterative feedback loops for most B2B Software as a Service (SaaS) to achieve PMF. Very few companies achieve this on the first attempt or within the first three to six months.
The best approach is constantly engaging with and speaking to customers and potential customers.
Aim to find their pain points. Then, understand the problems that need solving and create a compelling product/service that solves these client problems. You need a decent, practical understanding of the psychology of B2B buyers and your potential customers, in particular, to implement a successful founder-led sales campaign.
Once you've collected the data and feedback about potential customers, you should have everything you need to create an Ideal Customer Profile (ICP).
You should actively update your ICP document as you receive customer feedback and real-time data. If assumptions or ideas are validated or disproved, the document reflects this. Therefore, it influences how you, as a founder - and later, your sales and marketing teams - implement the strategies you have created and tested.
3. Craft a Compelling Offer/Unique Selling Point (USP)
Every startup needs a compelling sales offer known as a unique selling point (USP).
A compelling USP should be a simple and powerful statement, "We are [X- your brand name], we do [Y- this service] for [Z- our target customers]."
One line should clearly state who you are, what you do, and for whom you do it.
It's even more powerful if you say how you add value or what ROI customers can expect when they work with your startup. Talk to customers and stakeholders if you're struggling to develop a USP that stands out.
Founders may need to hire branding and marketing agencies to help them create a USP. It's not easy. Writers will tell you crafting one line is often 10x more difficult than writing a 10,000-word report.
Creating a compelling market-oriented offer takes time and work, and it's best to have a USP and ICP ready before launching a B2B sales campaign.
4. Design a Sales Process/Playbook
Every sales campaign needs a process, a playbook, or a standard operating procedure (SOP).
This trial-and-error process can become the framework of your startup's sales processes and playbook by implementing a founder-led sales strategy before hiring a sales leader, outbound sales agency, or in-house team.
A sales campaign isn't sustainable, reliable, or scaleable without a guiding strategy. You can't scale something that doesn't have a plan, nor can you train new sales team members on how to be effective without a playbook or SOP.
A sales SOP should be a living document that includes various objections and stumbling blocks so your team members can overcome them and close more deals. Sales is a process. Any startup that doesn't have a playbook or SOP is setting itself up for failure.
Sales SOP documents need to include the following:
A comprehensive overview of the target market;
A detailed competitor and market analysis;
The Ideal Customer Profile (ICP);
The company's Unique Selling Point (USP);
The overall sales strategy for the company and target market(s);
The various steps salespeople and anyone involved in sales (e.g., founders and co-founders) need to take when implementing an outbound sales campaign;
Steps involved with account management and inbound sales leads (e.g., identifying up-sell and cross-sell opportunities and how to retain customers who might churn)
Links to relevant sales materials, such as training documents, sales enablement, outbound emails, call scripts, LinkedIn messages, and links and passwords to the sales software, such as a CRM (customer relationship management).
5. Build a Sales Tech Stack
Every sales campaign needs a tech stack to make it function smoothly. It doesn't matter whether you're a solo founder driving forward sales or you've got a sales team of 50; hundreds of solutions will make your life easier.
At a minimum, a startup sales tech stack should include the following:
For early-stage startups, building a sales tech stack isn't expensive. But it will save you hundreds of hours of manual work, making it worth the investment.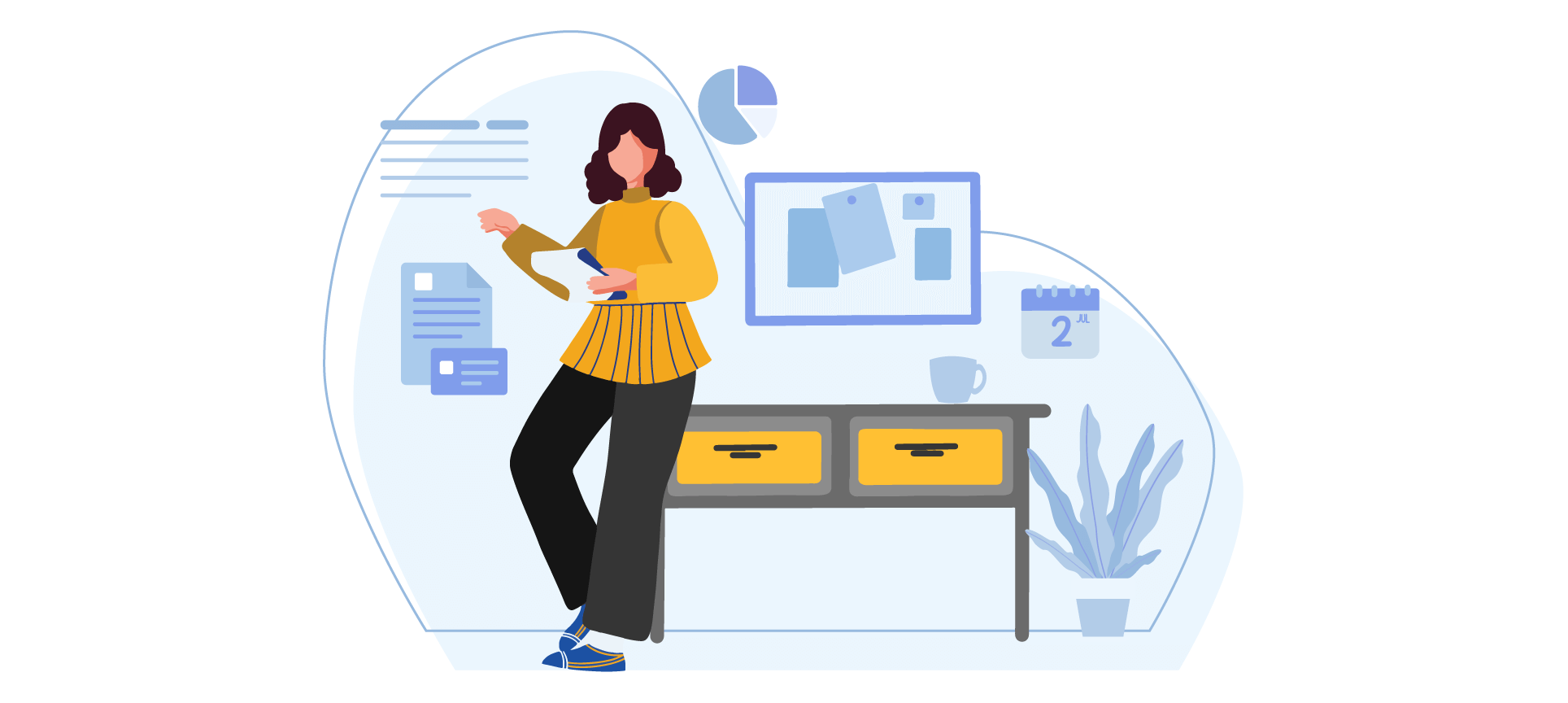 6. Create Sales Enablement Materials and Messaging
Now you've got a working sales strategy, SOP, and a tech stack; you need to create sales enablement materials and messaging.
Sales enablement materials are a comprehensive series of assets you can use to launch a sales campaign. These include case studies, sales proposal documents/pitch decks, outbound and inbound sales emails, messages, and call scripts.
Sales enablement materials are everything your sales team needs to launch a sales campaign. These assets need to come from founders (even if you work with an external provider to produce them) because your understanding of the product/service and customer pain points will be deeper than anyone else.
Otherwise, let's say you recruit your first salesperson:
What will they say when they start emailing and messaging or calling a target database of prospects?
Founders who hire salespeople but don't give them what they need to implement a sales campaign undermine their ability to hit targets. Hence the value in driving forward a founder-led sales campaign first. Figure everything out and test what works and what doesn't in the field before handing the process to someone else.
Sales enablement materials are the fuel every sales campaign needs to achieve results. Once you start booking calls and demos, prospects want to see case studies and proposals. In addition, prospects want to have something they can share with decision-makers and stakeholders.
Having these assets prepared makes your startup much more professional than a competitor who doesn't have these assets.
7. Source a Target Database
It might take a few weeks or even months, but now you should have everything you need to launch a sales campaign:
An overview of the market and competitors;
An ICP;
A USP;
A sales tech stack (test it all works smoothly first);
Sales enablement materials and messaging.
All that's left is to source a database of potential sales leads. There are thousands of these services on the market. Pricing varies, from a few hundred dollars a month to a few thousand for more extensive databases.
It's important to ensure these comply with data protection laws in your country and that the emails and contact details are accurate and verified. Depending on the time/resources available for pre-launch sales activities, you can also create your own database.
8. Launch the Sales Campaign
Now all that's left is to launch the sales campaign. So start sending those emails and messages and making those calls! Use automated software whenever possible to accelerate the process.
As the founder of a startup, sales is always going to be part of your job description. Your passion for what you do and your willingness to share that enthusiasm with sales leads are powerful—you can use them to build trust and long-term relationships with customers.
On sales and demo calls, be transparent about your product/service—including challenges during implementation and delivery, potential bugs or other problems, pricing…everything! Transparency builds trust because it shows potential buyers you know what you're talking about, understand their pain points, and aren't willing to overpromise and under-deliver.
It's important to understand your buyer's needs and figure out what they are struggling with. Then, you can ask questions, listen carefully, and show empathy for their struggles. Armed with this information, founders can then sell the benefits and features of your product, why they need it, and outline how it will solve their problems.
9. The Key to Success: Relentless, Consistent, and Persistent Follow-Ups
And finally, the key to a successful sales campaign is persistence.
Ensure you hard-wire follow-ups into your sales process and strategy.
Use email clients, business organizer apps, and your CRM to set automatic follow-up reminders. Alongside sending numerous follow-up emails, founders leading sales campaigns need to constantly manage and monitor their teams and use the data and feedback to see what's working and what isn't.
---
This is a guest post from Datanyze, written by John Marquez. John is an experienced digital marketing professional at Datanyze. He spends most of his time testing different strategies and in his spare time, argues his findings with his dog. Zeus. You can follow him on Twitter @J_PMarquez.
You might also be interested in...