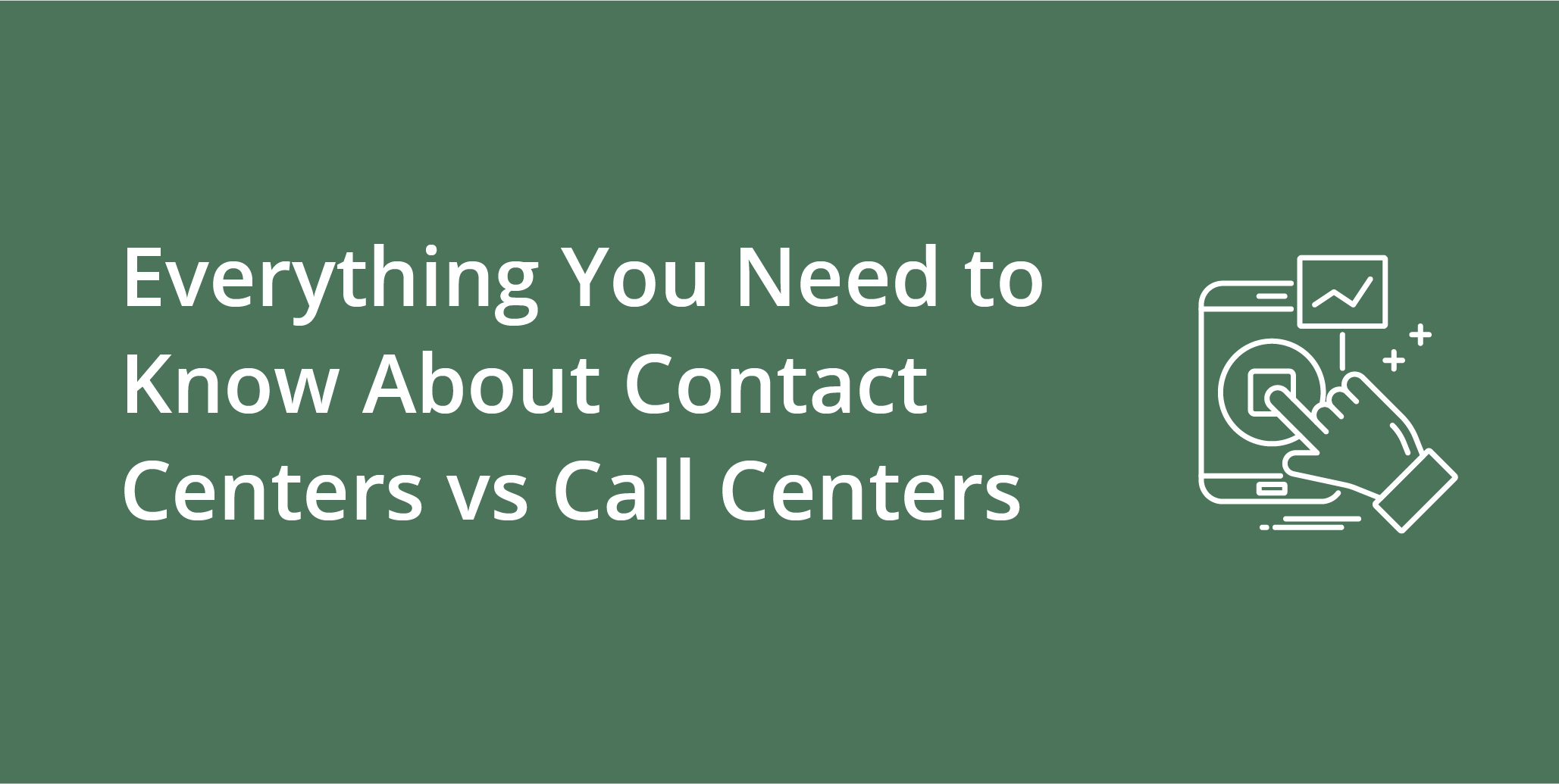 The terms call center and contact center are often used interchangeably, but there is a significant variance in what they offer your business. This guide will look at contact center vs call center differences to help you decide which is right for your company.
What is a Call Center?
A call center is a wing of a company that handles phone calls from customers. Traditional call center employees are customer service representatives, but they may also do other customer-related duties, such as outbound sales, telemarketing, debt collection, and billing.
What is a Contact Center?
A contact center also handles interactions with customers. The agents in a contact center interact with customers on multiple channels. These channels often include email, social media, phone apps, email, live chat, phone, and websites.
Contact Center vs. Call Center: What's the Difference?
While a call center is focused on phone calls, a contact center includes one or more other channels. Being able to respond to customers through their preferred mode of communication makes for better customer service, but it also requires more management and training.

Contact Centers Offer More Customer Choice
Most people have a preferred mode of contacting companies. More than half of people have stated they prefer to contact companies using a digital communication channel rather than over the phone. This is especially the case with simple issues that customers can perform by themselves using an interactive voice recording (IVR) system.
This is not to say that everyone prefers using computers when contacting companies. There's a significant percentage of people who strongly prefer to solve problems over the phone. They like to talk to an actual human and feel they'll be able to resolve their issue more quickly if they can discuss their case in a conversation. So, the role of the phone is still vital to almost any business.
Contact Centers Require Smarter Routing
Every time you add a new communication channel into the mix, the contact center management gets more complex. Each channel needs its own priority. For instance, you typically want to respond to an incoming call immediately, whereas an email might only need a response within 12 hours.
On top of this, you will likely have skilled agents who offer support through more than one channel. With intelligent inbound call routing, you can have them field calls as soon as they come in while responding to social media or emails during lulls in phone calls.
Call Centers and Contact Centers Have Different KPIs
The key performance indicators (KPIs) of call centers and contact centers do differ. In a call center, statistics such as cost per call, first call resolution, average speed of answer, and average handle time are typically monitored.
A contact center extends these types of KPIs to its digital channels. Monitoring the first contact resolution, volume, and cost per contact continues to make sense on other channels.
There are also other KPIs to consider that are exclusive to contact centers. There's no such thing as recording the abandon rate of social media interactions, for example, so you'd instead monitor your successes through metrics like the number of replies performed within a 24-hour period or the number of retweets you received.

Contact Centers Require More Training
Call centers, owing to their relatively simple nature, only require agents to have a set of skills centered around dealing with customers over the phone. Those who work in contact centers require a wider skill set, which increases the time it takes to train them.
Contact center agents juggle phone calls, emails, support tickets, and social media interactions. They must be able to write professionally without grammatical errors. Contact center staff must be able to multitask effectively.
Contact Centers Have More Compliance Regulations to Consider
Both call centers and contact centers must consider compliance laws. All customers must be informed if their calls are being recorded, for example.
Contact centers often store more discussion in written form, and your company must take steps to securely store this text, particularly if it contains sensitive details like financial or medical information. The failure to securely store customers' sensitive details can result in a hefty fine if there is a breach in security and will result in a considerable loss of reputation for your business if it comes to pass.
Contact Centers can Offer Higher Agent Satisfaction
Call centers often have a relatively rigid set of steps and guidelines agents must follow. There's only one mode of contact with customers, so call center agents can feel restricted in how they solve customer issues. Call centers have problems with agent burnout, and staff turnover when the tasks agents are asked to perform are too repetitive.
Contact centers usually offer these agents more autonomy over how they solve the problems that land on their desks. Emails can be put in a low-priority queue while they phone an important customer immediately to resolve a critical problem, for example.
Giving call center representatives more agency over how they deal with the interactions in their charge leads to high agent satisfaction and better performance figures. If a contact center is managed well and uses state-of-the-art software, there's a better atmosphere and lower staff turnover.
Should I Choose a Call Center or Contact Center?
Contact centers can result in better customer service when staffed and managed well. 9 out of 10 consumers say they expect companies to be able to support them through multiple channels seamlessly. Contact centers are the perfect solution to offering this.
But if your sales and customer support is almost exclusively done over the phone, a call center alone will suffice. The focus on phone calls rather than an entire range of communication options means staffing is easier, software requirements are more straightforward, KPIs are easy to track, and less training is required.
In most cases, a contact center is the best solution. But it's important to weigh up the pros and cons of each solution before you jump in.
You might also be interested in...