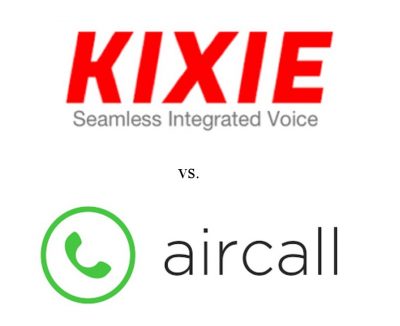 Aircall vs Kixie - Sales Dialer Phone Service
Despite the automation revolution, it is undeniable that for most sales organizations, old-school phone calls are still King. Marc Ende, VP of Business Development at SeamlessDocs has said that 90% of his team's sales are directly preceded by a phone call. Studies have shown that if you call a lead within the first 5 minutes of them expressing interest you can increase your likelihood of connecting with that lead by 900%.  How does somebody track this call data to ensure that their sales team is reaching out to leads correctly? Well, with the rise of phone systems that allow you to track call data directly into the CRM, it has never been easier.
Today we are going to run through Kixie and Aircall, two products that integrate call data directly inside of your CRM. Both of these services provide you with the ability to make calls via voice-over IP, integrate call data directly into Pipedrive, and record all of your inbound and outbound calls. What we will delve further into today is what makes each system unique, and right for you. First we will review some of the benefits of Kixie's system. Kixie is an enterprise phone solution designed primarily for sales teams. The same call quality and reliability you would expect from a RingCentral or 8x8 is standard in Kixie's phone integration, but you can install Kixie and pair it up with your CRM in under 3 minutes.
In addition to ease of setup and adoption, Kixie also provides instant click-to-call functionality (red icon shown below), automatic call logging/recordings in your CRM at all relevant levels (person, org and deal in Pipedrive for example), and handy sales features like automatic local presence dialing, voicemail drop, Slack integration, and instant website lead-callbacks. The purpose is to save a salesperson's time, give them and their manager better data to build processes around, and increase pickup rates.
Lastly Kixie goes above and beyond standard call-logging with its PowerCall Chrome Extension. The PowerCall presents a rep with an enhanced caller ID that will pull information directly from the CRM. What makes the PowerCall more than just an enhanced caller ID is the ability to log notes, call outcomes (dispositions) and schedule future activities directly inside of the CRM. 
Aircall also makes it incredibly simple to sign up. Just enter in a few pieces of information and you can start downloading their dialer and setting up your account. This makes it incredibly easy to just pick up their system and go, and goes hand-in-hand with another benefit of theirs - inbound routing and customization. You can adjust your inbound call handling rules easily, especially if you know what you're doing. The CRM integration is functional but basic in that calls only sync to contacts, and don't also sync up to organizations and deals (in Pipedrive for example).
Aircall's comparable to the PowerCall is their dialer platform. Though it does not pull data from the CRM, it does present you with your call history. This is available to you on your AirCall computer app or on your AirCall cellphone app, so you can be completely aware of all your recent call activity even when on the go. The big difference, in general, between these two systems though is the type of use case you fall into: If you are a mainly-outbound sales team using a CRM and have simple inbound handling needs, and you want to eliminate manual logging, track your team's call data better, and make more effective sales calls, then Kixie is your choice.
If are a more inbound-focused sales organization that wants a highly-configurable phone system, a very basic CRM integration, and you have inbound handling needs that frequently change, then AirCall is your choice. In a world where the phone call is King, Kixie and AirCall help you make the most out of your calls. They both have top-notch sales consultants, so the best thing to do is to call into their sales lines and ask how well each one would fit your team's use case!
You might also be interested in...