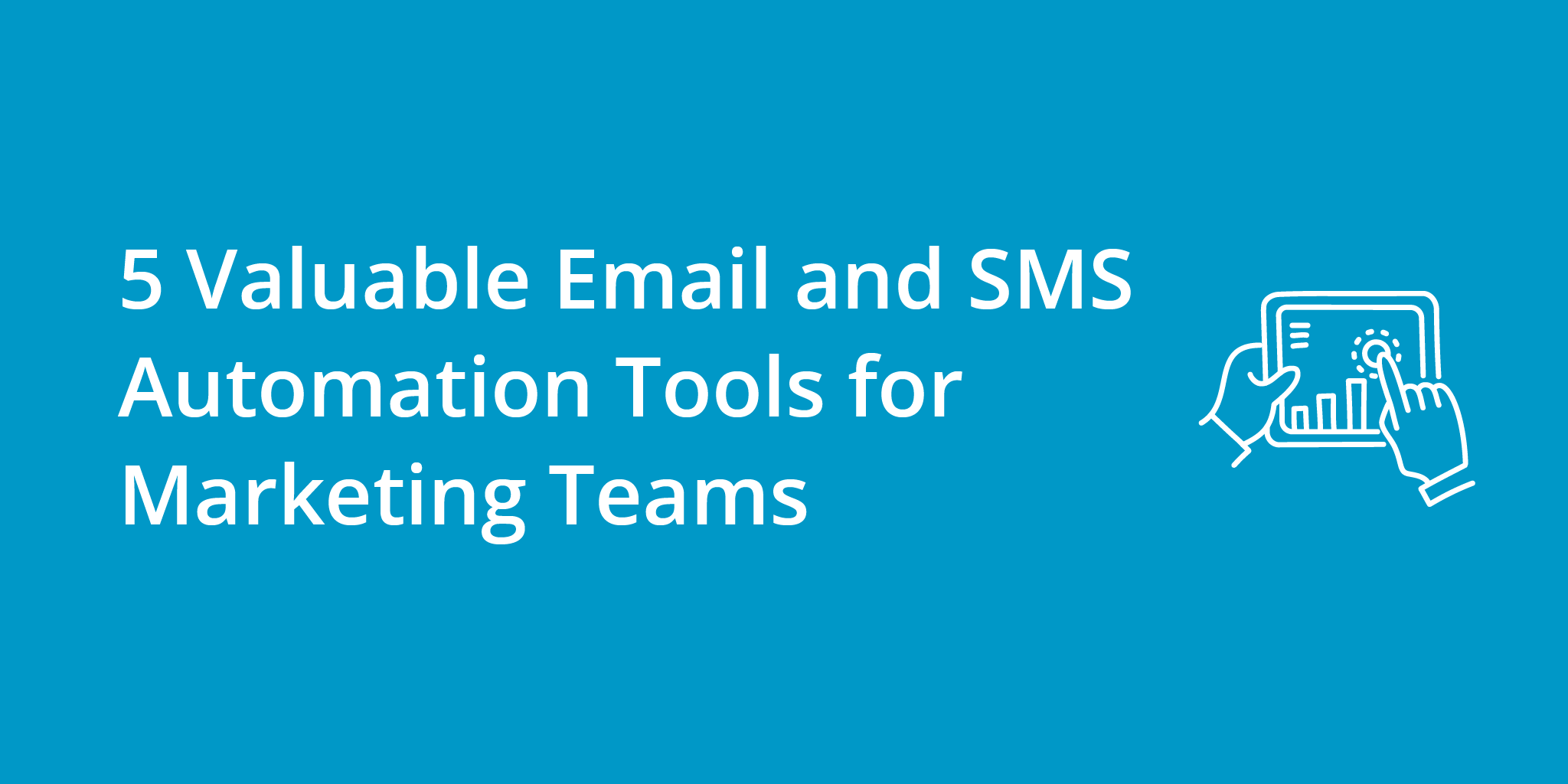 Marketing automation software can save you time and money while helping you to reach your target audience more effectively. These tools allow you to automate certain marketing tasks, such as email and SMS campaigns, which can help to streamline your marketing processes.
In addition, many of these tools offer powerful analytical features that can help you to better understand your target audience and improve your marketing strategies. Research and the latest marketing automation statistics show that companies that invest in automation see a return on investment of $5.44 per dollar spent.
We've rounded up 5 of the most effective email and SMS marketing campaign automation tools that are popular for marketing teams, with good reason. These tools have the potential to save you time, make your lead nurturing process fool-proof, and increase the number of marketing qualified leads you generate each month (and by extension, increase sales). We'll dive into a product overview and review of the top features below.
Best Overall Email and SMS Automation: Klaviyo
Klaviyo is an email and text automation platform that touts itself as the "growth marketing platform that helps deliver more personalized experiences across owned marketing channels like email, SMS, in-app notifications, and web" and has a robust feature set that users rave about.
Within Klaviyo, you can design and send personalized email campaigns based on your customers' activity. There are also a selection of pre-built email automations that are based on user behavior triggers you can implement with ease. Templates for email campaigns, suggestions for subject lines, and more help you send high conversion emails with ease.
In addition to email automation, Klaviyo also boasts SMS automation capabilities, including multiple ways to get customers to opt-in to text messages from your business. Automated SMS messages can be triggered based on user behavior on your website or e-commerce site, and keep 2-way SMS conversations within the Klaviyo dashboard.
With almost 700 5-star reviews on G2, Klaviyo is well-liked by its users. Solomon P. writes of Klaviyo on G2, "Klaviyo is exceptional for its in-depth segmentation abilities. For instance, we don't even collect gender data on our website but Klaviyo's AI is able to predict the gender split of our customers! Also we've never had a problem with the emailing, scheduling, basic functions. Really love how easy it is to set it up and get it running."
Despite the positive reviews, many have noted that the cost of Klaviyo is beginning to outweigh its benefits. In particular, some users have cited unclear pricing policies and large jumps in costs, especially when first starting out.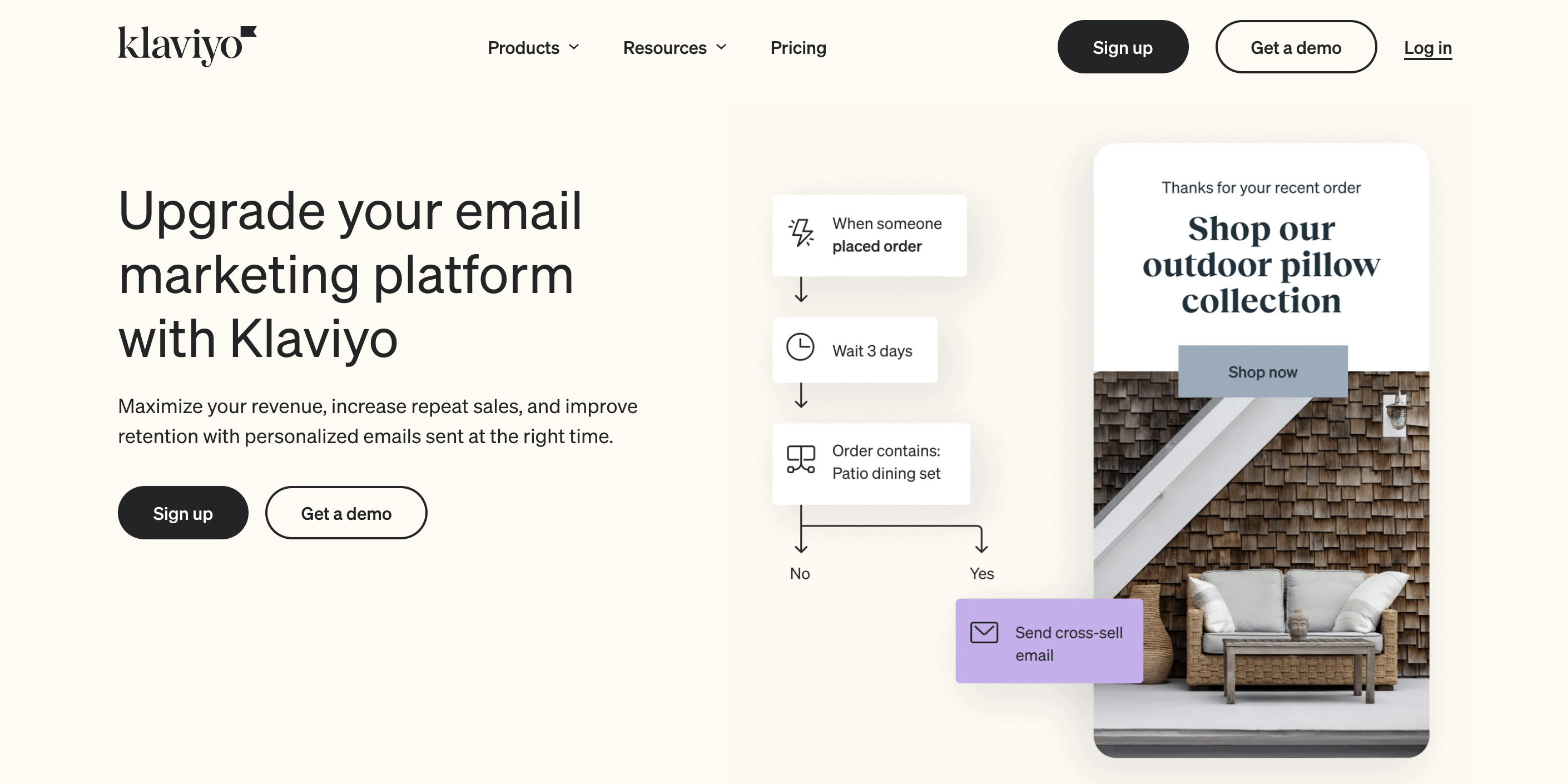 Best In-Depth Marketing Automation Capabilities: Marketo
One of the earliest marketing automation software tools, Marketo is truly robust in its automation capabilities for marketing teams. It was acquired by Adobe in 2018, and continues to impress marketing teams with its customizable tools and reporting.
According to their website, "Marketo Enagage is the world's largest marketing automation platform," with the ability to measure and optimize marketing campaign performance, leverage customer data to inform marketing choices, and facilitate email marketing, lead management, digital advertising, and social campaigns.
Lucy G. writes in a review of Marketo on G2, "…for the many years I have been in the field of marketing and sales, I have been using Adobe Marketo Engage as our most trusted and reliable marketing tool and I have not encountered any downside or technical challenge that wasn't solved ASAP by the technical support."
Marketo's impressive feature set and in-depth automations make it suitable for larger, more established marketing teams and not small businesses working with a limited budget. Pricing is not disclosed directly on Marketo's website.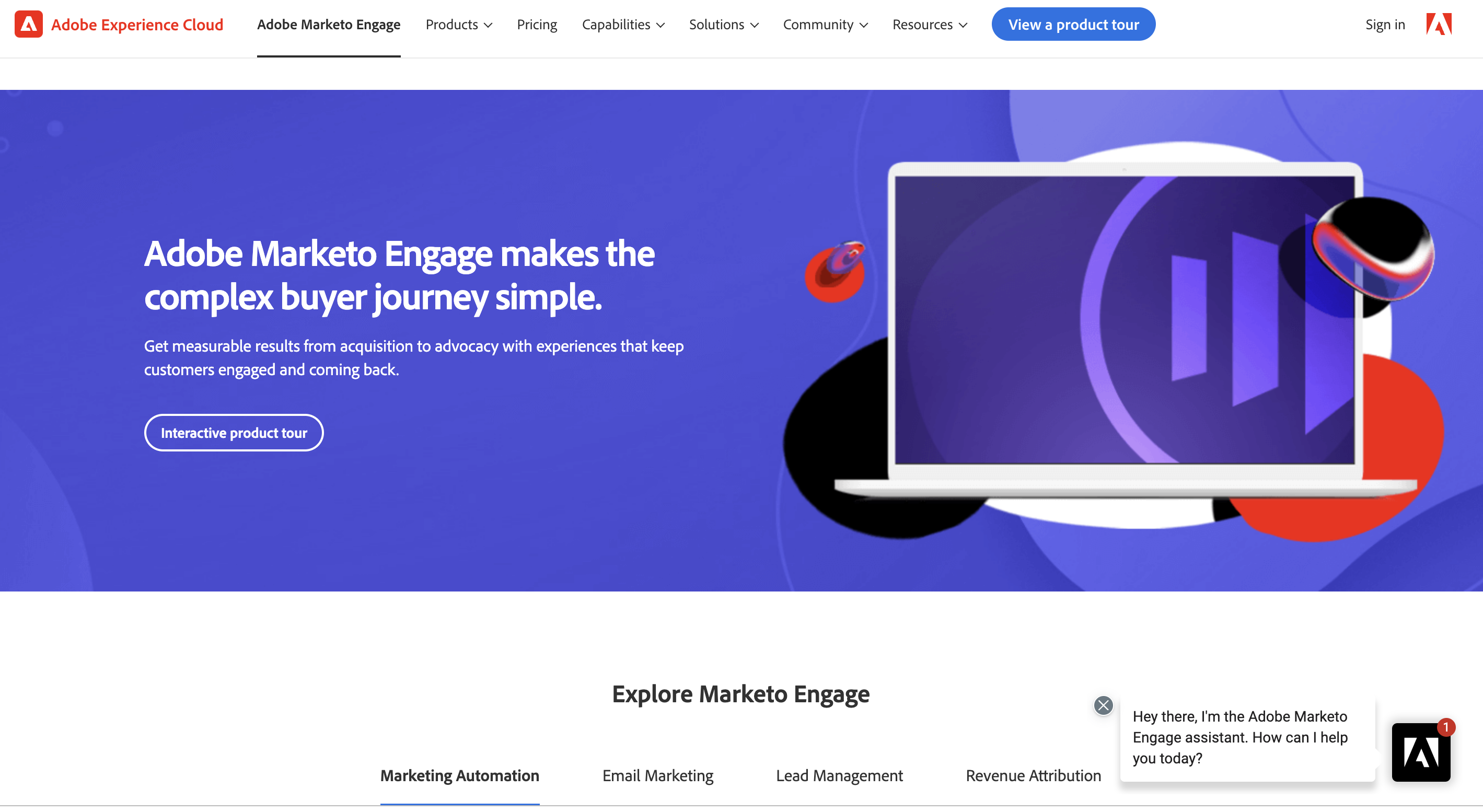 Best for Just Getting Started With Email Automation: Mailchimp
On the other hand, if your team is small but growing, Mailchimp may be the perfect place to get started with email automations. Mailchimp offers a handful of affordable pricing options and an intuitive email campaign platform for designing and sending out emails in bulk.
Their user friendly platform is easy to navigate for beginners, and integrates in just a few steps with other software you might use like Gmail, Squarespace, and Shopify. When you're ready to level up your email automation game, Mailchimp also has a number of features to help you get more out of your email lists with segmentation, analytics and AI tools.
Clinton O. writes in a review of Mailchimp's email software on G2, "Mailchimp is most helpful for building visually pleasing email designs using intuitive drag and drop layouts. Mailchimp also makes it easy to schedule campaigns for specific target audiences. The audience dashboard allows you to keep track of recent growth, engagement rates and even audience locations, which can help you target future emails more effectively."
With drag and drop email designs, templates to help you get started, and fairly easy contact importing, Mailchimp is a great solution for email automation beginners and small businesses. Plus, they even have a completely free plan for up to 2,500 email sends per month – an easy way to test out the software and see if it's right for you.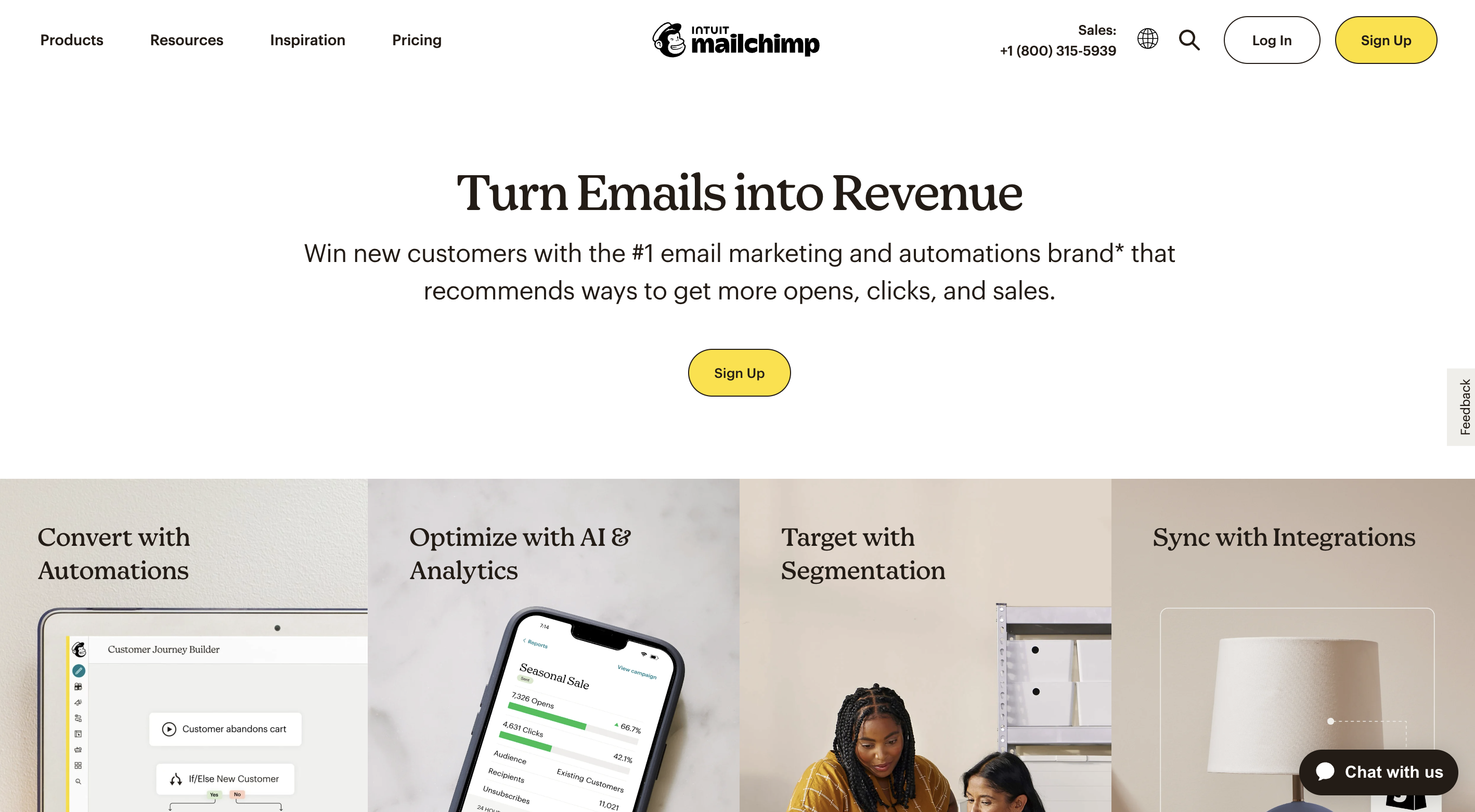 Best for Ecommerce Email & SMS Automation: Omnisend
Omnisend is a powerful email and SMS automation tool that empowers marketing teams to create highly targeted and personalized customer experiences across various marketing channels. With its extensive feature set, including popups, email, SMS, landing pages, web push notifications, and much more, Omnisend stands out as a valuable platform for driving growth and engagement.
One of the key strengths of Omnisend lies in its ability to design and deliver personalized email campaigns based on customer behavior. The platform offers a user-friendly interface that allows marketers to create visually appealing emails with ease. Omnisend also provides a range of pre-built email automations that can be triggered by specific user actions, enabling businesses to engage their customers at the right moment.
With an impressive track record, Omnisend has garnered positive feedback from its user base. Sandra T. says on G2 that Omnisend was exactly what they were looking for"Signed up for the FREE account about 7 to 10 days ago. Set up the automation workflows which is easily done with their drag-and-drop builder. As of this writing, we're up just over $700 in revenue, from just the free email automations we set up. We just signed up for the paid plan and are looking forward to even more sales after starting to run promo campaigns."
Omnisend also boasts an average of $72 ROI, which is twice the industry standard of about $36 ROI. With loads of popup and email newsletter templates, drag-and-drop email and form builders, and lots of presets and automation workflows, Omnisend is both easy to use and effective. Its free plan has no feature restrictions, and lets you send to up to 250 contacts per month.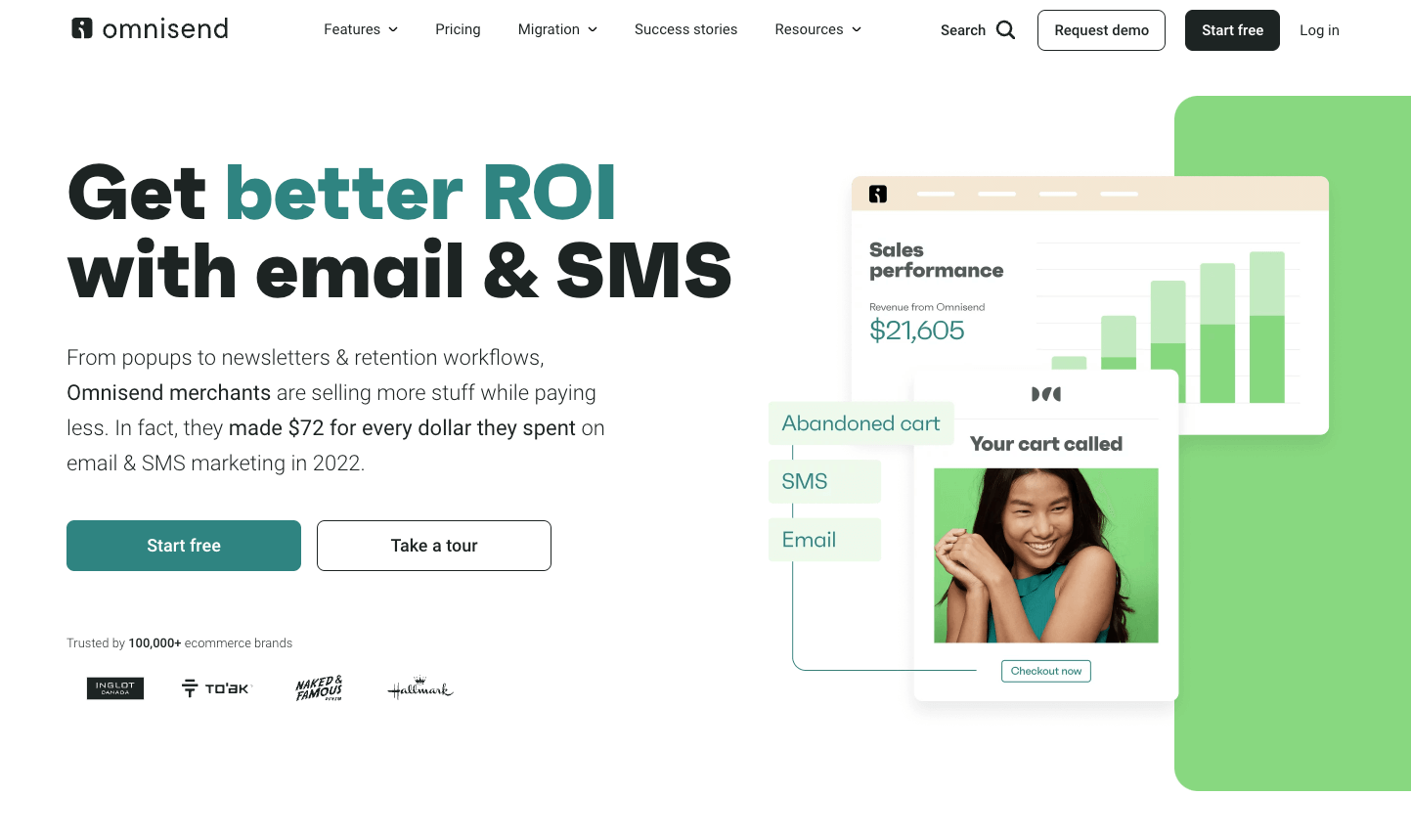 Best Affordable, All-In-One Option: Sendinblue
If you're running a small business with a limited marketing budget but still want to get the most out of email and text automation tools, Sendinblue is an affordable standout. With a multitude of marketing and sales tools to help grow your business, Sendinblue touts itself as the affordable but comprehensive option for SMBs. On their website, they state, "We dream of a world where small businesses are on equal footing with big brands. That's why we give you the tools big companies use to attract, engage, and nurture their customer relationships — without the enterprise price tag."
With Sendinblue, you can gain access to email and SMS marketing automation tools, as well as website chat, signup forms, a custom landing page builder, and even a sales CRM. With all this in one platform, Sendinblue aims to be your business' hub for marketing and sales activities. They offer a free trial of the software, however, for more advanced tools like A/B testing and the landing page builder companies must upgrade to a higher paid plan tier.
Vittorio C. writes in a review of the software on G2, "I was looking for a solution suitable for getting in contact with a list of companies to develop opportunities without investing too much time. My approach wasn't exactly the classic mass mailing approach and the CRM tool of Sendindblue has covered completely my business pipeline."
While larger businesses with an established marketing and sales tech stack might not find Sendinblue to be their first choice, it's a great and affordable option for businesses that are just getting started and need some pricing flexibility.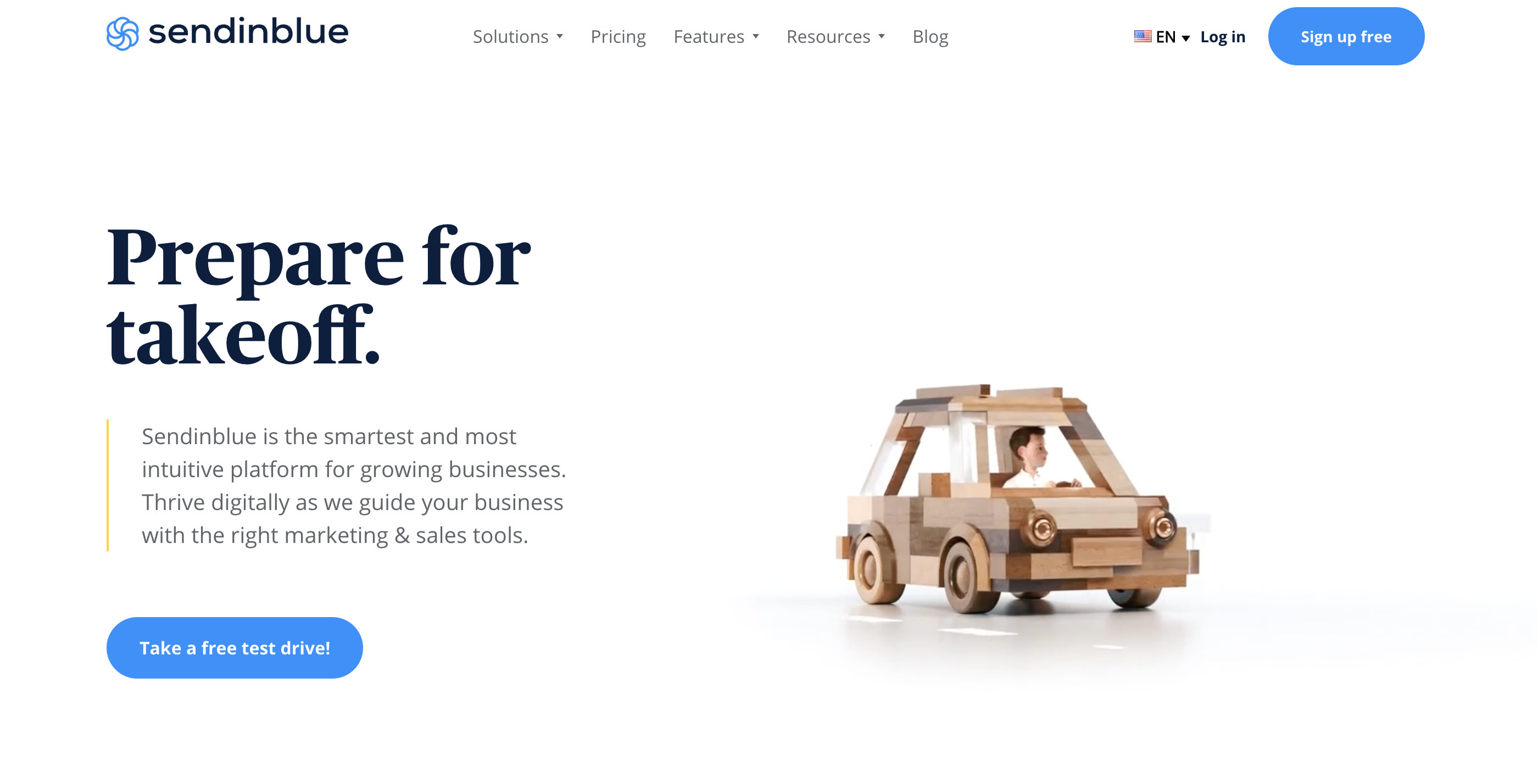 Build Your Automated Marketing and Sales Pipeline
Email and SMS automation tools can help streamline your marketing and sales processes, making it easier to reach more customers and increase sales. With a variety of options to choose from, there is an email and SMS automation tool out there that will fit your needs. Whether you're just starting out or you're looking for a more comprehensive platform, the tools we've covered can help you build incredible automated marketing practices.
Looking to round out your sales tech stack in addition to your marketing tools? Kixie is a calling and texting platform that integrates with all of the marketing software mentioned above, as well as many other platforms. Try out Kixie's business phone system and tools to help you manage both inbound and outbound calling free for 7 days.
You might also be interested in...