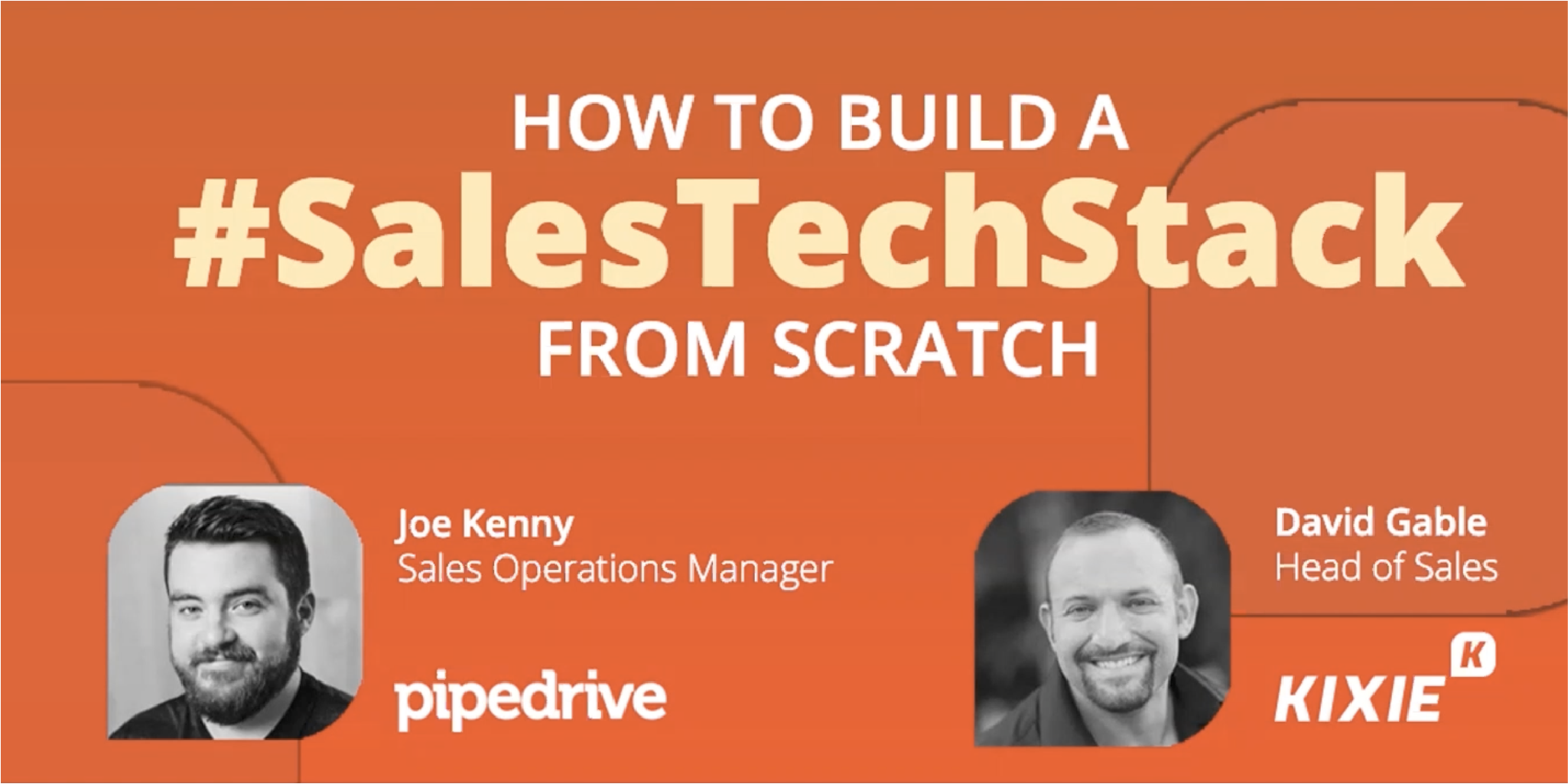 For those of you who missed our recent live webinar, How To Build A #SalesTechStack From Scratch, the moment you've been waiting for has arrived. We've compiled some of the top insights from sales leaders Joe Kenny and David Gable, (of Pipedrive and Kixie, respectively) to help you perfect your sales tech stack.
Let's dive in. Generally speaking, there are five types of technologies that make up a sales tech stack: CRM, Lead Capture, Data Services, Dialer/Sales Enablement, and Conversation Intelligence.
CRM
At the most basic level, a Customer Relationship Management system (CRM) stores all of your sales data in one central location – calls, emails, texts, notes, contact info, scheduled meetings, and anything else you could possibly want to know about a deal. Good CRMs go much further, with built-in features like automation tools. Most of all, think of your CRM as the foundation of your tech stack. Other sales technologies will sit on top of your CRM, so it's crucial that your CRM integrates with these tools.
Pipedrive's biggest competitor isn't actually another CRM – it's spreadsheets and pen and paper. A surprising number of sales teams still rely on spreadsheets or pen and paper to track their sales process. These methods may still work for some, but anyone not using a CRM is missing out on serious benefits.
Working off spreadsheets or pen and paper is like driving blindfolded. Without a CRM, there's hardly any way for salespeople to learn from past experiences, because there's almost zero visibility into past successes and failures.
Most of the negative connotations associated with CRMs come from bad experiences with a CRM that wasn't a good fit. A CRM that works for a huge company isn't necessarily the best choice for an SMB with limited IT resources. Pipedrive, for example, comes ready to use out of the box and doesn't need any IT team to implement.
Lead Capture
The vast majority of website visitors don't convert into sales. Why go after prospects at random when you could target leads that have already expressed interest by visiting your website?
Be your own Big Brother. Platforms like Leadfeeder and Snitcher plug into your website and give you data on visitors – what company they work for, how they got to your website, their general location, even their department or title in some cases.
Get your priorities straight. What these tools do, essentially, is prioritize your outbound efforts on the right companies and individuals
Chat them up. Website chatbots and live chat tools might not be the first thing that comes to mind when it comes to lead capture, but they're another powerful tool for capturing leads that visit your website.
Data Services
With all these leads coming in from your website lead capture tools, it's time to figure out who these leads are and how to reach them. You'll want a platform that can quickly enrich a lot of data and get that data back into your CRM.
What is data enrichment, anyway? It works like this: you input a single data point, let's say an email address, into the system, and it gives you every other data point it can find based on that email address – name, role, phone number, company size, city, social media profiles, etc.
Looks can be deceiving. To avoid being bombarded by sales calls, savvy sales leaders often say they're just shopping for themselves when in reality they lead a large team. On the other hand, some people will say they have more seats than they do because they think it will get them more attention or a better deal. This is why data enrichment services like ZoomInfo, RocketReach, or Pipedrive's LeadBooster are critical to making sure you're pursuing the right leads.
Dialer / Sales Engagement Platform
In sales, all you really have is your time and how you choose to spend it. Your sales dialer is the most important tool after your CRM, because not only is it how you reach your leads, it determines how much time you spend reaching a lead and how easy or difficult that process will be.
Automate, Integrate, Expedite. Look for a dialer that integrates with an automation software like Zapier or Tray.io, so you can automate your calls and texts. Make sure it integrates with your CRM as well, to log calls, texts, notes and dispositions automatically in your CRM.
Technology should remove friction. In this case friction is a sales rep not spending time selling and talking to customers. Advanced features like voicemail drop, SMS templates, and local presence minimize this friction, making sales reps happier and more productive.
Conversation Intelligence
Managers have a lot on their plate, and as a team grows it becomes untenable to listen to every call recording or effectively monitor and coach your reps. This is where conversation intelligence comes into play.
It's a whole lot more than transcription. On top of transcribing calls, tools such as Gong, Balto and Avoma allow you to see key metrics on talking speed, talking points, number of questions asked, even compliance and script adherence.
Create flags for specific words. With tools like these, you can create flags for specific words, so you can get notified any time a rep talks about pricing, for example.
Find trends on what works and what doesn't. Rather than leaving it to guesswork, get instant stats on what phrases are most likely to lead to a sale, what words to avoid, and how much time your reps should spend talking.
Final Notes
First of all, keep in mind that this is just a highlight reel of a much more in depth discussion which is definitely worth a listen. Bookmark it for your commute, or a slow afternoon. It's available at the bottom of this article and also on our YouTube channel.
Secondly, Kixie has no affiliation with the companies listed in this article, and we strongly encourage you to do your own research before making a commitment. There's lots of good products that we weren't able to fit in this article, so head over to a review site like G2 or Capterra to see your options and weigh the pros and cons of each.
Last but not least, don't forget to integrate! It's critically important, so it bears repeating: all of these tools should integrate with your CRM, or at the very least, integrate with Zapier or another automation tool that can integrate with your CRM. Having an integrated system will save you as much time and headaches – if not more – than any one tool alone.
Thanks for reading, and if you have any questions or would like to learn more about building out a sales tech stack with Kixie, please reach out to us at sales@kixie.com, or simply sign up for a free trial and we will reach out to you.
You might also be interested in...