Kixie Always Syncs to the Contact First:
Depending on how the call was initiated, there are two ways that Kixie will find a person to sync to…
DirectSync For click-to-calls made to a contact from inside a contact's page, from a contact list-view, from inside your Task Queue, or from inside the Deal page, Kixie will sync the call directly to that contact.
Normal Sync For SMS messages and calls that are made or received in any other way than above, Kixie will search your HubSpot contacts for the contact whose default phone number field(s) yields a match to the phone number, and then automatically push the call or SMS activity inside of that contact. If there are multiple contacts that yield a match, Kixie will sync to the most recently-created of those contacts.
That call activity will always look like this:

From there, Kixie will also sync that same call activity up to the contact's company (if any) and all deals (if any).
Automatic Contact Creation
If you are calling/being called by a phone number that is not associated with a contact in HubSpot CRM yet, Kixie will automatically create one inside of HubSpot CRM, and sync calls to it. *This feature may be disabled for your whole account if you so choose, inside "Manage Account" in the kixie.com dashboard.
SMS Message Integration
Kixie will utilize the Normal Sync method described above to log incoming and outgoing SMS messages into HubSpot, and it will create a Task inside the HubSpot contact like so: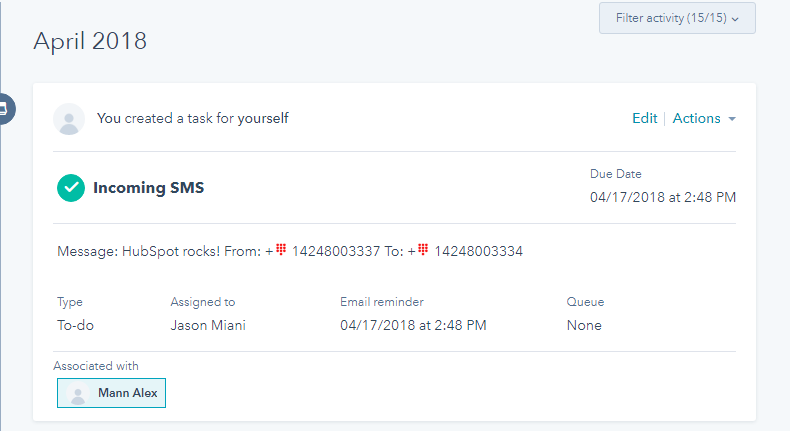 The Kixie PowerCall and HubSpot Dialer
The Kixie PowerCall is a phenomenal sales tool. It functions as an enhanced, HubSpot CRM-driven caller ID, as well as a shortcut into HubSpot CRM. All actions taken inside the PowerCall will sync in the manner described above. Here are the actions you can take:
View the person's basic HubSpot CRM information, and click directly into the contact.
Edit the contact's basic information in HubSpot CRM
Compose a note or call disposition that logs inside the contact.

The following dispositions are also used by HubSpot as "call outcome" types, and thus if you log these dispositions using Kixie, they will actually log under the "call outcome" section of the phone call that Kixie logs, which is great.

No answer Busy Wrong number Left live message Left voicemail Connected

Schedule a future activity (like a follow-up call) that logs inside the contact
This functionality lends itself especially well to contact list-view dialing, as well as when you are receiving incoming calls. If you are having trouble adding HubSpot to your Kixie dialer, please see here. To start a free trial in under 3 minutes, no credit card required, please click here. Thanks!
You might also be interested in...