Equipping sales teams with the right tools is essential for success, and sales dialers are one such tool that makes the process of making calls more efficient. They automate the process of making calls, provide call data analysis, suggest the best times to call, and automate processes like voicemail drop.
Sales dialers are incredibly beneficial to sales teams, and two of the best on the market are Dialpad and Kixie. Yet, despite the popularity of these two platforms, there are myriad options available. So, how do you know which platform is the right one for your company?
Researching these tools online can help you determine which one is best for your team. To save you time, we've compiled important information and reviews for Dialpad and Kixie.
The Options: Dialpad and Kixie
If you're going to start using a sales dialer to boost your sales results, two options to choose from are Kixie and Dialpad. Let's take a look at an in-depth breakdown of both platforms in order to choose which one will best help you power your business.
Table of Contents
1. Overview 2. Things to Consider 3. Integrations 4. Power Dialer Options 5. Pricing Plans 6. Local Presence Options 7. Automated Features 9. Conclusion
Overview of Dialpad and Kixie
Dialpad
Dialpad is a company that is located in San Francisco, CA. It was founded by tech experts with a range of app development experience. Dialpad, the product, was launched as a beta in 2014. The company's aim was to simplify the process of creating a professional grade telephone experience in the office, without the headache of complex systems and without the need for enterprise resources. The company explains that their ultimate mission is to "make the business phone relevant to the way we work today. Through smart engineering, beautiful design, awesome customer support, and high energy sales and marketing teams, Dialpad Communications brings simplicity to the professional phone experience with features that make us most productive, when and where we work best."
Kixie
Kixie was launched in 2013 in Los Angeles, CA, and it has quickly become one of the most popular tools for teams who are hoping to improve sales results. The company created a sales dialer that helped automated sales processes. However, they also included tools to help make all aspects of sales more efficient and effective, including extensive CRM integrations, analytics and record keeping, automated features for desk phones and mobile phones, and more. Kixie explains that their product is the "fastest way to make sales calls." The company has received extensive positive reviews and ratings on top review sites like Capterra and g2crowd.com.
Things to Consider
When you're choosing a sales dialer for your team, it's important to do research. Before you choose a sales dialer, learn about the technology and how it can help your company. By understanding what tech features you can find that will help enable your process, you can ensure you're choosing a platform that includes all of the most important components for your organization.
Most companies use sales dialers to make the calling process easier. If that's true for you, make sure the sales dialer's call features match your needs. Take a look at call volume, and see if you need to make many calls at once.
Check out other automated features that can help your company succeed. Sales dialers can have automated processes like click to call and voicemail drop. If there are certain types of automation that will make the lives of your sales team members easier, look for these in the sales platforms, then make sure that you choose sales dialers that meet those needs.
Next, consider the size of your company when choosing a sales dialer. Will you need dozens of people to have access to the tool via their phone or computer? Or, will you simply need a few people to be able to use it? Check out the capacity of sales dialers before you decide whether they're right for your company or not.
Finally, take a look at a sales dialer's CRM integrations. If you're in sales, you probably already use a CRM to manage your leads and where they are in the process. If you're going to add a sales dialer into the process, you want to make sure that it works with your CRM. Look for a sales dialer's integrations, then make sure your CRM is one of them. That way, you can use the information you already have in tandem with your sales dialer, then harness and expand it to make it even more powerful.
Integrations
Dialpad Integrations
Integrations are important for powering your sales dialer. The Dialpad dialer does not integrate with many of the most popular CRMs. However, it does integrate with platforms like Salesforce, Zendesk, ServiceNow, G Suite, Office 365, and LinkedIn. These platforms are often used by call centers for tracking or documentation.
Kixie Integrations
In contrast to Dialpad, Kixie integrates seamlessly with a wide range of CRMs. Some of the most popular CRMs that Kixie works with include Salesforce, HubSpot, Zoho, Pipedrive (and more). Kixie's CRM Integrations are one of the reasons it's such a powerful tool for sales teams.
Customer Mark Firehamer explains how Kixie's CRM integration helped his business. He writes, "What I like most about this software is the tight integration that it offers with our CRM, which happens to be Insightly. Every inbound and outbound call or text is logged on the contact or lead involved in the communication. And every call gives you the opportunity to add all the call disposition details to the contact or lead record. If you wrap your mind around that feature alone, it's truly a game changer."
Another customer, Khaled N., raves about Kixie's integrations, saying
"The biggest pro is the seamless integration. It just connects quickly and works beautifully. Additionally, I love the built in CRM caller ID feature."
Power Dialer Options
Kixie Power Dialer
If you're a sales team who has to make tons of calls in order to generate enough leads and revenue, you need a tool to help you make calls more quickly and efficiently. One of the best tools to help with that is a power dialer. Kixie has a power dialer that will make many calls at once for you. All you have to do to get Kixie to make many calls at once with its power dialer is to load a list from your CRM. Customer Stephen C. Recommends to other Kixie users:
"Don't forget to use the power dialer either. EASY way to follow up with old leads."
Dialpad Power Dialer
Dialpad is a software mainly for call centers. This means that it is designed to accept a lot of calls at once, rather than make a lot of calls at once. So, Dialpad does not have a true power dialer system. This means that it's not an effective solution for companies looking to dial tons of sales calls at once, then field the ones that are answered.
Local Presence Options
Dialpad Local Presence Options
Local presence is a sales dialer feature that allows callers to appear on recipients' caller IDs with a local area code. This makes them more likely to answer a sales call, and in turn, more likely to become a lead or paying customer of a company. Dialpad does not offer local presence options with its service. It does offer companies the ability to add a real local phone number to the platform, but the local numbers are only local for the area in which their business is located.
Kixie Local Presence Options
One of Kixie's most appreciated features is its local presence options. Kixie doesn't only allow customers to appear as a local number in different cities and states. It also allows for international local presence, which means that you can call a different country from your own and look like you are calling from the recipient's country. Many users of Kixie have explained that the local presence option is what made all of the difference for their business. User William A. explains
"Kixie has solved our issue of poor call quality and misrouted calls. It has also improved our contact ratios because of local presence."
Happy customer Jake B. also describes his experience saying,
"Kixie offers some fantastic features. We save hundreds of dollars each month with their unlimited minutes plan. And the success of our campaigns saw an 8% bump in connection rates when we enabled local presence to always show a local area code when placing outbound calls."
Finally, health insurance agent Caleb S. says that Kixie's local presence feature changed the game for him. He said that the best proof Kixie is
"Local presence and what a value Kixie delivers it to meet. I was not reaching anyone using my cell phone. Once I installed Kixie and the click to dial which easily integrated with my CRM I not only became more productive with how many calls I could make, but I also connected more frequently and had clients on the phone whom for whatever their reason felt more relaxed speaking with someone from a local area code."
Pricing Plans
Dialpad Pricing
There are different pricing plans available from Dialpad so customers can choose the plan that is right for their organization. The three levels of pricing (with annual billing) are as follows.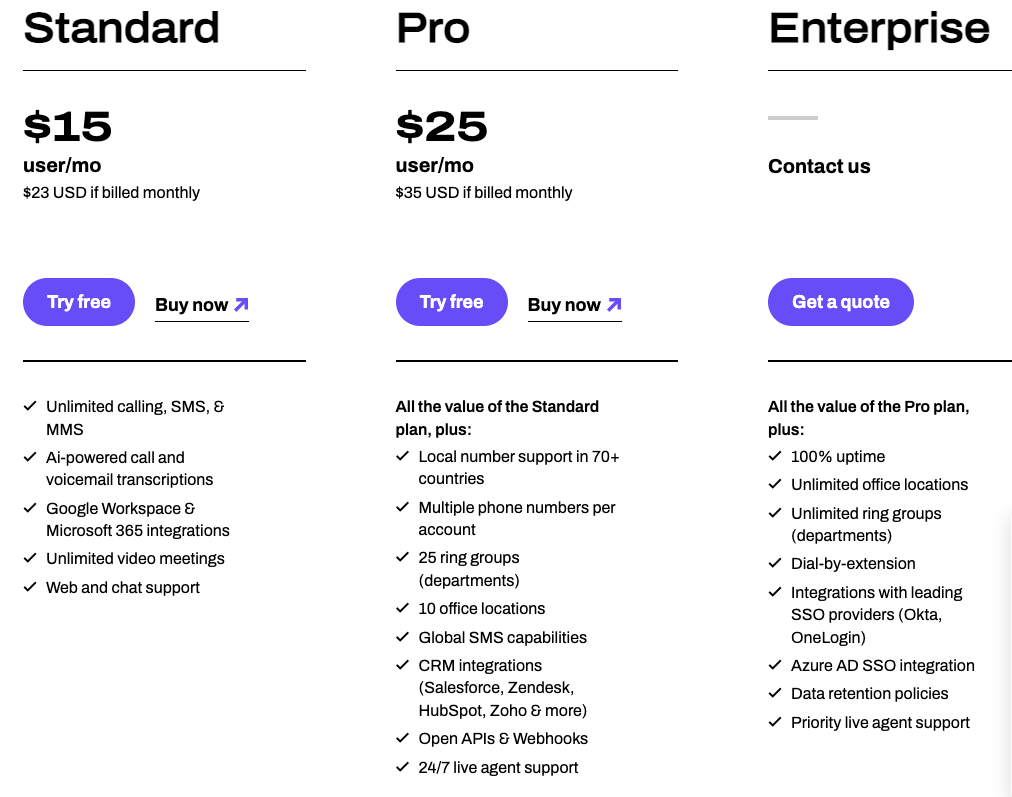 Kixie Pricing Plans
Kixie offers a variety of pricing plans so organizations can choose the price level that is right for their company. There are three levels of pricing at Kixie.
Customer Rowdie Mitch Goudy describes the pricing as one of the best parts of Kixie, saying Consistent. Great pricing. I can't recommend it enough.
" Additionally, more Kixie customers think that Kixie is a great deal price-wise, like Jorge M. who says that one of the best parts is Kixie's "pricing structure. They have a plan in which you know exactly how much you are going to pay right from the start."
Customer William A. likes that Kixie's pricing stays consistent, even with extra features like Local Presence. He explains,
"I also like how kixie only charges one price for local presence. I have spoken with and used several phone providers in the past. All of them charge you on a per area code bases. Kixie gives us the ability to get a better overall connection rate, but without all the extra cost that would usually be associated with it."
Automated Features
Kixie Automated Features
Sales callers should automate the process of sales calls for teams so that they can spend more time and energy nurturing leads and converting potential customers who are interested in becoming paying customers. Kixie has a range of automated features that take care of many time-consuming parts of the sales call process. One of the most important automated features is voicemail drop, which allows callers who reach a person's voicemail to leave a message that is prerecorded with the simple touch of a button. This saves the time it takes to manually leave a personalized voicemail. Kixie also has click-to-call, where sales callers can pull up a CRM contact and click a button to make a call. You can also automatically record your calls with Kixie, meaning you can keep them to learn from them or review and improve processes.
Dialpad Automated Features
Dialpad offers click-to-call features for the platforms that it integrates with. It also offers listen-in, so supervisors can hear and record feedback on calls without having to interrupt a conversation.
Conclusion
Choosing a sales dialer is a significant investment that can impact your sales team's success and budget. It's essential to consider the features and services of the tool, as well as the organization it was designed for.
Dialpad is a business phone system that has features that can help salespeople. Designed for call centers, the service makes it easy to make calls to anywhere, and it makes communication easier within businesses.
Kixie is a tool that was created for a wide variety of companies who need to tackle sales calls. It can be a useful platform for companies whether they're large or small, or whether they need to make a high volume of calls or a low volume. It also integrates with a lot of CRMs, so you can start using the product right away to boost your results with the tools you're already using.
If you're ready to boost your revenue and make work easier and more enjoyable for sales teams, consider using Kixie. The company's offerings can not only make the process a better one, but you can rely on their support to help you every step of the way—whether you're onboarding, troubleshooting, or just simply looking to improve.
You might also be interested in...