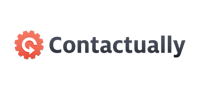 +
The Fastest Way to Close More Sales
Call logging so simple your sales team won't be able to say no
Automatically log all calls with lifetime call recordings inside of Contactually
Improve workflow with Contactually enhanced screen-pop and 2-way integration
Boost sales calls by 500% with Power Dialing
Start your trial*
*Some employees may experience too much productivity.
Contactually & Kixie Benefits
Local Presence
Boost your connect rate with Local Presence virtual phone numbers. Enjoy 500% more pick-ups as you dial across the US and Internationally.
Voicemail Drop
Save time by leaving voicemails while you are on to the next dial. Record as many Voicemails as you like and choose the right one to leave based on your prospective customer.
Click-to-call
Load up a list of prospective customers and efficiently dial down the list in Contactually or anywhere on the web.
Any Device. Anywhere.
Deskphone, mobile phone, or computer with headset - Kixie has you covered.
Live Call Coaching
Listen to live calls as they are happening. Barge in to help out or simply whisper only to your agent to help close the deal.
Call recordings
Record calls and store them in Contactually to listen to help with coaching or revisiting prospective clients caught in a long sales-cycle.
Custom Call Dispositions
Enable your team to use dispositions in your own Sales Lingo and Process.
Reporting Insights
Quickly identify rock stars and poor performers by reviewing call metrics over any time period.
Screen Pops
Deal size, Organization information, Name and Location -- CRM data pushed to your screen for every incoming call.