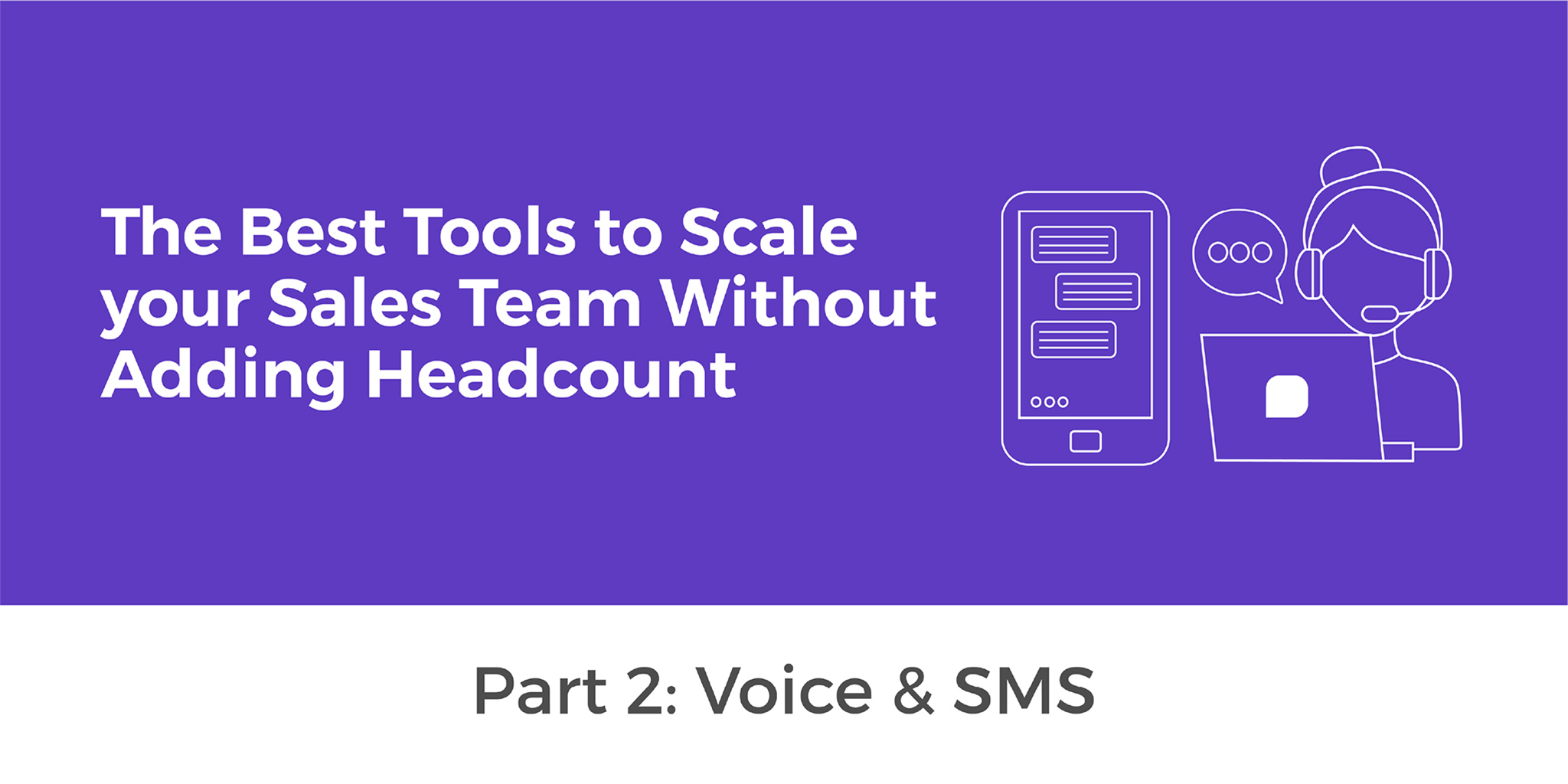 Sales Dialers
Despite the changing sales landscape, the telephone remains the best channel for sales. Still, the difficulty of reaching prospects by phone (or any other channel) has increased dramatically in recent years. Luckily, phone systems – or sales dialers, as they're more frequently referred to these days – have changed quite a bit as well.
Gone are the days of dialing, texting and taking notes by hand. Sales dialer software places VoIP calls through your computer, opening the door for a whole host of time-saving and connection-boosting features. Here are the big ones to consider when you're looking for a dialer:
Click-to-Call
Click-to-call (C2C) lets sales reps start a phone call simply by clicking an icon next to a phone number, or by clicking the phone number itself. It's a fairly common feature, but it's important to note that there is some variation among available products when it comes to how C2C works. Some dialers allow for C2C across any website, whereas others only support C2C within supported CRMs.
Voicemail Drop
Voicemail drop lets you pre-record voicemail messages, eliminating the repetitive task of leaving the same voicemail or voicemails over and over again throughout the day. As soon as you start to hear a voicemail greeting pick up, you can select a prerecorded message to leave on the answering machine, and the dialer will do the rest. Some systems wait to hear the beep, whereas others will wait to detect silence before dropping the message. Most people find the "beep" method to be more effective, but if a dialer has both options available you can test each method out and see what works best for you.
CRM Integration
Above all else, CRM integration is the most crucial feature to look for in a sales dialer. If your dialer does not integrate with your CRM, you'll be missing out on not one but many time saving features. Remember, not all integrations are created equal. Here are some key features to look for in a dialer/CRM integration:
Logs calls and texts automatically to the correct contact, lead, deal or company
Automatically logs call outcomes/dispositions selected in the dialer, including custom dispositions and notes
Lets you schedule follow up tasks through the dialer
Pulls contact/lead/deal/company info into the dialer on incoming and outgoing calls
Automation Integration
In the previous installment of this series, we discussed the importance of leveraging automation to streamline sales processes and eliminate busywork. Whether you use your CRM to automate tasks or a standalone automation tool like Zapier, integrating your dialer with your automation tool can not only save time, it can also increase connection rates and win rates.
Like CRM integrations, not all automation tool integrations are the same, so here's what to look for:
Make a Call – this is crucial for speed-to-lead automations, and lets you intelligently autodial a contact when they enter your pipeline, open an email, complete a webform, or complete any other meaningful action.
Send Call to Cadence – this adds contacts to an ongoing calling/texting cadence, allowing you to automate a structured outreach approach to keep leads from falling through the cracks.
Send SMS – this is a huge timesaver. Most automation platforms will have a way to send templated emails, but automating templated texts requires a third party SMS service. Ideally, this would be the same service as your dialer in order to avoid the extra expenditure and complication of adding another tool to your sales tech stack.
End Call Trigger – if a call meets a particular set of conditions, perform an action when the call ends. This allows you to push call data to a service your dialer isn't natively integrated with at the end of each call.
Disposition Trigger – trigger automations in your CRM, scheduling tool, email, SMS and more with a disposition/outcome left in your dialer. There are an abundance of use cases for this trigger, but some of the more common ones are to send an automated follow up email, move a deal to a new stage in your pipeline, or create a calendar event after a call is ended with a particular disposition.
Local Presence
While some teams might want the consistency of calling from one (or several) fixed numbers, local presence is a game changer for most instances of cold calling. Local presence dialing lets reps call from a phone number with the same area code as the person they are calling, giving the appearance of being in their locality.
However, with the recent implementation of STIR/SHAKEN protocols, the type of local presence you use is more important than ever. The article linked in the previous sentence has more details on this, but it boils down to real numbers vs. spoofed numbers.
Number spoofing is the practice of placing a call which appears to originate from a number you do not own. If a number is spoofed, your call is extremely likely to show up as "Spam Risk" on the customer's caller ID. Additionally, if the customer decides to call that number back, it will not go to the rep who made the call.
This is why it is important to use real numbers if you decide to call with local presence. Additional features to look for are progressive caller ID, and spam detection, which automatically filters out and replaces any real numbers that happen to get flagged as spam.
SMS Templates
Automating text messages is a huge time-saver, but sometimes you just want to fire off a text message from your dialer manually. You could always type the message out, but if you're sending the same message often, SMS templates will be your friend.
Look for a dialer that has SMS templates that can pull customers' names from your CRM, and lets you create a high or unlimited number of templates so you'll have one for every situation.
Support Resources
Sometimes, things go wrong. Maybe it's a glitch. Maybe it's a headset issue. Or maybe you just don't know how to use a feature properly. Whatever it is, it's good to have support resources you can fall back on when problems arise.
Ideally, your dialer will have a number of resources available: tutorial/troubleshooting videos and articles, email support, live chat, and live phone support are the main boxes you'll want to check.
Coaching Tools
We'll get into more detail on coaching tools in the next installment of this series. That being said, it's worth pointing out the importance of having some coaching features built into your sales dialer.
Features like listening in on reps' calls, barging in on those calls, gamified leaderboards, and reporting on various metrics are important features for building and scaling your team, and keeping your team on track.
In our next installment…
Investing in the right tools is crucial for the success of your sales team, but it's just as important to invest in your salespeople. Training and coaching shouldn't just be for new hires; constant improvement is crucial in maintaining a competitive edge over the competition. The next installment of this series will explore which coaching tools are best for keeping your sales team motivated and competitive.
You might also be interested in...