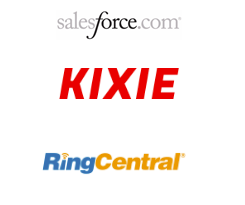 RingCentral vs. Kixie SalesForce Comparison
SalesForce is the thousand pound gorilla in the world of CRMs and RingCentral and Kixie are two of the voice integration options out there. RingCentral is one of the largest and oldest cloud PBX providers out there and many businesses choose RingCentral for their phone service. Kixie is an integrated sales and support voice solution that specializes in making teams more productive. So what are the differences?
The first thing to notice is that RingCentral has a dialer right inside SalesForce, while Kixie has an app that lives outside SalesForce. If you are always inside SalesForce, having a dialer right inside SalesForce can be great for you, but if you give demos or browse around the web, having an external dialer is very useful.
That brings up how calls are logged and tracked inside SalesForce. Ringcentral automatically logs the calls inside SalesForce, but does not include the call recordings right inside SalesForce. Kixie also automatically logs calls inside SalesForce, but takes the approach of transforming phone calls into emails. Every call made is recorded right inside SalesForce and stored on Kixie servers for lifetime access too. It is simply like having all your phone calls searchable, tracked, and archived like your emails.
RingCentral is a cloud based PBX that is focused on providing a great telephone experience. Kixie is a sales productivity voice solution that is focused on generating more sales by making the sales experience more efficient.  A sales person can actually log a disposition and schedule a future follow up from right inside the Kixie interface with one-click. This allows for sales managers to really get a grasp on how the sales funnel stacks up and where the bottlenecks are. Kixie also has a proprietary algorithm for determining call connects. We believe the number of connections made is a more valuable stat than how many calls a sales person makes. Better statistics = more sales!
A unique feature of Kixie is the 1-click call disposition and activity scheduling feature of Kixie. This allows a user to use Kixie PowerCall and power dial through a list of leads without ever clicking out of the list view. RingCentral allows the user to click to call from inside the Salesforce contact, but not in a list view.
Lastly, we will explore the telephony side of Kixie and RingCentral. RingCentral offers a full self service backend to manage your telephony experience. Kixie offers a self service portal too, but takes the approach of "let your sales people sell" and offers white glove service to help setup, manage, and maintain a company's auto-attendant, ring groups, call routing, and desk phones. RingCentral lets you use their desktop dialer or deskphones. Kixie let's you use your existing device (cellphone or landline), the Kixie dialer, and a Kixie deskphone.
You can use Kixie in over 40 countries and Kixie has servers located in all the major hubs  including Los Angeles, New York, Hong Kong, London and many more. RingCentral is focused on the US market and you can buy international numbers in 25 countries.  
To sum things up, both Kixie and RingCentral combined with SalesForce are great options. RingCentral is more focused on telephony while Kixie is more focused on sales productivity. If you have any questions or need help deciding, feel free to contact a sales expert at 424-800-3332 or email at hello@kixie.com.
You might also be interested in...